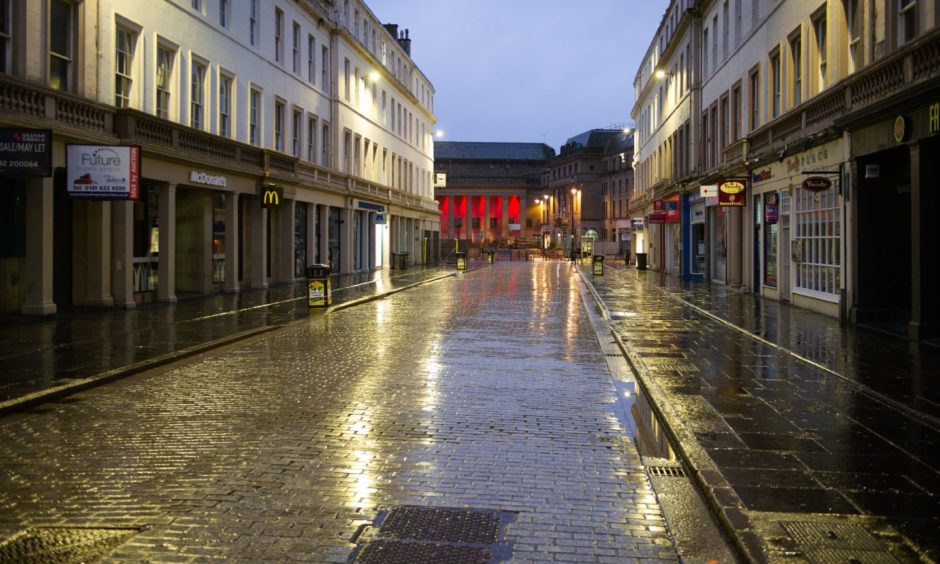 As the city heads into the first weekend under the new restrictions, many bars will remain shut as Tier 3 proves "commercially unviable".
A significant number of pubs are planning to hunker down this month, drawing on the extended UK Government furlough scheme to try to maintain staff numbers, according to David Glass, president of the Dundee Licensed Trade Association.
David, who also owns Doc Ferry's Bar in Broughty Ferry, explained: "Generally speaking for the long term everyone wants to make a go of it but a lot of businesses are closed just now. If you take ourselves at Doc Ferry's we do food, soup and sandwiches, and we thought, 'We're in tier 3 we could probably muddle through this and just serve food with coffees and soft drinks'. But when we sat down and thought about it, it wouldn't have been commercially viable.
"I've spoken to a couple of other publicans who do food and are quite big on that side of things, one said, 'this is murder', the other said, 'one day is bad the other good'. Still, commercially it isn't great.
"We've been closed for a month. We'll use the furlough; it's been a lifeline, a confusing one, but a lifeline nonetheless. As it stands, we employ 10 in total including some part-time staff, and we've been able to hang on to everyone so we're going to ride it out in November and see what December brings."
Yesterday, Chancellor Rishi Sunak announced a five-month winter extension to the furlough scheme, ending days of confusion over whether support would be offered to Scottish workers in the event of a future lockdown.
Under the extended scheme, which is welcome news for hospitality businesses, furloughed workers will continue to have 80% of their wages paid by the Treasury and support for the self-employed will return to more generous levels, with grants of up to £7,500 on offer.
Local businessman Jimmy Marr, director of the City Centre Pubs group which owns a number of licensed premises in the city, including Nicolls Bar and Restaurant, Harlequins and the Taybridge Bar, says all his venues are closed.
He added: "I think there's more pubs closed than open at the moment. There's not a lot of business out there. All my rented ones are closed and my managed ones. By the time you factor in your costs, that you're only open to six o'clock at night with no alcohol, it's not enough."
Dundee is currently on the second highest tier (ranked from 0-4) meaning alcohol can no longer be sold in hospitality settings indoors or outdoors, with businesses closing at 6pm.
With non-essential travel into or out of Level 3 areas banned, hotels and B&Bs are also affected with guests mainly limited to locals and those travelling for essential work purposes.
There is more flexibility under Level 2 status (the third highest of the five tiers), with  alcohol permitted to be sold indoors with a main meal until 8pm. Outdoors the curfew has been extended to 10.30pm
While David is considering his options for reopening under Tier 2, as and when restrictions in the city are relaxed, he says other bars that do not currently serve food will face a dilemma as to whether to attempt to do that.
He said: "If we go to Tier 2 like Angus where you can serve alcohol with a main meal, there's a few places which are trying that there. It's something I'm toying with in my head. It's a bit more simple for us because we already do food, but for the people who would just be going to start up doing food there's a lot of things that have to be thought through if you're opening a kitchen."
Currently, government advice says venues such as pubs do not need to be approved to sell food if it accounts for less than 25% of trade – something that may prove a challenge if you can only sell alcohol with food – though venues handling meat, fish, egg or dairy should be inspected and might have to secure council approval.
There is then the issue of what constitutes a main meal under the new Tier 2 guidelines. And though there is again government advice around this, business owners are also told to apply "common sense".
Tier 2: What constitutes a main meal if you are hoping to enjoy an alcoholic drink when out?
David said: "Anything that's left to common sense.. let's face it there are those who push it further than others."
Paul Waterson, a spokesperson for the Scottish Licensed Trade Association and who owns The Golden Lion Hotel in Stirling, said in general bars in the cities under Tier 3 restrictions were struggling to open.
He said: "It's all about viability. I can understand the fact some people in rented properties are just desperate to stay open no matter what, but it's about confidence of customers and what you can and can't do. Many people are saying it's totally unviable in city centres in Glasgow, Edinburgh and I presume Dundee as well, with no alcohol. But they're also saying, 'At least I know where I am. I'll shut and staff are looked after with furlough'.
"The winners in this one are thin on the ground. There will be restaurants that are very popular and they can trade away to six o'clock, but they're the exception. Hotels are particularly hard hit because there are no residents and you can only serve residents after 6pm.
"I've got a hotel in Stirling and we're closing. I took the decision because over the last three weeks the number of rooms has been going down and down and down, even at the weekends."
Driving through Glasgow town centre, Finnieston, West End etc. looks like most licensed hospitality premises remaining closed. Very few exceptions. Simply unviable for most to open. @DonaldCMacleod @SLLPOnline @BBCDouglasF

— The SLTA (@SLTAssociation) November 3, 2020
Even when it comes to operating under Tier 2 restrictions, Paul says there are significant challenges and confusion over what can and can't be served.
"There's always been a debate over what is a meal and what's not. I know Jason Leitch (national clinical director for Scotland) said everyone knows what a main meal is but, no, we don't, so it's not sufficient. There is guidance but it's so open ended, why go there?"
New tiers system begins: The changes affecting bars, hotels and restaurants