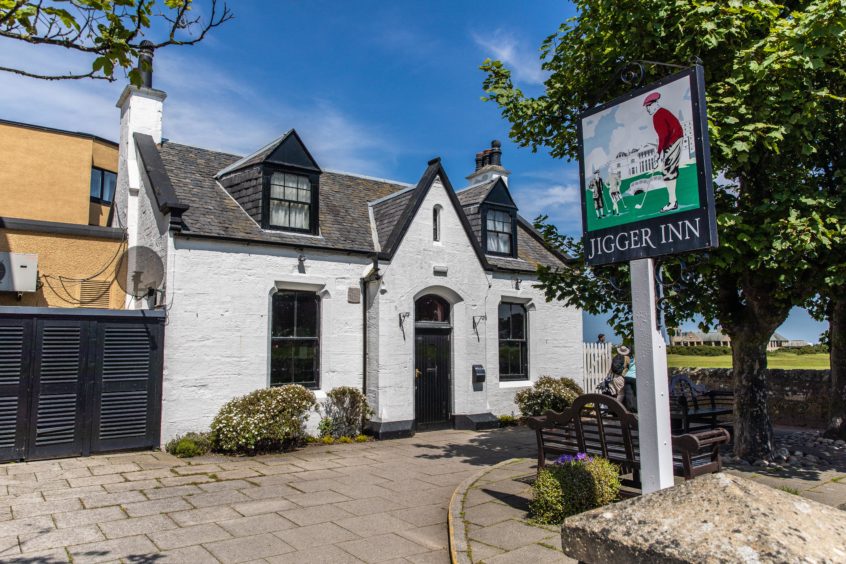 I've always had a soft spot for the Jigger Inn. Its beer garden has one of the finest positions in the world, literally a golf ball's throw from the fairway of the famous Road Hole. To sit there on a sunny afternoon with a drink in hand is the stuff of life before kids, of a simpler time when beer gardens were what weekends were made for.
I wouldn't say I was a golf fan, nor does golfing memorabilia particularly float my boat, but there's something exhilarating about the setting of this iconic 19th hole. With gulls wheeling overhead, the unmistakable background thud of iron striking ball, the salty sea air and the smell of freshly cut grass, there are few places in St Andrews where you can eat and drink closer to the action than the Jigger.
It's an intriguing little building. Dwarfed by the monolithic Old Course Hotel, against which it nestles, there's a sense of 'Alice in Wonderland' about the odd juxtaposition. Rather as if the modern edifice grew up around it, the tiny white stationmaster's lodge is now marooned, a bastion of 1850s charm.  It's a credit to the Old Course that when you fall down the rabbit hole into a small cosy affair of stone walls, wooden pew seats, tartan upholstery and green carpets, it doesn't feel like part of a five star hotel. It feels like a proper pub.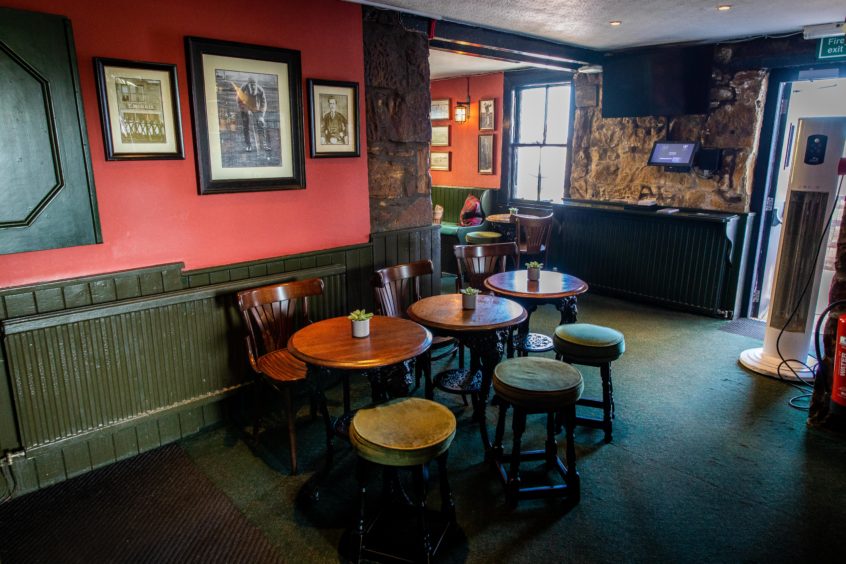 Popping in of a Saturday lunchtime for a catch-up with a friend, it sadly wasn't the occasion to linger over the drinks menu. There's an impressive selection of single malts, typical I suppose of a 19th hole, six draft beers (including the Jigger Ale) and the usual bottles. This isn't the place to come for an extensive wine list nor, unusually for St Andrews these days, a cocktail or gin experience.
The usual suspects are there: Tanqueray, Hendricks and Eden Mill…but there's nothing especially interesting. Perhaps though, the Jigger is simply clear about what it wants to be. It's a pub, not a wine bar; staffed by bartenders not aspiring mixologists.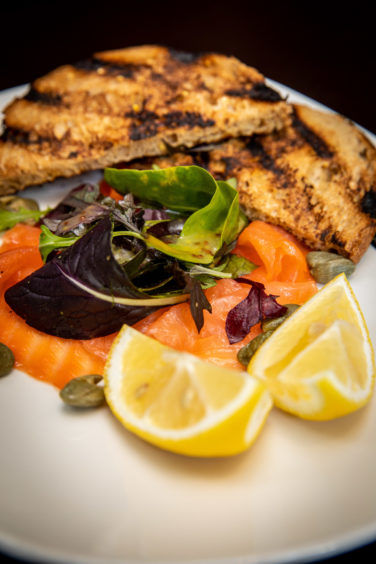 When we visited it was fairly quiet. With just one other table on our side of the bar, the clientele seemed almost exclusively to be guests of the hotel. erhaps I was hoping for more spirit but something about the atmosphere left me a little cold, not helped by the section of the menu devoted to "Jigger Merchandise", ranging from beanie hats to whisky glasses. That said, there's a very down-to-earth feel about everything and a natural warmth from the friendly staff, who could not be faulted.
There will be something for everyone on the menu, which pretty much fits the bill for a traditional pub lunch. Since that is what The Jigger aspires to it is probably unfair to wish they had played things a little less safe and a tad less kilted. I suppose tourists will embrace the Scottish elements of the menu although Cullen Skink ("traditional", lest anyone be in doubt about the origins of the dish) wouldn't be my first choice on a summer's day nor would a haggis croquette. The main courses are classic pub fare, including chicken curry, beer-battered fish and chips, oven-baked salmon, fishcakes, penne pasta and a rib-eye steak. There's also a range of sandwiches, bloomers and bagettes. This is hearty stuff, with carbohydrates a-plenty for hungry golfers.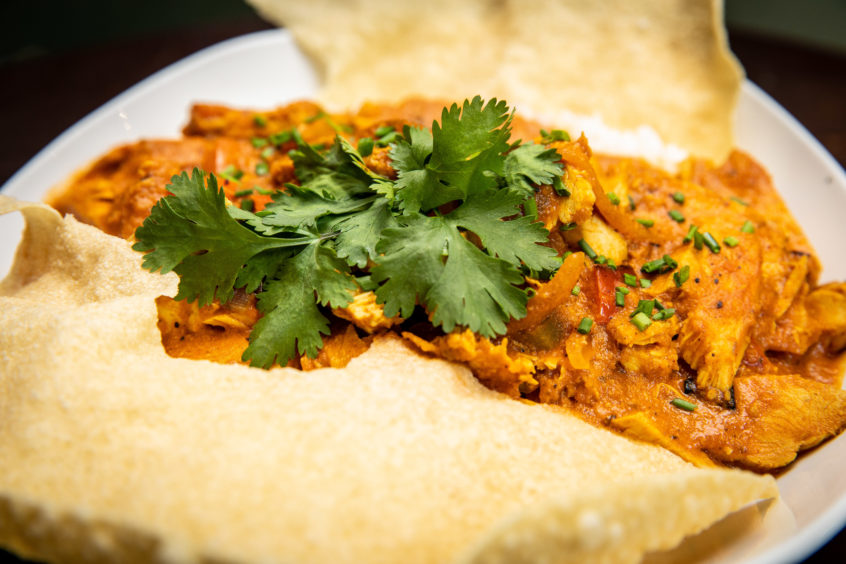 Is it pushing gastropub boundaries? No. A nod in the direction of seasonality would be nice and perhaps a daily chef's special even. There's not a blackboard in sight. But I suspect the Jigger knows its audience and has figured out that a great burger and a good club sandwich hit the spot.
There's no separate children's menu, although half portions are available. Price-wise it's about on par for these parts, with starters ranging from £5.75 to £12.50 (for generous portions) and mains averaging £10 to £15. I certainly didn't feel I was being asked to pay a premium for the location and, as my friend pointed out, there are too few places in St Andrews where you can get a decent pub lunch without being charged the earth.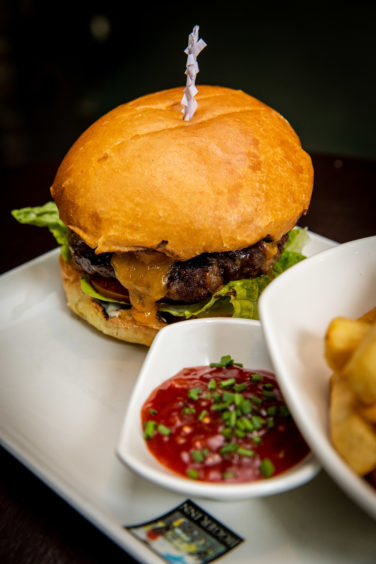 I ordered a Caesar salad because I didn't feel like soup and wasn't keen on bread – which ruled out the bruschetta and the smoked salmon with brown bloomer. It was pleasant, the chargrilled chicken was plentiful, the romaine was well dressed and the croutons crunchy. I by-passed the over-cooked egg, vaguely annoyed by its presence when I wasn't expecting it. Across the table the smoked salmon, honey mustard dressed leaves, scattered capers and brown bread was what it said on the tin. Enjoyable? Yes.
Our half portion starters – their reduced size a credit to the intervention of our amused waitress – set us up nicely for the main courses. Be warned, the portion sizes are clearly designed for ravenous golfers and guests with well honed appetites. The Jigger Inn burger which cheese and bacon wasn't a disappointment but neither did it wow me. Some greenery on the plate wouldn't have gone amiss and the burger was a tad springy in texture for my liking, but I enjoyed it all the same. If I had just played a round of golf in the rain or walked miles along the West Sands then this would be just the thing.
On the other side of our little wooden pew the homemade chicken curry was surprisingly punchy with a well-balanced base of spice and thankfully avoided the gloopiness that often besets a pub curry. A nice dish, although the poppadoms should have been crispier. Defeated by the portions I eagerly accepted the offer to take home the leftovers and was presented with a carefully wrapped package in an Old Course Hotel bag for a grateful Mr H to eat later.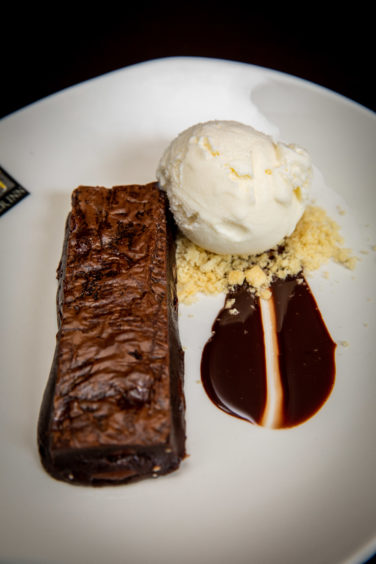 Why there are only two real desserts on the menu I cannot fathom, particularly when there are more than 10 main courses. If you don't like ice-cream and don't fancy cheese this leaves only the rather wintry options of chocolate brownie and sticky toffee pudding as serious contenders. No doubt tempting after eighteen holes in the rain. Unbowed, and much to the amusement of our lovely waitress, we decided needs must and ordered both.
The brownie was on the thin side but thankfully gooey (the true test of a brownie), incredibly sweet and really quite moreish. It appealed to my sweet tooth but a lesser mortal might have found it a little too much. The same could be said of the sticky toffee pudding, which was a solidly enjoyable execution of a very British pud.
Tucked away in our little wooden booth, we could happily have chatted the afternoon away, well attended to but blissfully undisturbed by fussing staff. The Jigger has a number of surprisingly comfortable corners in which to hide away from the world and the food is of a good standard. If you're looking for a pub lunch in St Andrews then The Jigger is a solid bet and for location it's second to none.
The Jigger Inn
Sands Grill, Old Course Hotel
St Andrews KY16 9SP
t: 01334 474371
w: oldcoursehotel.co.uk
Price: Starters from £5; mains from £8.75; desserts from £4.75
Menu: 7/10
Food: 7/10
Service: 9/10
Atmosphere: 6/10
Value: 8/10