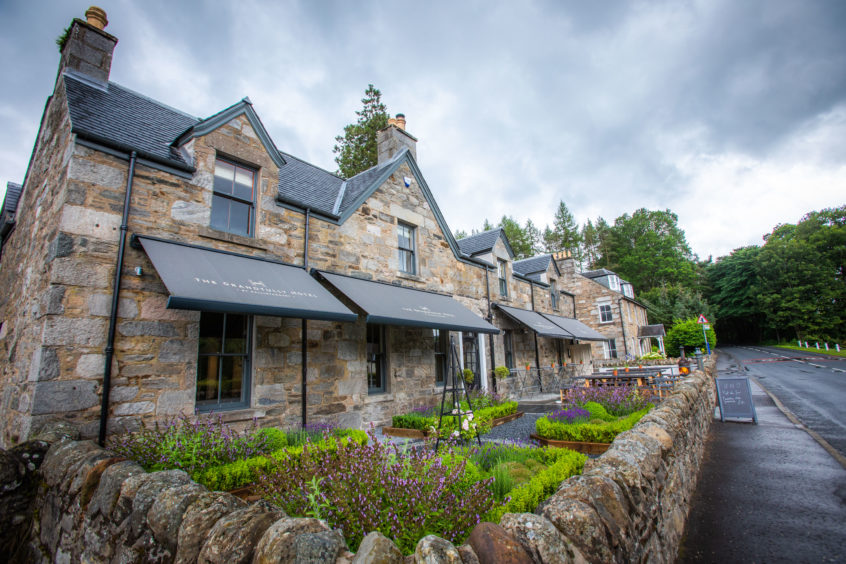 In a world filled with discord and unrest it gives inordinate pleasure to be able to be unequivocally positive about a small, perfectly formed business in Highland Perthshire – because truly they don't come much better than this.
Such is the joy at discovering this gem, little more than an hour's drive from Dundee, that I now feel completely evangelical about it, although I fear the secret is already out. This is a place that feels really noteworthy and special, an address to savour, an experience to cherish.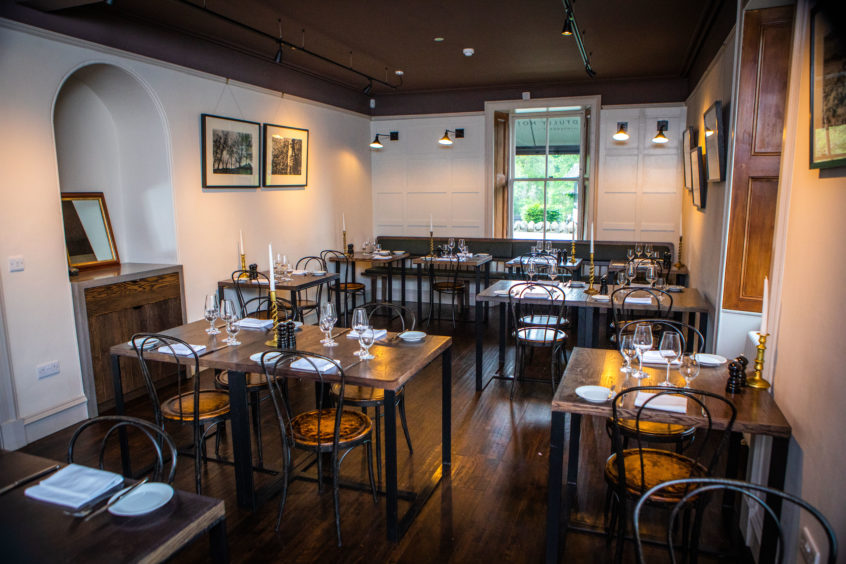 I'd previously come across the hotel by accident – a diversion to the excellent Iain Burnett Highland Chocolatier in the attractive village, a stove burning away on a sweet terrace outside the hotel building and a stack of influential/classic cookery books visible in the kitchen led to the realisation that Grandtully is actually a little foodie haven. This time we arrived on a day underpinned by such severe weather warnings that we all but aquaplaned through the door – but even the arrival of an Ark could not dampen our waterlogged but expectant spirits.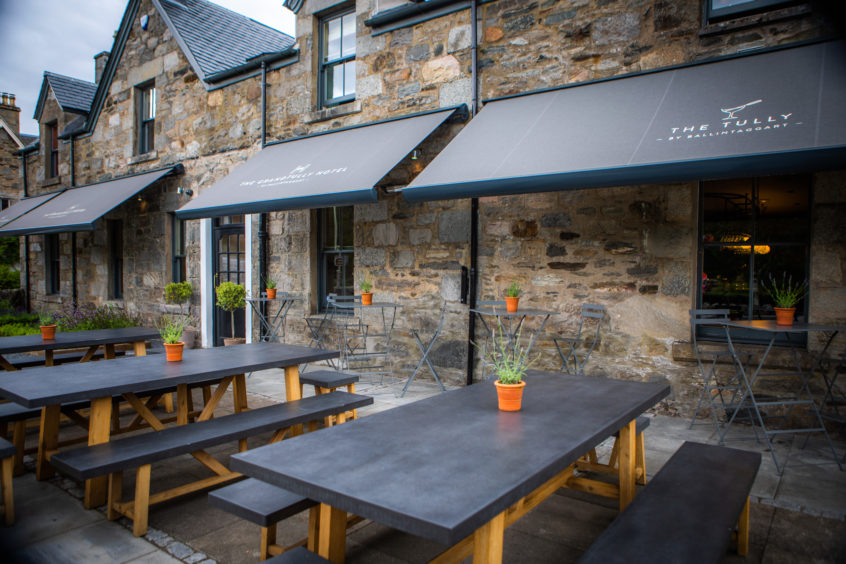 Of course on a more clement day the scenery on the drive up the A9 is lovely, offering at first a gently rolling burr of an introduction to the Highlands, becoming increasingly more robust the further North you go (you must zone out the traffic cones, roadworks and delays which have become as much a part of the natural landscape of this beleaguered road as the mountains that frame it).
It must be said that great minds are at work at Grandtully. Although the restaurant only opened last year the actual hotel was built in 1866 and the feeling inside is hugely inviting, warm and cossetting.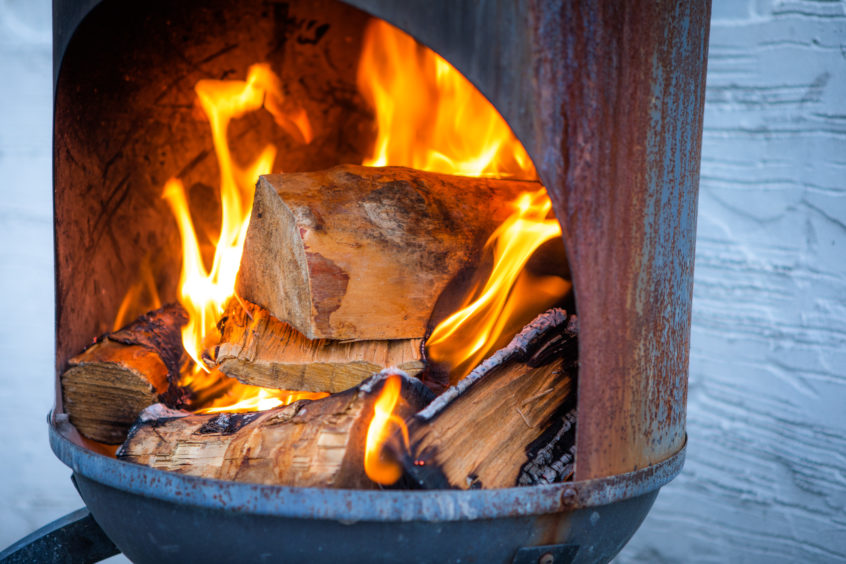 Its enviable position across the road from the river means that a meal on the terrace would be a lovely option for a warm day; even better would be to book in for dinner and stay in one of the refurbished rooms which are wonderfully simple and stylish – I would wager that the owners have looked at the Soho House clubs and hotels for inspiration as the décor has the feel of quiet understatement that is so typical of those establishments. It's a pared down yet eclectic look that is actually hard to pull off because one lapse in taste throws the whole things off balance. Here they get it just right.
We ate in the bar because the dining room was closed for lunch but, trust me, this is no hardship – the design is exquisite with an attention to detail that is the hallmark of the best. Beautiful floor tiles! Plus, any hotel bar that has a good house red wine on tap is OK by me.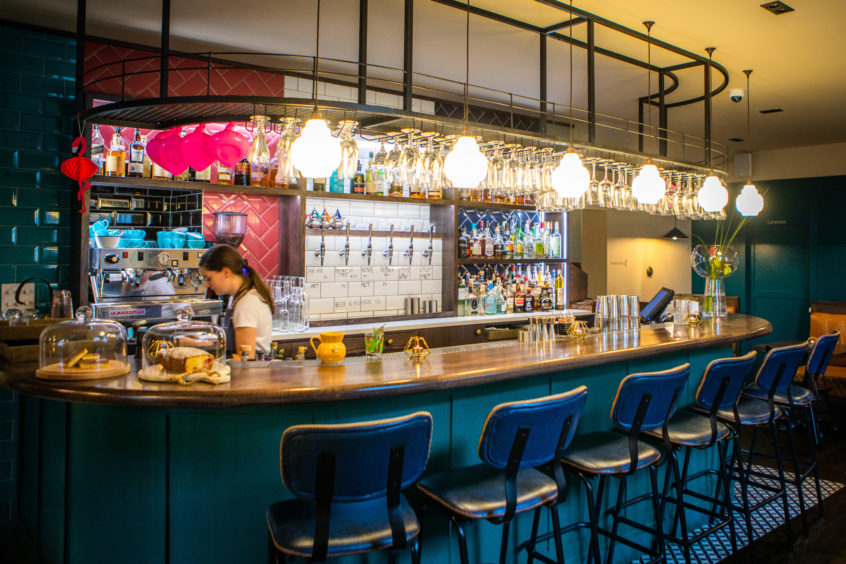 Service from two young waiting staff was knowing, friendly and gracious. They knew the menu inside out and their pride in their place of work was evident; when another table asked what Blue Murder was, the waitress launched into an effusively full description of the cheese that also included flavour notes and where it was made. Very impressive.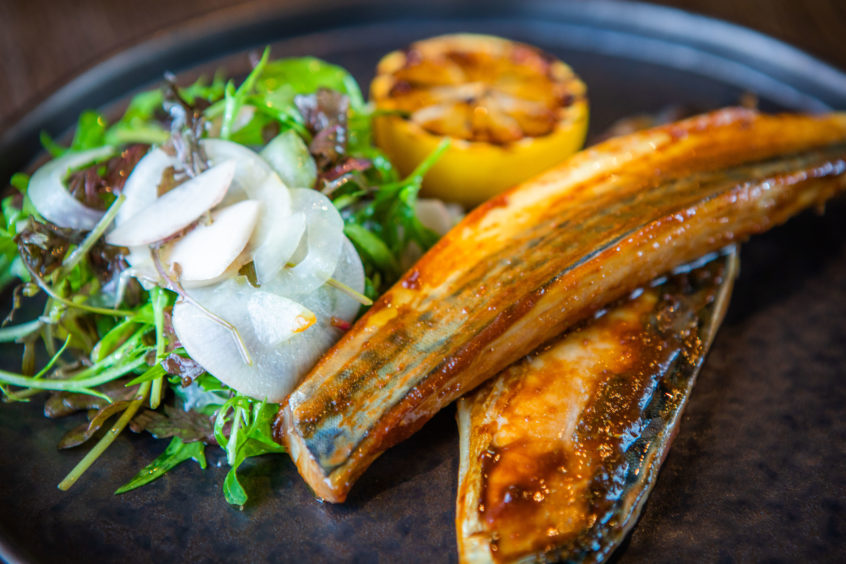 In truth, the hardest thing about the menu was deciding what not to eat because this selection was actually beamed down to us mortals from above. In the end we ordered everything on the starters list (or Bites, as they are described) except the oysters – because when I have oysters I want Chablis and when I have Chablis I want more Chablis. So we stuck to the six bites (£2/£3 each) and wolfed each bite down with increasingly beatific smiles, only pausing to comment on the expansive palette of flavour and texture before us.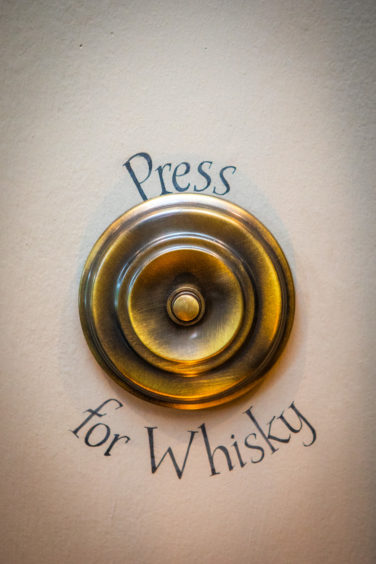 Firstly, the bread. Well, the Ballintaggart sourdough with smoked butter was so good I bought a loaf to take home; the Perello Gordal olives, the crispy pig skin (teeth-shatteringly good and probably worth a filling or two), the pulled pork croquette with smoked ketchup, the wonderful Great Glen charcuterie plate and the Strathtay honey, Arran mustard and spignel cured salmon….all simple and simply the best. Then from the small plates section we ordered salt and pepper squid with hot and sour sauce (£7) which was a total delight and, to my taste buds, as good as the textbook squid served at London's iconic River Café. That's praise indeed!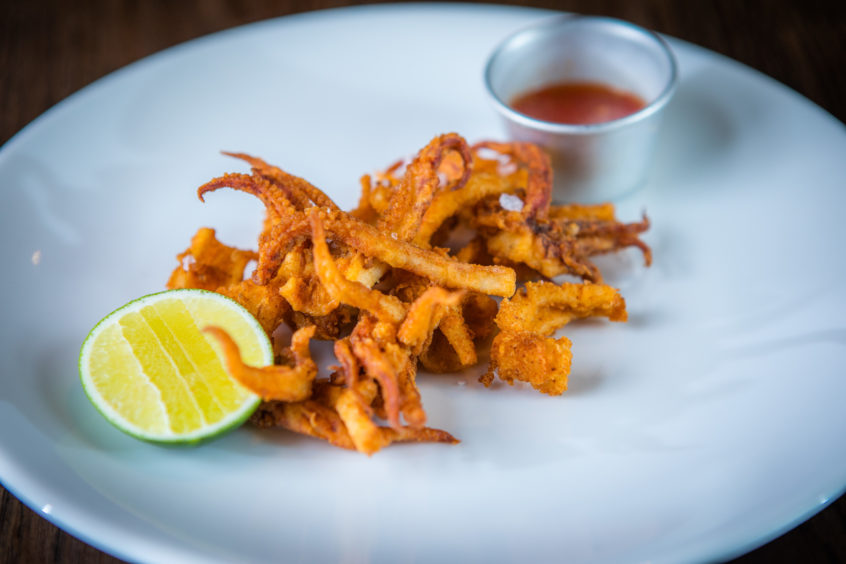 We also had roast cauliflower, kale, almonds and maple (£4) that managed to dispel the ennui brought on by the now passé sight of the three principle ingredients. The plat du jour was mackerel with pickled salad and this was the standout for me, the mackerel somehow losing its pungent jaw-tightening, worthiness (it's good for you) and becoming a thing of joy. Now let the nutritionists (and marine conservationists)  rejoice as Grandtully proves that this headbanger of the marine world can actually taste subtle and that ordering mackerel is no longer an action of culinary virtue signalling at its best.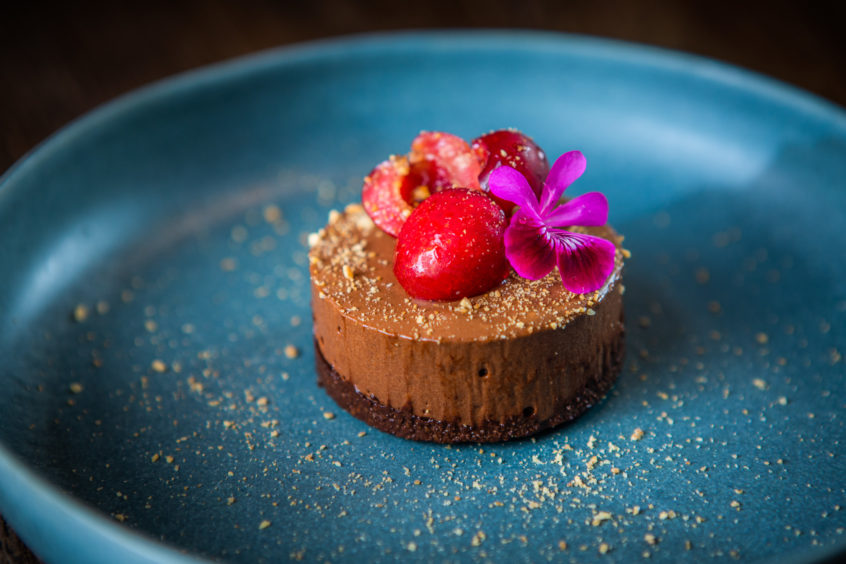 Desserts were a lemon, elderflower and champagne posset with lemon shortbread(£7), and a cherry, chocolate and almond mousse(£8). The former was as light and fresh as you'd expect whilst the chocolate mousse was a little too dense both in the base texture and the actual mousse, but still tasted good.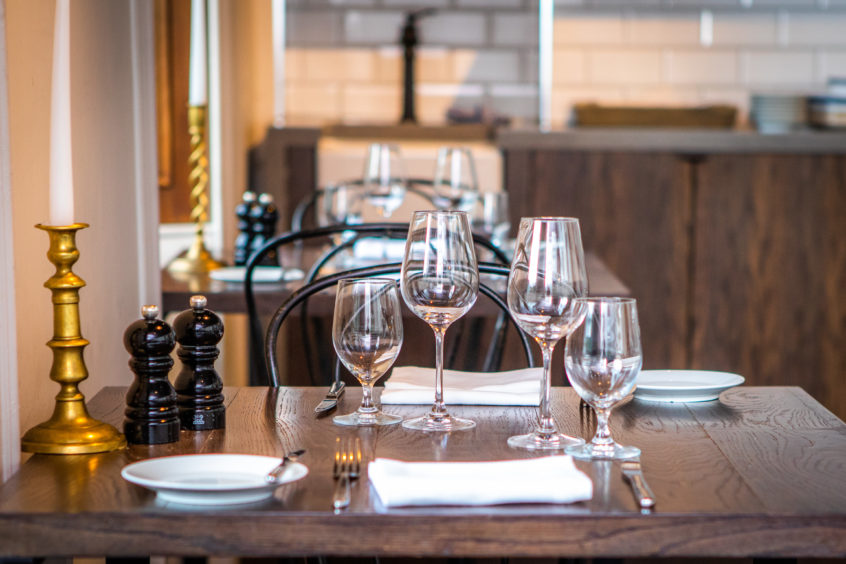 I couldn't help but think, as we prepared to leave – freshly baked bread under my arm – that those who live near this wonderful place must count themselves so lucky. Because it's very rare to see a place get it so right and manage to appeal to both locals, people from a wider radius and tourists. There is nothing extraneous here; everything has a purpose and everything has been thought through. I asked who the chef was and it turned out that the chefs here often come from Leiths School of Food and Wine, which is about the best formal training you can have.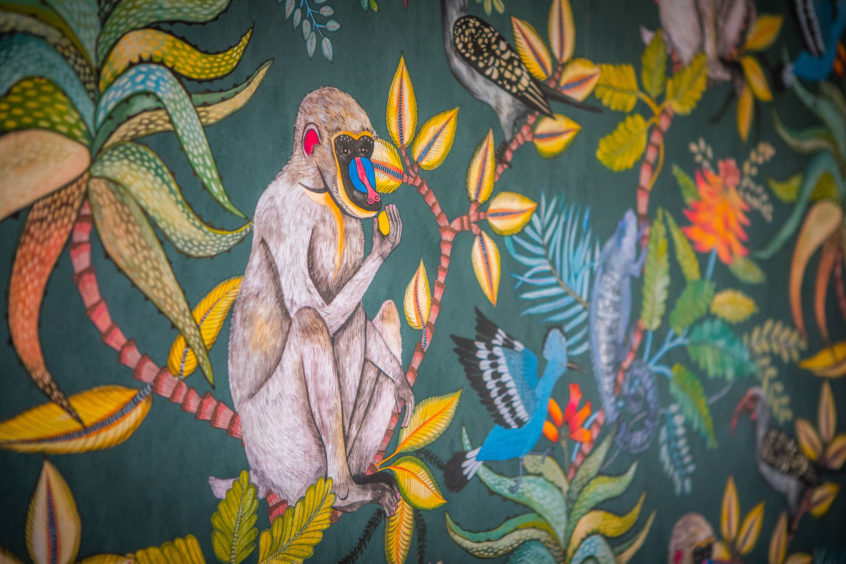 But this isn't a place bound or held back by tradition; it's a very modern idea of eating where you can graze as we did, have a burger, oysters or a full dinner. It's properly egalitarian in that you could spend a few pounds or a lot more and I can't wait to return – again and again.
The Grandtully Hotel
Grandtully
Perthshire
PH9 0PX
t: 01887 447000
Prices: Bites from £2; small plates from £6; large plates from £10; desserts from £7.
Value: 10/10
Menu: 10/10
Atmosphere: 9/10
Service: 10/10
Food: 10/10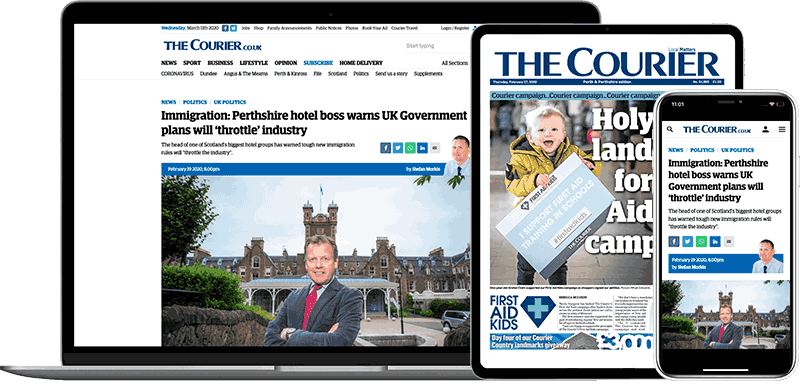 Help support quality local journalism … become a digital subscriber to The Courier
For as little as £5.99 a month you can access all of our content, including Premium articles.
Subscribe