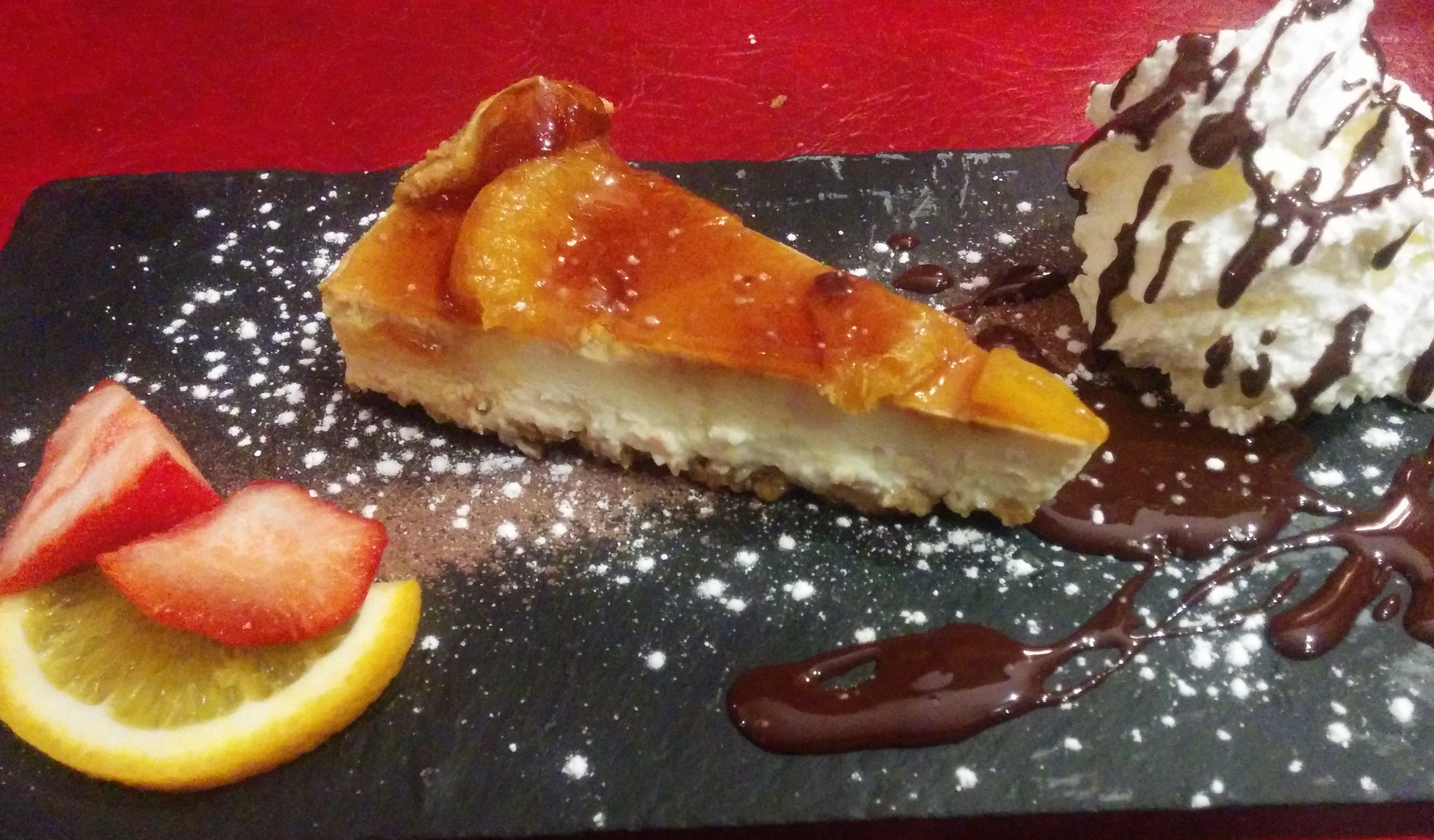 You instantly know only good things lie ahead when, with just the merest sliver of the restaurant door open on your journey inside, you are at once captured by a warm and tempting aroma offset with a pleasant babble of chatter.
Set in the heart of Perth city centre, Cafe Tabou is quite obviously a popular spot with locals. Arriving at 7.30 on a Saturday evening we were greeted by diners who'd obviously already enjoyed an early meal and were heading elsewhere. Once inside though the relaxed ambience made it clear that, for most, this was the main event of the night.
Typically French in decor, Tabou is more classy than fancy; a place where enjoying good food in a relaxed atmosphere is the focus.
Seated near the bar area we could overhear the good natured chat of the waiting staff, who while not rushing us, came over fairly promptly to take our drinks order and let us know what the specials were.
Before long the drinks had arrived and with them a generously filled complimentary basket of French bread and butter – just the thing the keep us going while taking on the difficult task of selecting from the menu.
As well as offering breakfast, lunch and pre-theatre menus, Tabou has a classique option which features starters from £5.20 for the soup of the day to £12.90 for a baked Camembert to share.
Frogs legs
And in case you have a hankering for frogs legs or snails, Tabou has given this traditional French favourite a contemporary twist – frogs legs come battered tempura style with a rocket and Parmesan salad and harisa & coriander creme fraiche, while a dozen grilled snails are cooked in a garlic, parsley and Pernod butter.
Mains on this menu include an array of steaks all reared by farmers in Aberdeen and Angus and includes a tenderloin fillet Chateaubriand for two option (£49.95).
Tempted by the prospect of King scallops (£10) cooked by a professional (home cooked are never the same!) and a Duo of Trout (£9.80) we opted for the A La Carte menu and it didn't disappoint.
The scallops were perfect and complemented beautifully by spicy French black pudding and crispy pancetta. The dish was rounded off with cauliflower purée and Beurre Noisette.
The Duo of Trout was equally stunning – the blend of trout tartare and pan fried sea trout working well with capers, shallots and pickled cucumber.  The icing on the cake was the courgette foam with fried basil leaves which brought some added texture to the plate.
Next up was the mains – the special was chilled langoustine (£12) and my wife, never afraid of having a crack at a crustacean, was delighted when half a dozen perfect specimens arrived at the table accompanied by a crisp green salad.
I opted for the seared link and served with potato gratin and roast Mediterranean vegetables (£20.90) The lamb itself was cooked to perfection while the smoked bacon and red wine rosemary sauce topped added to the succulence. The roasted veg were served big and chunky allowing them to soak up the other flavours on the plate.
With other choices including Duo of Bass – stone bass and sea bass served with warm potato salad – or Monkfish en Croute, which was accompanied by a delicious sounding chorizo ratatouille, or Chicken and Pistachio Roulade, selecting a main meal had been a difficult choice.
Vegetarian options, such as baked cannelloni, were also available, while a spectacular seafood platter comprising lobster, a whole crab, six Langoustine, a dozen oysters, a dozen tiger prawns, two King scallops in their shell and mussels, can be ordered in advance.
After a brief rest following the main event, and feeling fairly chuffed with herself for consuming only a moderate amount of calories so far, my wife – and designated driver – had no hesitation in rewarding herself with a hearty pudding.
Amongst the list of delights her eyes lit up at the caramelised orange cheesecake with chocolate sauce (£6.70). Light and fluffy yet full of zesty orange flavour thanks to the orange compote topping, it went perfectly, with the chant illy cream and dark chocolate sauce drizzled across the plate. There was no way I was going to get even a sliver to taste!
My cherry clafoutis (£6.50) and ice cream didn't disappoint. I'd never had this traditional French dessert of marinated cherries baked in batter before and had feared it may be a bit heavy, but it too was light and exceptionally tasty.
Other dishes include homemade crepes and bread and butter pudding made with croissants and brioche.
A cup of exquisite Italian coffee brought the meal to a fitting finale and fortunately, just at that point, Marek Michalak, owner and chef, emerged from the kitchen to say a quick hello to many of the well-known faces in his restaurant that evening.
Marek moved from Poland to Scotland in 2004, taking advantage of his home country joining the European Union, he couldn't speak a word of English.
Fast forward 12 years, and the now executive chef and co-owner of the Fair City's Café Tabou has joined an elite group with his appointment as a Master Chef of Great Britain.
He is one of only around 250 chefs throughout the UK to hold the honour and the first Polish chef to be appointed.
And the hard working 33-year-old is so grateful for the opportunities that Scotland has afforded him.
Cafe Tabou changes its menu every six weeks to ensure customers can experience different dishes from all areas of France, and enjoy some of the finest quality seasonal ingredients.
Info
Price: Starters – £9.50 – £11.90; Mains – £15.20 – £19.50; Desserts – £6.50 – £6.70
Value: 9/10
Menu:  10/10
Atmosphere: 10/10
Service: 9/10
Food: 10/10
Total: 48/50
Info: Cafe Tabou
Address: St Johns Place, Perth, PH1 5SZ
Tel: 01738 446 698
Web: www.cafetabou.co.uk