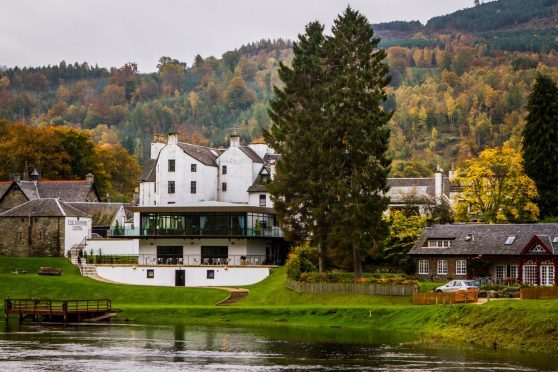 There is such an extraordinary wealth of of historical monuments and beauty spots in Scotland that it would be perfectly plausible to spend a lifetime visiting them and never need to leave this great country at all. This week, I visited a village in Perthshire that is so beautiful, Robert Burns himself wrote a poem about it which can still be seen today, inscribed directly on to the wall of the bar by the man himself.
The Kenmore Hotel, apparently the oldest inn in Scotland, is in the main square of this pretty Perthshire village, nestled between the church and the Disney-esque archway leading to the Taymouth Castle. We have driven through many times and have frequently seen processions of wedding guests being piped the very short walk from the ceremony to the hotel for the reception. The location is quaint and understated, surrounded by the dramatic beauty of Loch Tay and the glory of the hills.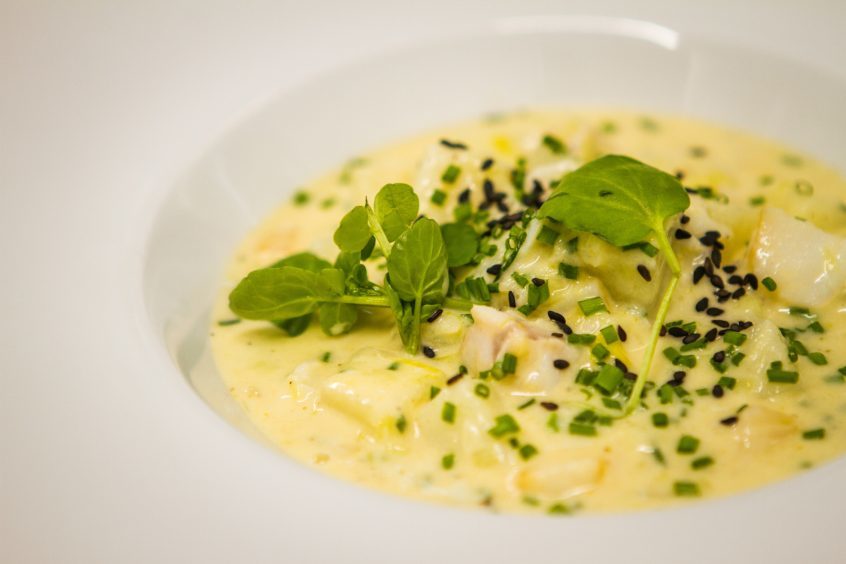 The entrance to the hotel is traditional and cosy. We chose to eat in the bar area partly because we wanted to see the famous poem but mainly because it had a lovely, friendly good old-fashioned pub feel.
Despite the winds, the weather wasn't too cold but in the depths of winter the open fire must be a very welcome sight after a day of walking the bens and glens. As a dog lover, I adore walking into a pub and seeing well-loved pooches curled up while their owners enjoy a nice pint and some grub, and dogs are made very welcome in the bar of this hotel.
On a quiet day, a little bit of background music would be a nice addition as it can fall fairly silent in the bar, but then maybe I should just ask Mr Kerry to up the game with his chat.
We sat down to peruse the rather extensive menu. At lunchtimes, there is a lighter menu with sandwiches and the like but the a la carte menu (also available at lunchtimes) contains everything from burgers to plaice poached in red wine.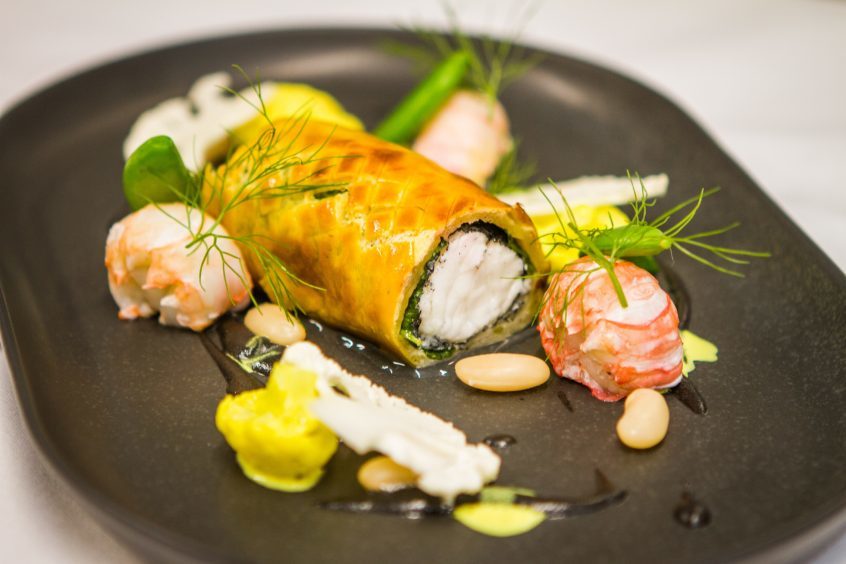 Mr Kerry started with the cullen skink which was exactly as he had hoped it would be – rich, smoky and creamy. I started with the pigeon tart as I was intrigued as to how it would work. I was delighted with my choice. The rustic puff pastry base had been delicately coated and decorated with radishes, artichokes and local wild garlic but the pigeon was most definitely still the centre of attention. The breast was very well seasoned with a lovely black pepper heat, thickly sliced and placed on top of the tart. It was perfectly cooked, pink, juicy and tender. I really was quite blown away by my starter and I began to think that perhaps this wasn't just a rustic country pub after all.
Our first main course was the grilled halloumi which had been skewered with vegetables and figs, and grilled. This was fairly standard but it came with some interesting accompaniments. The tzatziki was cool and lovely, the chick pea chilli rustic and chunky – but fairly bland – and the pickled cabbage was actually red cabbage braised with sultanas. Each element was perfectly fine, but together it all made an odd combination. We had been drawn to the description of the crisp kale, which was sadly swimming in oil, and so overall we admitted that this was not our finest choice. Nothing too wrong with it per se but it just didn't tickle our taste buds.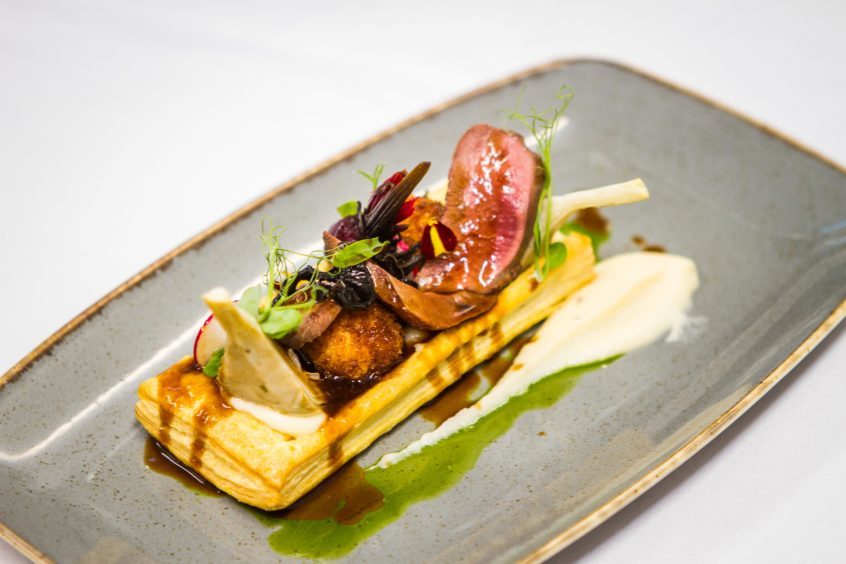 Our other main course was the monkfish baked in hay ash. Again, I was intrigued as to how this would be served. It came encased in pastry, the blackened hay visibly coating the very generous hunk of meaty fish. The result was a pleasantly subtle smoky flavour. The sweet langoustine tails created a nice balance while the curried cauliflower was delicious and I would have loved for this to be a bit more "saucy".  In my opinion, the squid ink vinaigrette looked a bit strange drizzled over the top but it had a nice tang to it. Overall, the dish was substantial, very filling and had lots of interesting elements.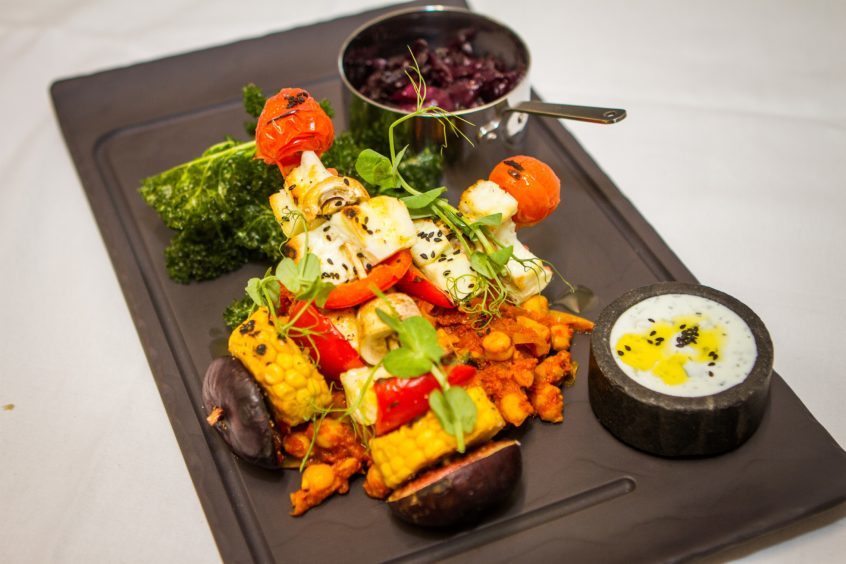 Although the burgers, pies and fish and chips looked great coming past us, it was clear that The Kenmore Hotel is aspiring to be a lot more than just a standard pub with standard grub. The menu is different and inventive. OK, one dish wasn't to our taste but that doesn't mean that others wouldn't  enjoy it.
The prices aren't cheap but then each dish is made up of so many elements it must take a tremendous amount of time to prepare them all. The scallops, for example, are not only served with salt cod, but also with chicken wings, turnip, barley and nasturtium. That is a lot to get right in just one out of 10 choices of starters.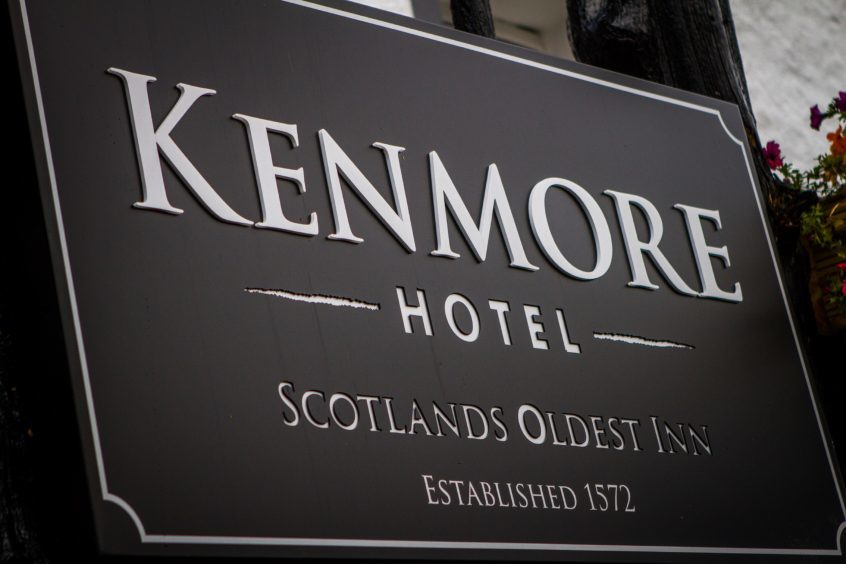 As well as being modern, with gels and popcorn garnishes, the chef is also taking things old school and using ingredients such as bone marrow and sweetbreads, and even making his own salad cream. My mum has taught me "always leave them wanting more" and The Kenmore Hotel has certainly followed that mantra as I will definitely be back to sample more of their intriguing menu.
Info
Price: Starters: £5 – £9; main courses: £13.50 – £30; desserts: £5.95 – £7.50
Value: 7/10
Menu:  9/10
Atmosphere: 7/10
Service: 7/10
Food: 8/10
Total: 38/50
Info: The Kenmore Hotel
Address: The Square, Kenmore, Aberfeldy, Perthshire, Ph15 2NU
Tel: 01887 830 205
Web: www.kenmorehotel.com/bars-restaurant/