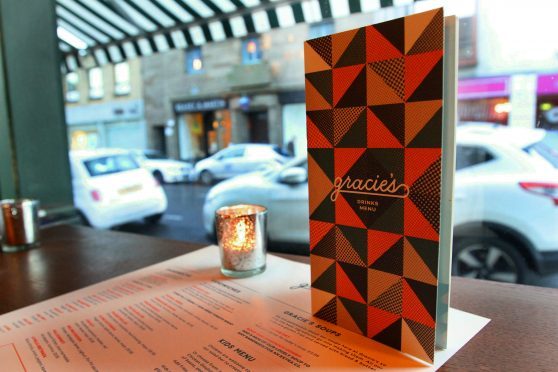 If you're out for coffee and cake or a spot of lunch then Broughty Ferry really is the place to go. The little seaside town is teeming with coffee shops and restaurants and there seems to be enough customers to go around as the majority of them are usually fairly busy.
One of the firm favourites, Gracie's, has recently had a refurbishment so we went along this week to see how things have changed.
Even from a distance, it is clear to see that Gracie's really has been given a spruce-up. The cafe frontage and signage are clean and new and, I think, very classy. The inside is also very different from before. The decor has taken on darker tones and the banquettes and booths are separated with ornamental tropical flowers, giving the place a bit of a rain forest feel.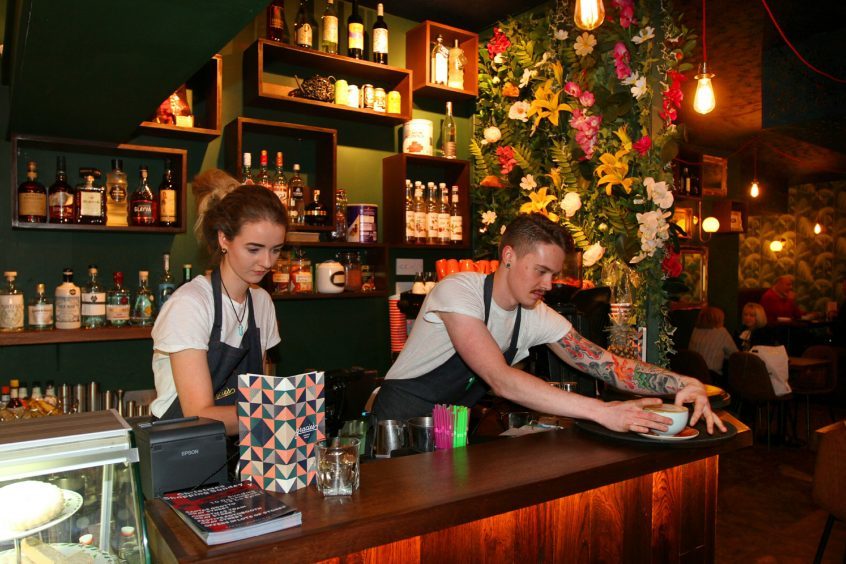 I really liked the mood of the place as on a cold winter's day, it was cosy without being too traditional.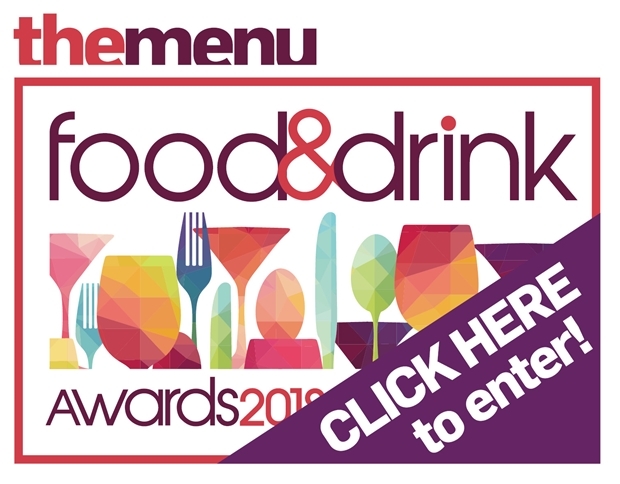 In order for people to choose one restaurant over another in the Ferry, new places have to mark themselves as different and offering specialities and unique dishes that the others don't. The new Gracie's seems to be focusing on burgers, hot dogs and other  American and Tex-Mex dishes. I liked the menu – it had some classics and some twists and turns that were unexpected. At first glance, the speciality sandwiches seemed pricey at £8.95 although they were substantial in size.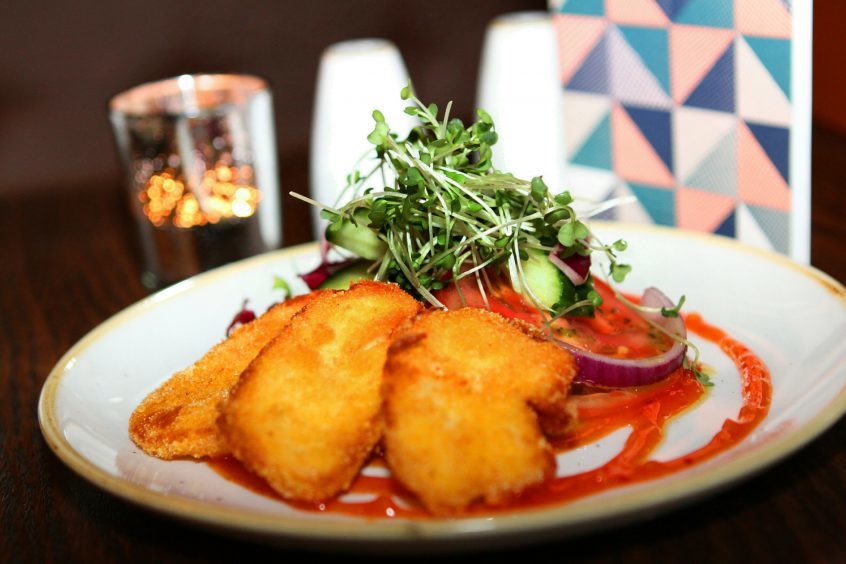 I wasn't in the mood for a burger and so turned to the brunch menu which drew me in.   Had I been there for breakfast, I would have leapt on the "get smashed toast" dish of avocado, toast, chilli, lime and poached eggs.  There was nothing stopping me ordering it for lunch, I guess, apart from the fact that the "breaky burrito" had me salivating slightly more.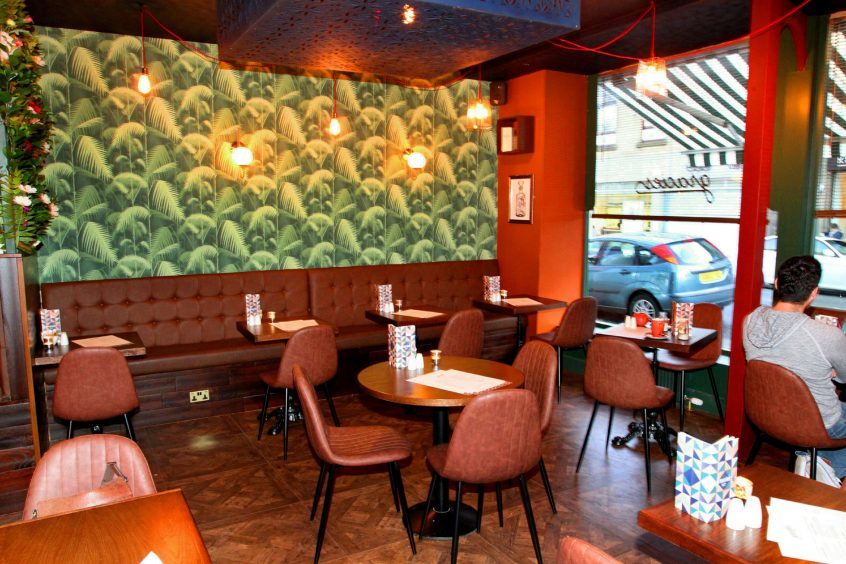 The tomato wrap that arrived was jam packed with the hot filling of scrambled eggs, sausage, smashed avocado and red peppers. I opted for the veggie sausage version and instead of being a dry, shrivelled up cylinder that tasted of cardboard, it was a succulent, juicy sausage that actually had some flavour.
The scrambled eggs were creamy and rich and not at all rubbery, and went well with the other ingredients. The dish was topped off with a chilli sauce which brought everything together. I thoroughly enjoyed this dish and I'm sure the chorizo version would have been great too. Whether this is an authentic Mexican breakfast or not, it was a winner for me and not a morsel was left on my plate.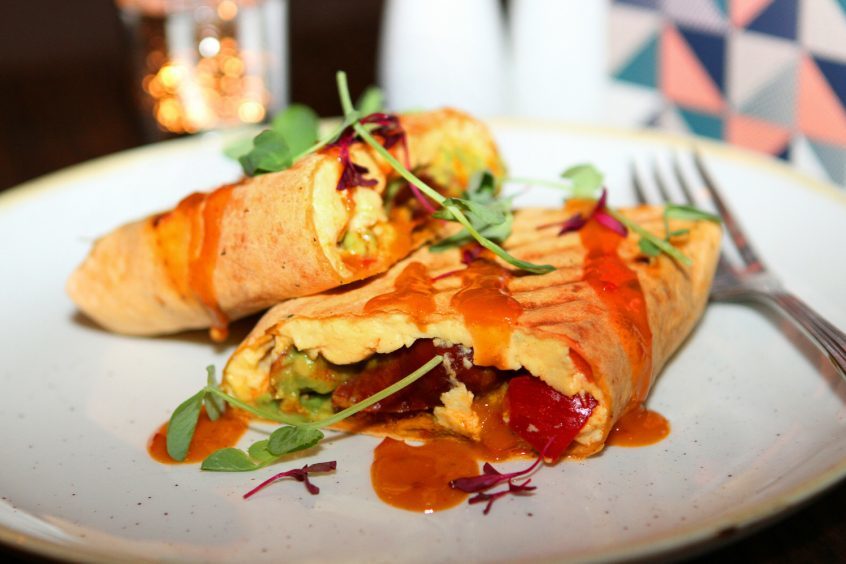 My friend did fancy a burger and chose the big cheese variety. When we placed the order, we were told that the burgers are cooked to order and take 20 minutes, in case we wanted to change our mind. Twenty minutes does seem fairly excessive for one burger but if a job's worth doing, I guess…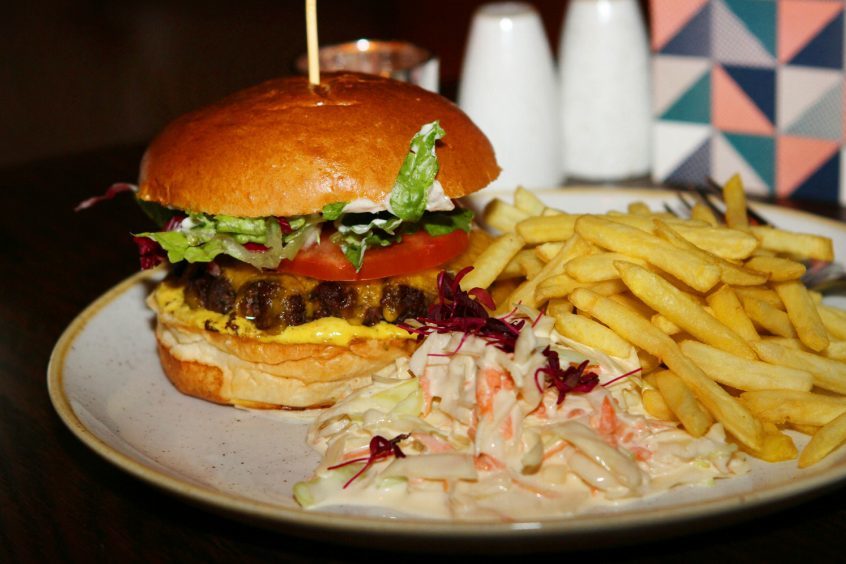 It took half an hour in the end and sadly when it did arrive, the fries were only just warm. What they lacked in heat, they certainly made up in quantity as there was a gigantic pile of them.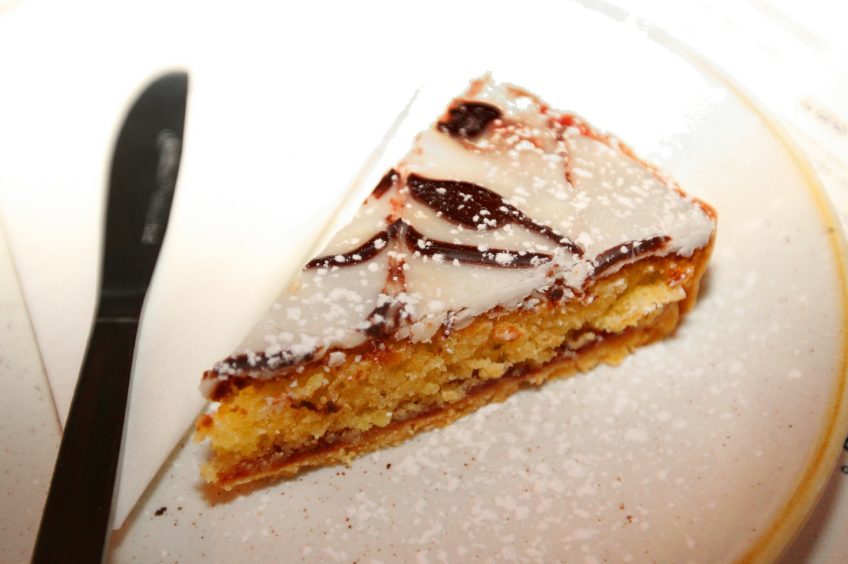 The burger itself was succulent and the quality of the mince was the star of the show. It was smothered in mature cheddar and served in a brioche bun with 'slaw and house relish. This was a good burger package – not mind-blowing, but good.
We also ordered a side of halloumi fritters which had been coated in a crispy crumb and fried. The accompanying sauce was tangy and sweet and they made a great sharer plate to nibble on.
As we sat with our food, we watched a few hot dogs go past and I have to say they looked great. A good size with generous amounts of toppings and I may have to indulge in a Scottish-produced bockwurst next time I'm there…possibly even with one of Gracie's boozy shakes. Chocolate with a shot of vanilla vodka sounds rather luscious actually.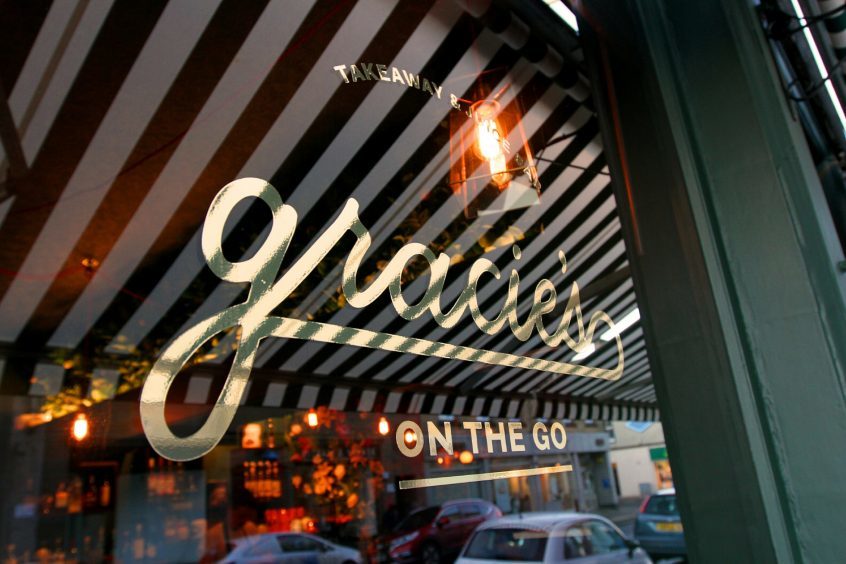 The Gracie's menu is leaning towards that of an American diner. The dishes have playful titles and the menu design mirrors the style of the food. I like the fact that the decor is not all shiny chrome and bubblegum colours trying to replicate a diner – they have simply chosen to hint at a theme rather than shove it in the customers faces, which may may put off some of the regulars.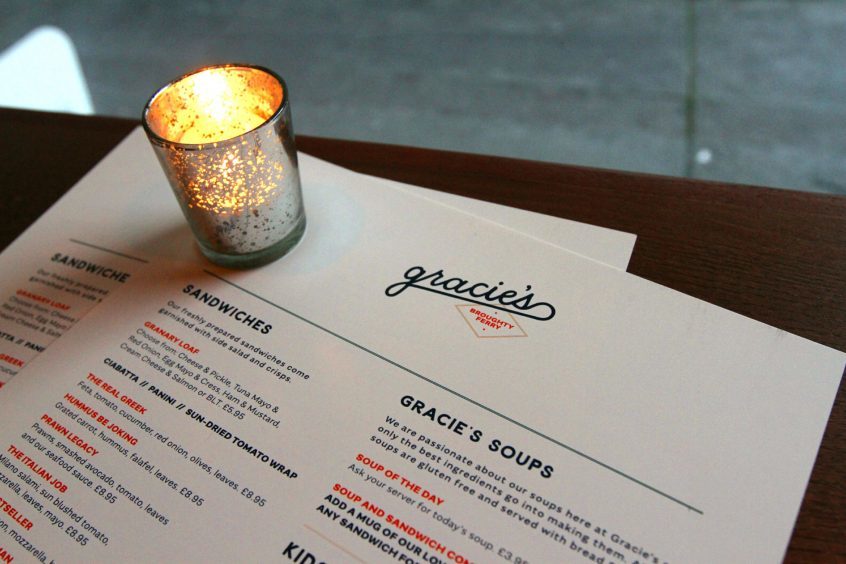 More traditional soups, sandwiches and cakes are also on offer so if you were hoping for an egg mayo on granary and a slice of strawberry Bakewell then you would be just as in luck as someone wanting a pile of fries with spiced steak, fried eggs and hot sauce. Takeaway options are also available and the window dressing advertises a juice bar so they really are trying to attract a wide range of customers.
I really like the concept of Gracie's and I love the focus on fresh and local ingredients.   The service is cheery and engaging and the atmosphere relaxed. I'll definitely be back to sample more of the brunch and "Linner" dishes, as the combinations and drizzles of hot sauce are really up my Broughty Ferry street.
Info
Price: Soup: £3.95; Sandwiches, wraps and paninis: £5.95 – £8.95; hot dogs & burgers: £8.95 – £12.95
Value: 7/10
Menu:  8/10
Atmosphere: 8/10
Service: 8/10
Food: 8/10
Total: 39/50
Info: Gracie's
Address: 175 Brook Street, Broughty Ferry, Dundee, DD5 1DJ
Tel: 01382 730811
Web:  www.facebook.com/graciesbroughtyferry/