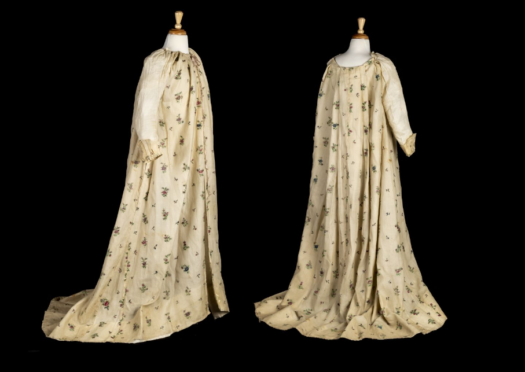 It remains on my wish-list to see The McManus Galleries in Dundee filled with its wonderful textiles collection.
The exhibition staged many moons ago lives happily in my memory and I am impatient for the sequel! I would even donate the 1950s' Yves Saint Laurent ties lurking in my bottom drawer if it eggs them on.
Anyway, a rare Scottish textiles item caught my eye when it appeared at Dominic Winter's sale of fine art in Gloucestershire on October 22.
This was a delicate, but remarkably well-preserved, hand-painted woman's robe stamped with the mark of Glasgow manufacturer James Finlay, and showing the sack-back feature which was so popular during the late 18th Century.
In hand-stitched silk gauze with pleated and lightly padded sack-back, the robe was painted with a pattern of floral sprigs in pinks, blues, and greens, on a cream ground, lined with 18th Century muslin.
The loose structure of the robe suggests it was intended for informal wear at home, most likely as a dressing gown or maternity dress.
The pocket is a curious addition, as women's pockets at this period are thought to have always been detached affairs, worn underneath the petticoat of the gown, and yet the pocket on this robe has all the appearance of being integral to the original construction.
Textile importer and manufacturer James Finlay established the firm of James Finlay & Co in Glasgow in 1750. The business became highly successful, establishing mills all over the world, and later diversifying into tea estate management.
Given the age and rarity of the robe, which probably dates to around 1780, the hammer price of £520 seems almost irrelevant.
Picture: 18th Century Scottish robe, £520 (Dominic Winter).