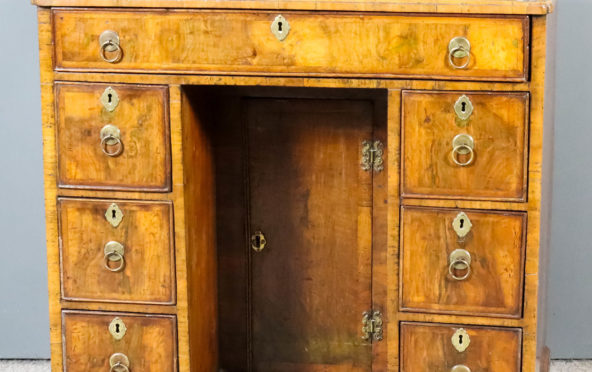 Due to be sold in April was this near 300-year-old dressing table, or desk, of gorgeous proportions.
Properly described as a George II lady's walnut kneehole dressing table, it oozed a quality of workmanship not always present in furniture pre-dating the arrival of mahogany.
The quarter-veneered walnut top was inlaid with herringbone banding, and the drawer fronts were similarly crossbanded. Above three deep drawers to each side was a long frieze drawer, and the central kneehole space had a further fitted cupboard.
The original butterfly hinges holding the central recessed cupboard are typical of the early 18th Century, as are the block bracket feet.
When this exquisite little piece was made in 1730 or thereabouts, dressing tables were intended for a lady's toilette. It would have been partnered by a rather inelegant, squat elbow chair capable of taking a wide hooped skirt.
At this time cabinetmakers shaped the frames by hand, cutting dovetails and mortices in seasoned timber. This piece would have been finished with oil and wax polished.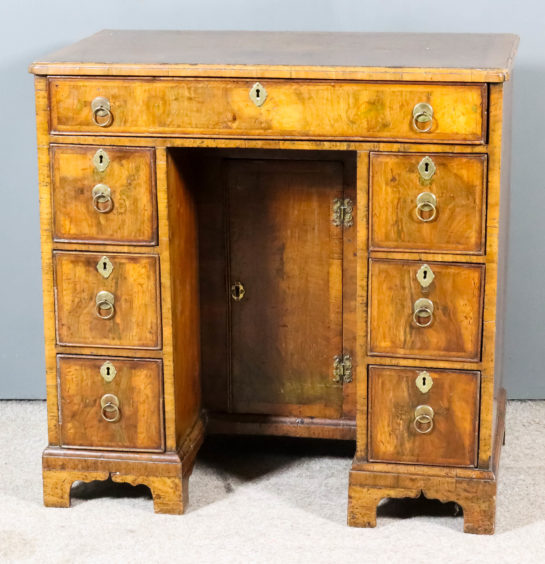 The introduction of mahogany in the mid-1700s added to the repertoire of woods available to British cabinetmakers and allowed designs to move away from the straight lines seen here, and to be angled and pierced with delicate fretwork.
Designers then delighted in contriving dressing tables, ingeniously fitted with all kinds of sliding and hidden mirrors, drawers and cosmetic boxes.
This table – just 31ins wide x 31ins high – was due to appear at Canterbury Auction Galleries in Kent with a conservative pre-sale estimate of £1500-£2000. You will not be surprised to learn that the sale had to be postponed.
Picture: George II dressing table (Canterbury Auction Galleries).