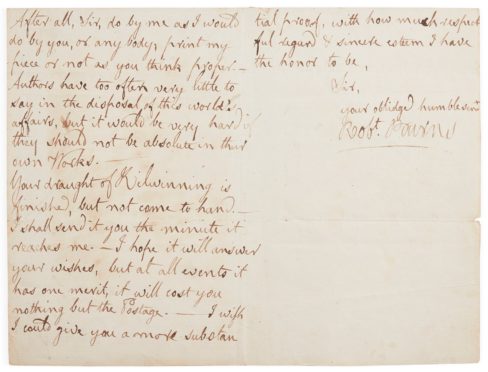 The worldwide popularity of Robert Burns lifts the value of any associated item – especially something in the Bard's creative hand.
This week, Edinburgh auctioneers Lyon & Turnbull pull a superb item out of the hat to offer an autographed letter written and signed by Burns, which references his most famous poem.
Signed 'Robt. Burns' and written from Ellisland Farm, near Dumfries, where he also produced Auld Lang Syne, the two-page letter was sent to his friend Captain Francis Grose in December 1790.
The two men had met when Grose has toured Scotland in 1789 gathering material for The  Antiquities of Scotland. Burns had proposed that Alloway Kirk should be included. Grose, immortalised by Burns in On the late Captain Grose's Peregrinations through Scotland, agreed, on condition that the poet provided a tale to go alongside an engraving.
Opening with a graceful excuse for a hurried letter ("I am not, God knows, vain of my composition, & if you like intellectual food more substantial than the whipt syllabub of epistolary compliment"), Burns refers to the enclosure which originally accompanied the letter as, "one of the Aloway Kirk stories, done in Scots verse.
Should you think it worthy a place in your Scots Antiquities, it will lengthen not a little the altitude of my Muse's pride."
Of course, the 'Scots verse' referred to is Burns' great mock-heroic narrative, Tam o' Shanter, the poem (in English and Scots) composed to accompany the entry for Alloway Auld Kirk in the following year's volume of The Antiquities of Scotland.
Estimated at £9000-£12,000, the letter appears at L&T on Wednesday.
That it once enclosed the original manuscript of Tam o' Shanter is rather awesome!
Picture: Robert Burns letter, £9000-£12,000 (Lyon & Turnbull).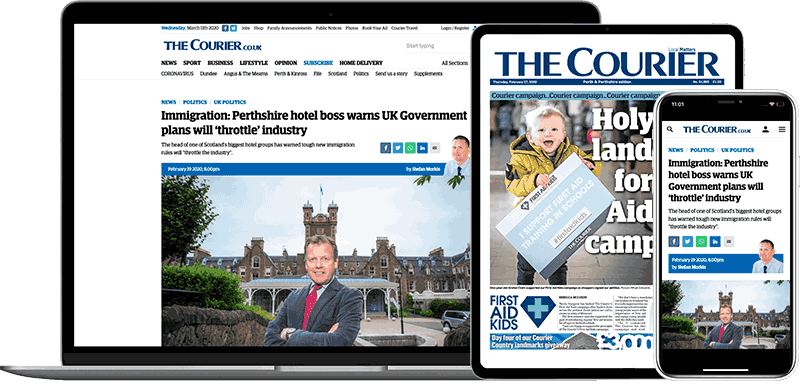 Help support quality local journalism … become a digital subscriber to The Courier
For as little as £5.99 a month you can access all of our content, including Premium articles.
Subscribe