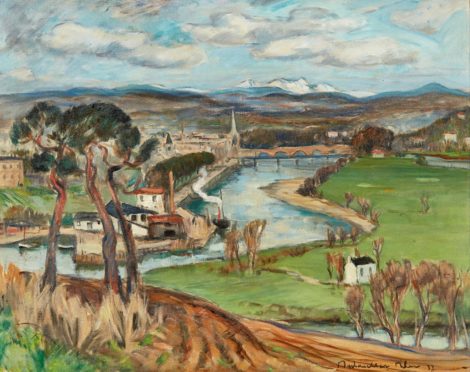 THE STAR lot in Lyon & Turnbull's art sale in the capital on Thursday is (for me, anyway) John Duncan Fergusson's Seated Nude, a small bronze sculpture depicting a woman almost as if she were in a trance, seated with her head facing intently forwards.
It has hopes of £15,000-£20,000, but I fancy it will require deeper pockets. Not even the Perth gallery dedicated to his work has this model.
Along with Cadell, Peploe and Hunter, Fergusson is one of the four Scottish Colourists. The fifth, had there been one, would have been John Maclauchlan Milne (1886-1957).
From the same Edinburgh sale, I illustrate Milne's Perth From Kinnoull Hill, signed and dated 1932, a 28in x 36in oil.
Colour is more important than subject. The harbour, Tay Street, town centre and bridges are neglected and squished, leaving the eye to be drawn to the enhanced greens, browns and blues of Mother Nature, with three prominent trees appearing to borrow heavily from Fergusson's Mediterranean masterpieces.
Milne, of course, was no stranger to this area. The son of Dundee artist Joseph Milne, the family stayed at Kingoodie, near Invergowrie, until the outbreak of the First World War, when John enlisted in the Royal Flying Corps. He returned to Dundee before moving to Paris, then Cassis, when he painted and exhibited with Cadell and Peploe. While in France, his stipend was paid for by the Dundee marmalade family Keiller's, who took a proportion of his work.
---
>> Keep up to date with the latest news with The Courier newsletter
---
Fittingly, Perth from Kinnoull Hill was exhibited in 1986 by Dundee Art Galleries to mark the artist's centenary.
It carries pre-sale hopes of £20,000-£30,000. I would still take the Fergusson – and the change.
Picture: Kinnoull Hill by John Maclauchlan Milne (Lyon & Turnbull).