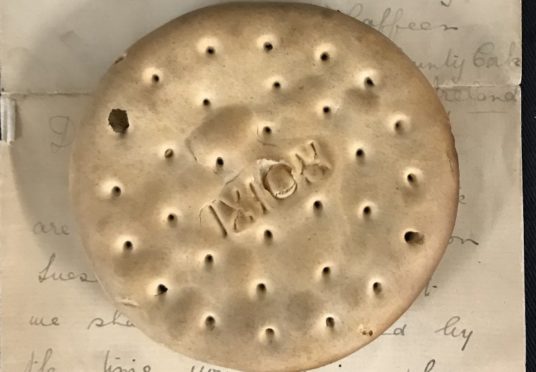 Only one biscuit has appeared in all the years of this column. It featured in 2002, but failed to sell in an otherwise busy Christie's saleroom during a dispersal of 400 lots of Arctic and Antarctic memorabilia.
You may have guessed – or even remembered – that this was a famous Huntley & Palmer's biscuit from the stores of Ernest Shackleton's British Antarctic Expedition of 1908-09 aboard the Dundee sealer Nimrod.
It lives in the memory from the anecdote jotted in Frank Wild's journal as the polar party, starving and ill, returned in January 1909. Underlining every word, Wild wrote how Shackleton "forced upon me his one breakfast biscuit…I do not suppose that anyone else in the world can thoroughly realise how much generosity and sympathy was shown by this…Thousands of pounds would not have bought that biscuit."
Well, thousands didn't, but please read on.
Last month, a biscuit purportedly taken from a lifeboat after the sinking of the RMS Lusitania by a German submarine in 1915 surfaced at Henry Aldridge's auction in Devizes.
A remarkable survivor, the Ixion biscuit was accompanied by a handwritten letter from a Sapper in the Royal Engineers written shortly after the Lusitania sank, describing how he obtained it.
"You will find enclosed a biscuit which I got out of one of the Lusitania's boats at Queenstown. I suppose these biscuits are put in the lifeboats to feed the people aboard her, in case they are a great distance from land or being adrift for many days."
It is believed that there are only two such biscuits in existence, the other on display at the Cork Heritage Centre in Ireland.
Henry Aldridge duly took thousands for the biscuit – £4000.
Picture: Lusitania biscuit, £4,000 (Henry Aldridge Auctions).