Spring has sprung – and that means a new motor racing season is under way.
I headed to Scotland's only national motorsport centre, Knockhill in Fife, for a taste of what's on offer there and a meeting with reigning British Touring Car champion Gordon Shedden.
There's everything from 4×4 and rally courses to Ferrari, Aston Martin and Jaguar E Type driving experiences, plus skid control lessons.
First up is the chance to get a taste of the bum-to-the-tarmac thrill that Formula One drivers experience.
Knockhill now has a small fleet of Formula Race cars. These single-seaters sit just inches from the road and have a rear-mounted 1.8 litre Audi engine. They provide incredible thrills.
However, getting in is not straightforward. You step on to the seat, support yourself on the car's sides with your arms and slide your feet forward into the nose. Only then does the steering wheel clip into place. Because neither the seat nor the pedals move, the cockpit has to be the right length for the driver, so they come in small, medium and large sizes, with each one giving greater leg room.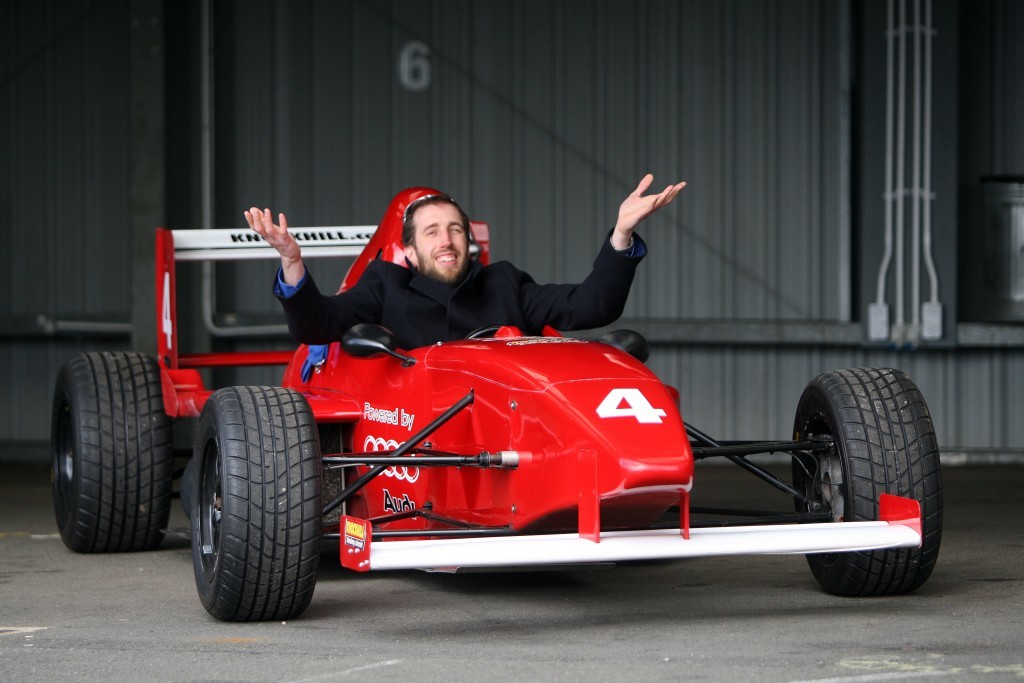 Unfortunately, there isn't an extra-large size. I manage to cram my legs in there but when the steering wheel's fixed on I can barely move.
My instructor Andrew Donald asks if I'm comfortable – I'm not. My feet can't move from one pedal to the other and the steering wheel won't turn because it's jammed between my thighs. Clearly, this isn't happening.
That isn't too disheartening though, especially considering what's coming up next.
I'm taking one of the hottest of hot hatches for a whirl round Knockhill's twisty, tricky 1.3 mile track.
The Honda Civic Type R manages to wring 306bhp from its two-litre engine. It does 0-62mph in 5.7 seconds and has a top speed of 167mph.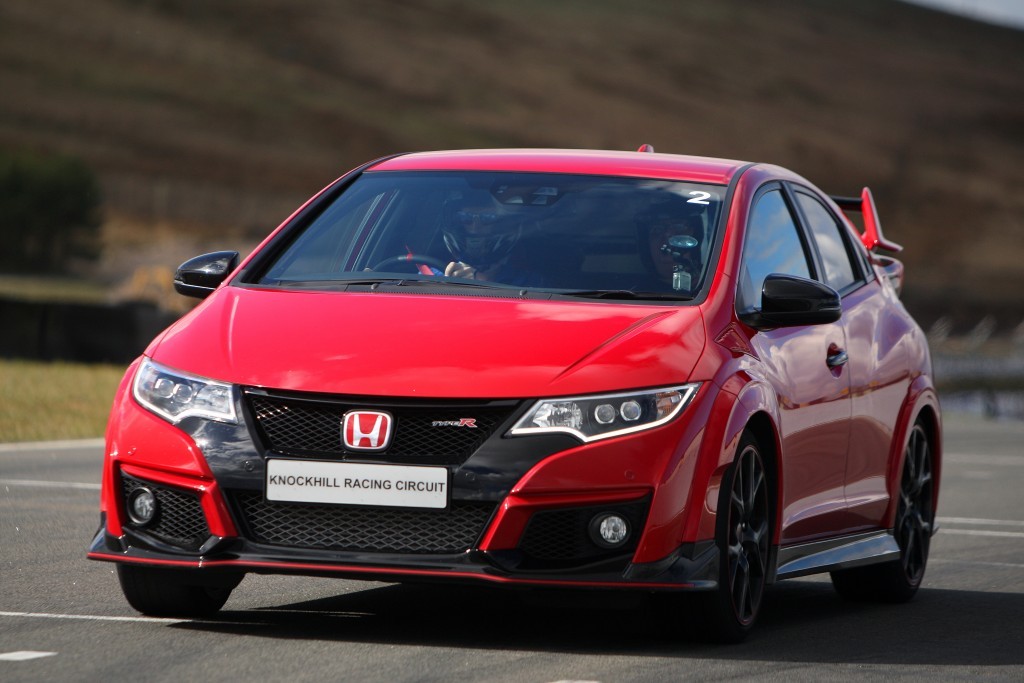 I find a helmet that fits my big noggin, slide myself into the driver's seat and make myself comfortable.
I hit the starter button and the engine roars into life. My foot can rest on the accelerator without also trampling the brake and clutch. Compared to the single seater, I'm already winning.
We head out on to the twists and turns of Knockhill's race track. Our first couple of laps are exploratory. I choose my own lines – although there are cones placed to show the optimum entry and exit points of each turn, which I take advantage of.
After a lap or two to get used to the car, Andrew starts giving me pointers. I'm braking too late and changing gear mid-corner, both of which are slowing me down.
"You should have all your braking done by the time you enter the corner," he advises. "That way the car can focus on the turn.
He also cautions me to brake smoothly. "You can brake hard but don't apply the pressure suddenly," he says. "That causes a sudden shift in the car's weight which can unsettle it."
It's a dry day and the car has plenty of grip. It roars out of corners and I unspool the steering wheel gradually, increasing the power as the tyres begin to point straight ahead again. "Think of the steering wheel and the accelerator being combined," Andrew says. "If you have 60% steering on you can only have 40% acceleration."
My lap times steadily improve as we go on and the car isn't being slung around as violently as it was on my first lap.
Exhilarated, we retire to the pit lane. As my instructor's giving me a debrief my eye alights on a button near the dash. It has "R+" written on it. "What happens if I push that," I ask?
"Why don't you press it and we'll find out," Andrew grins back.
I do so and we head back out on the track. The already firm suspension is now 30% stiffer, the throttle is more responsive and the steering has increased its weight. An already fast car feels even faster.
After a couple more laps my time is up. I'm sad to be finishing but I'm also quite tired from the furious concentration. Heaven knows how professional race drivers maintain their focus for hours on end.
Just then, Knockhill's racing driver and reigning British Touring Car Champion Gordon Shedden saunters over for a chat.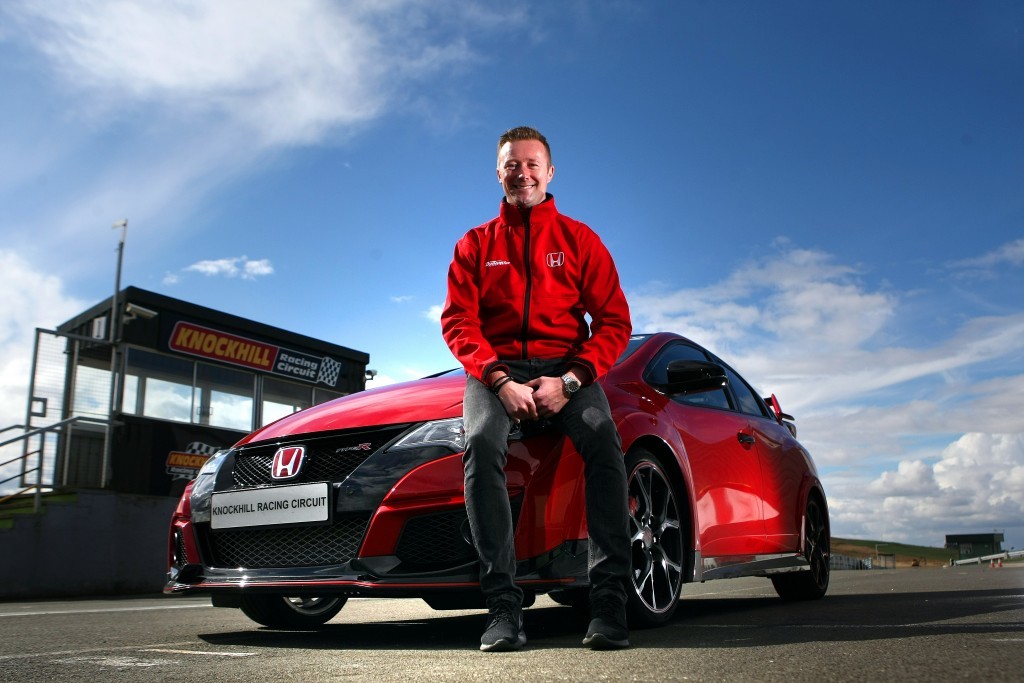 What would he say to young people dreaming of a career in motorsport? "Get started now. You can get a junior race licence at 14 years old. And there's karting. There are all sorts of amazing opportunities."
Does he feel under additional pressure with a title to defend? "Not a bit. It's great being the man everyone else wants to beat."
Knockhill offers a range of driving experiences with prices starting at £99. Visit www.knockhill.com.