In the market for a van or pick-up to fit your business needs without breaking the bank? One Courier Country dealer is right up your street.
AM Phillip is a dealer of Fiat Professional, the manufacturer's commercial vehicle division, offers a combination of stylish, efficient and ergonomic light commercial vehicles which are also powerful, rugged, and cost effective.
The range delivers what customers need to do their job without compromising their bottom line and allows them to get on with their business in the most cost effective way.
The range has many award-winning vehicles, none more so than the Ducato, Fleet Van of the Year at the recent Van Man Motor Transport awards.
With gross vehicle weights (GVW) from 3 to 4.25 tonnes, the Ducato offers payloads of up to 2100KGs and load volumes of between 8 to 17m3. There is a range of engine horsepowers and trim levels to choose from, all in a compact front wheel drive configuration which makes the most of a low level load floor without compromising on drivability.
Available as a panel van, chassis/crew cab and people mover combinations, the Ducato has the versatility to fit any organisations mission.
Meanwhile, the Talento is the new kid on the block.
Launched in 2016, the Talento redesigns the small panel van market offering an ingenious combination of design, compatibility and technology all under the one roof.
With car-like design features, the Talento gives comfort items such as keyless entry, rear parking sensors, touchscreen navigation and hill-holder with the practical virtues you would expect from a working vehicle.
There is no compromise on power with up to 145hp available, payloads of up to 1.2 tonnes. Two wheelbases and roof heights give load compartment spaces of up to 8.6m3 with a maximum loadspace length of 4.1 metres.
Available in crew cab and people carrier versions as well panel van, the Talento brings versatility in a stylish guise.

The Doblo needs no introduction.
The small panel van from Fiat Professional has been around for many years, building up a reputation as a functional, comfortable and productive van with low running costs.
A recent update has given it a further boost, with car-like features now incorporated into the design, adding that extra element to an already hard working, cost-efficient work tool.
Whatever your needs, be it a small business looking for a lightweight runaround, a tradesman looking for the perfect work partner or even a delivery agent looking for fuel-efficient, low maintenance workhorse, Doblo offers the solution.
Two van roof heights and two load lengths give up to 3.4m3 of volume and over 1 tonne payload. A chassis cab option and a people carrier version are available as well.
Diesel engines of up to 135hp and a petrol option are also available, as is the latest safety features such as Electronic Stability Control (ESC), Tyre Pressure Monitoring System (TPMS), cruise control, Bluetooth, and steering wheel controls All in all, Doblo give you a better way to work.
The Fiat Fullback 4×4 pick-up give the Fiat Professional range a new dimension.
It's the first pick up offered and never before has a pick up delivered on practical capabilities such as loadbed length, payload, engine power, transmission and safety features. With a choice of 150 and 180HP 2.4 litre diesel engines, manual (SX) or automatic (SX and LX) transmissions, Fullback gives a wide choice depending on your needs.
Technology features such as touchscreen navigation, rearview camera, Bluetooth, climate control, USB connectivity and Key-less entry let you stay connected wherever you are.
The SX trim level gives a high level of comfort and convenience while the LX operates on another level with advanced features you would normally find on only a high specification car.
And with a range of colours and optional customisation items such as tonneau covers, hardtop covers and sidebars and rails, you can make the Fullback your own.
Formed in 1955, A M Phillip Trucktech has dealerships throughout the East and North of Scotland including FIAT Professional in Dundee, Aberdeen and Edinburgh.
Contact A M Phillip Trucktech on 01382 817266 or visit the website for details.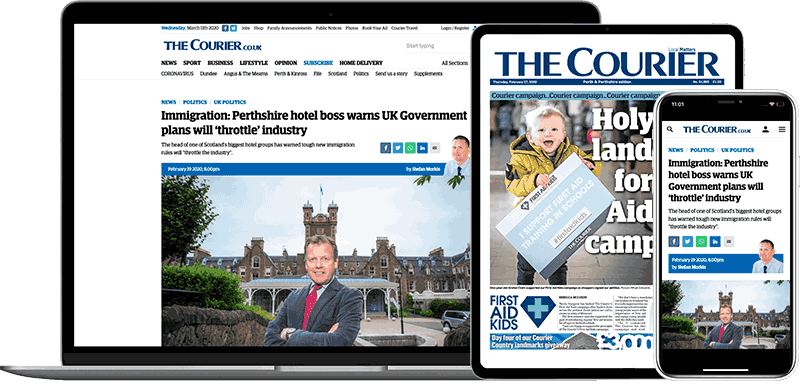 Help support quality local journalism … become a digital subscriber to The Courier
For as little as £5.99 a month you can access all of our content, including Premium articles.
Subscribe