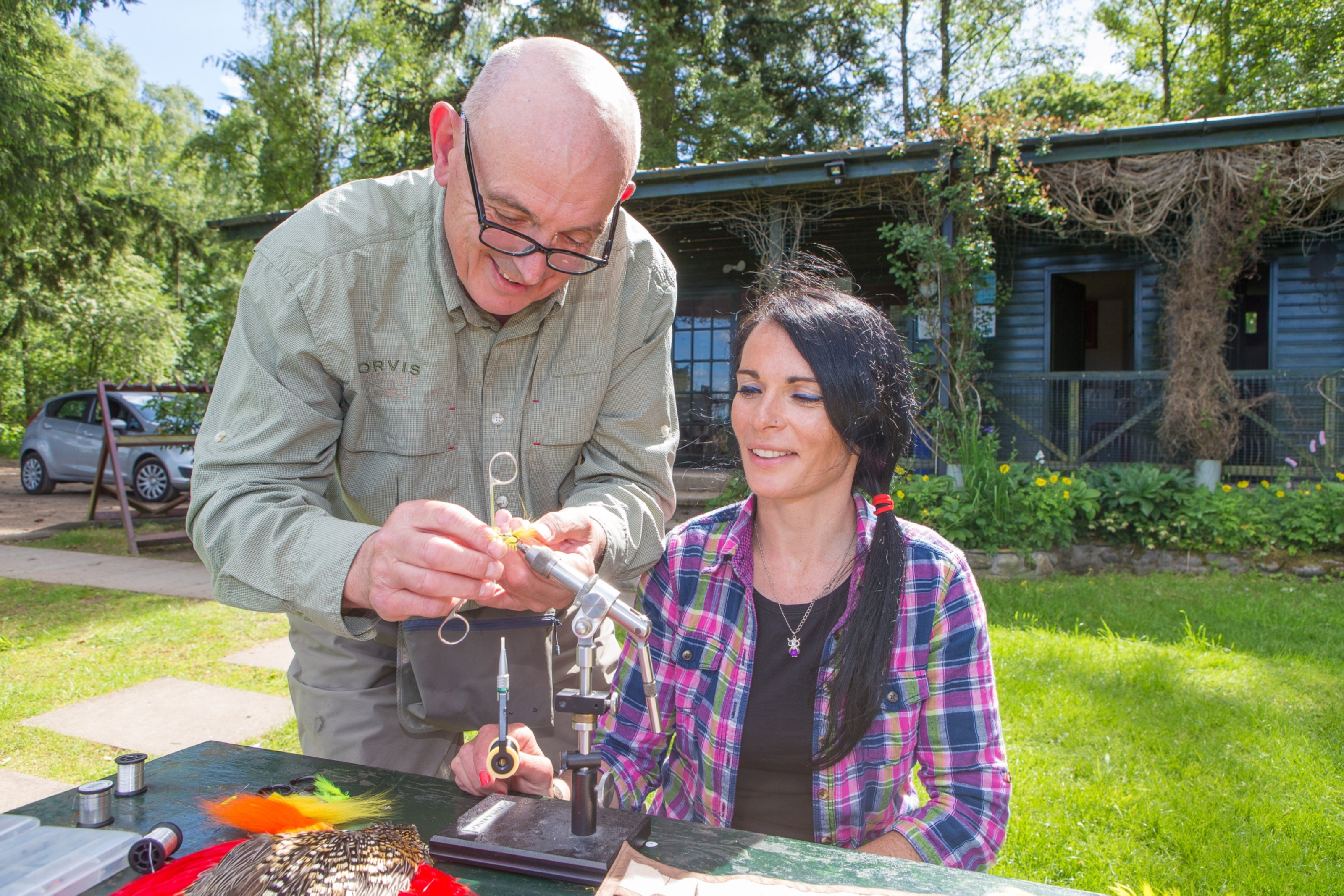 The Scottish Game Fair is renowned for its have-a-go activities, whether shooting, fishing or gundog challenges. Ahead of the event, Gayle Ritchie enjoys a fly tying session and wee bit of casting
When I turn up on the banks of the River Tay for a fly tying session, I don't expect to be sniggering about jungle cock, black boobies and mufflers.
But as many materials used to tie flies have been landed with rude names, there's no avoiding it.
"We'll use some jungle cock capes for this section of the fly," declares Alberto Laidlaw matter-of-factly.
"They're the feathers of male jungle fowl and they're very brightly coloured, so they're ideal for attracting salmon."
Alberto, from Blanefield near Glasgow, is my instructor for the afternoon.
With more than 40 years' experience of fishing all over the world and teaching fly tying, he's got qualifications coming out of his ears.
Alberto will be among the experts offering casting clinics and fly tying demos and competitions at this year's Scottish Game Fair, which runs at Scone Palace from June 30 to July 2.
As someone who doesn't have much of a clue about fly tying, I'm mesmerised by the vast array of colours, materials and objects used to make these dinky death traps.
Many people follow traditional fly patterns, using a mix of feathers, fur, synthetic materials, silks, beads and hooks, while others make their own unique fly designs, using materials they've found.
It's a tricky and intricate process although Alberto makes it look easy.
Once he's set up his fly tying vice on a picnic bench on the Murthly beat on the Tay, he proceeds to make a trout fly in three minutes. A salmon fly takes a bit longer.
"A trout fly can be made using a single feather while a salmon fly might require up to 20 different materials, " he explains.
"Brown trout flies tend to be muted colours as they imitate nature. You can cast brightly coloured lures for rainbow trout as they'll have a go at anything, even cigarettes!
"You want to imitate the differing stages of flies that fish are feeding on – matching the hatch – so you might use nymph which imitates the larvae stage, or you might go for a dry fly, if the fly is on the water's surface."
Alberto says that because salmon tend to have "nothing other than sex on their minds", it's more difficult to attract them as they don't feed in fresh water.
"Instead, you try to agitate or stimulate their aggression to take a fly," he explains.
"Salmon flies are like wee jewels – often all the colours of the rainbow, with bright oranges and shiny tinsels."
It's my turn to have a go and under Alberto's watchful eye, I add some jungle cock feathers and a bit of sparkly Christmas tinsel to the tail of a salmon fly.
"The secret is using a minimum number of thread wraps to tie them in," he says. "There are different types of lures and 'booby' flies, but we'll leave that for another day."
To Alberto, fishing is not all about the catch.
"If you lose a fish, it's frustrating but then again, you can never lose something you never had!" he laughs.
"Salmon fishing is about the process and the environment – about the casting, knowing the river and getting the fly to swim in the correct manner.
"And lunch is a big part of it, as is enjoying the craic. But ultimately, the tug is the drug."
Alberto admits it can be cheaper to buy flies online but not nearly as satisfying, especially when one of his homemade flies proves successful.
Rick Dunkerley, fishing co-ordinator for the Game Fair, cobbled together his very own fly, which he named "muffler" thinking it was like a lady's accessory.
"I found this feather boa in a haberdasher and thought it was perfect," he beams. "It's helped me catch a lot of fish."
Rick is a great advocate for fly tying as much for its therapeutic benefits as for its sport.
"It's a great excuse to get together over a beer and a toastie and recall stories in the winter months," he says.
Fly tying session over, Alberto gives me a mini casting lesson on the Tay – without any hooks.
After a few duff swings of the rod (I'm distracted by the sheer beauty of the views up the Tay), I crack it and I can well imagine getting into this big style.
My best advice? Get along to the Game Fair and team up with Alberto for some expert guidance. You're sure to be hooked!
info
The 29th GWCT Scottish Game Fair will be hosted at Scone Palace and on the banks of the River Tay. The three-day-event is an annual gathering for country sports enthusiasts and a popular family day out.
New for 2017, the fair offers a revamped fishing area which will include a dedicated area for panel discussions, presentations and Q&As with guest speakers and experts including Courier columnist Fiona Armstrong and European and World Fly Casting Champion Hywell Morgan.
The event will also be promoting ladies and youth fishing. There'll be fly casting competitions exclusively for ladies and young people, with prizes at Tinto Trout Fishery near Lanark (including accommodation and fishing) up for grabs.
See www.scottishfair.com to beat the queues and for more information.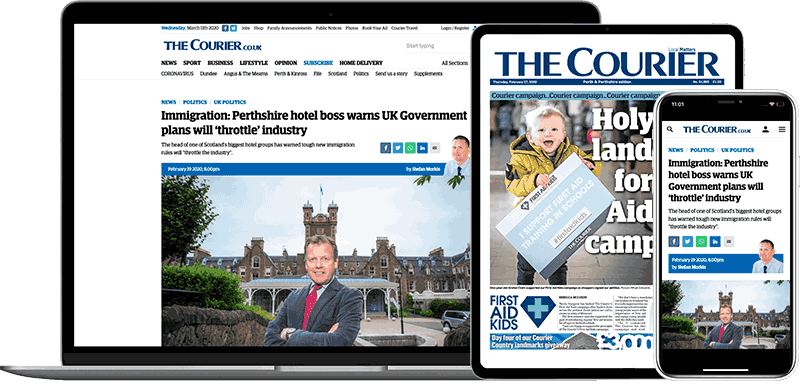 Help support quality local journalism … become a digital subscriber to The Courier
For as little as £5.99 a month you can access all of our content, including Premium articles.
Subscribe