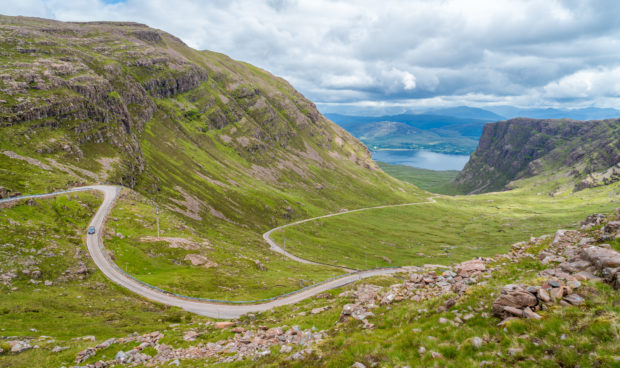 Hidden lochs, mist-shrouded mountains, forests and beaches…Gayle Ritchie and her dog explore Wester Ross in the Northwest Highlands.
Hailstones sting my cheeks as I rush for cover under the drooping canopy of a ramshackle wooden shed.
Minutes earlier, the sky had been blue, the sun shining its warm embrace onto the wild, heathery landscape, and all was well with the world.
That's the west coast for you. It's a part of Scotland where you often experience all four seasons in as many hours.
Clutching a flask of hot coffee and breaking open a packet of Kitkats, the weather doesn't seem all that bad and soon enough, the sun bursts through the clouds again.
Wester Ross is a landscape of breathtaking landscapes, hidden lochs, mist-shrouded peaks, ancient forests and golden beaches – an area of the Northwest Highlands I am drawn to time and time again.
It's paradise for outdoors lovers and whether you want to scale a Munro, stroll along a riverbank or simply gaze in awe at the jaw-dropping beauty, the area is sure to cast its spell on you.
This time, I'm staying in Broom Cottage, a small bungalow on the outskirts of Lochcarron.
It's dog-friendly, which is just as well because I wouldn't dream of holidaying without my black Labrador, Toby!
The village boasts a couple of shops, petrol stations, cafes and restaurants and is a great base, perfect for exploring the wider region.
It's around a four hour drive from Dundee so my first day is spent chilling out, drinking a lot of coffee  and taking the dog for a swim in the loch.
After a restful night's sleep, with only the odd hoot of an owl disturbing the silence, I drive north to Torridon, the name itself a clarion call to hillwalkers across the globe.
I'm here to enjoy one of my favourite ever walks – along the shores of Upper Loch Torridon, through the forests of Torridon Estate, past the remote crofting township of Inveralligin, to Lower Diabaig.
Strolling along a grassy path, the views that open up are impossibly majestic, the summits of the Beinn Alligin horseshoe towering above me.
When the weather breaks,I dash for shelter in the aforementioned wooden shed and take the opportunity to snack on biscuits and coffee while a rainbow appears over the loch.
Inveralligin itself is magical, a smattering of white houses dotted along the shore and a tiny pier stacked with creels.
You can turn back here – it's still a decent walk – or carry on to tiny Lower Diabaig, for more awe-inspiring views of loch, mountain and wide, rugged empty country.
The following day, I make the hairy, scary drive over notorious Bealach na Ba (Pass of the Cattle) to the secluded fishing village of Applecross.
This winding, single-track road, cuts through the mountains of the Applecross peninsula and boasts the steepest ascent of any road climb in the UK, rising from sea level at Applecross to 626m, and is the third highest road in Scotland.
Some of the hair-pin bends are truly terrifying so you need to keep a cool head.
I make it to Applecross in one piece and, with a thick mist setting in and visibility nil, I treat myself to soup and a sandwich at the Potting Shed Cafe.
Suitably fortified, and with the sun attempting to show face, I set out for a walk along the coast to Culduie, through a forest and the grounds of Applecross House, finishing off with a stroll along the gorgeous coral beach.
If you're staying in the area, it would be a shame not to spend at least a day in Plockton.
Described as "the jewel of the Highlands", and made famous as the fictional "beat" of 1990s TV cop Hamish Macbeth, this picturesque village sits in a sheltered bay with unbeatable views of Loch Carron.
There are loads of eateries here but I choose the Plockton Inn for lunch.
After I've eaten my body weight in seafood, I consult my map and head off on – you guessed it – another walk.
This time, I stroll through coastal woodland to Duncraig Castle, passing pine-clad islets, a boathouse, an old brick kiln, a railway line, and eventually reaching the majestic castle.
Then it's simply a case of retracing my steps, although I could've taken a detour to Plockton Crags if I'd been feeling more energetic.
Another wee road worthy of exploration is the one that leads to Reraig Forest.
I enjoy a wee amble here…until I come face-to-face with a majestic stag boasting the biggest antlers I've possibly ever witnessed.
Standing in the middle of the path, surrounded by a harem of females, he's fairly intimidating and I decide not to press on. To antagonise such a creature would not be a good idea!
All is not lost, however, as a wee detour off the road back to Lochcarron takes me past the ruins of Strome Castle.
There used to be a ferry here but it disappeared with the completion of the Stromeferry bypass.
Built on a rocky outcrop projecting into Loch Carron in the 1400s, the castle was besieged and blown up in 1602, leaving it pretty much as it is today. It's well worth a visit, but be careful as access is quite tricky and there's a very steep drop!
My final day in the area is spent exploring the area around Shieldaig, around half an hour north of Lochcarron.
Having not been here for a few years, the first thing I notice is the new cafe that's sprung up on the outskirts.
It's called Nanny's and a peek through the window and a view of the huge scones informs me that I absolutely must have lunch here!
First, of course, I go for a walk, and this one, around the An Aird peninsula, is beyond spectacular.
Starting off in the village, I pass the primary school and join a stony track boasting stunning coastal views between silver birch trees.
Looking down, I spot the ruins of old cottages and a holiday chalet on the beach.
It's quite a scramble but worth the hike down to an isolated bay and boathouse – a perfect picnic spot.
A chain handrail, albeit a very old one, helps me to scale a steep step, and then, after negotiating a short boggy section through bracken and reeds, I emerge at a green, grassy sward in front of a white house.
The track eventually swings back over low moorland and I reach a cairn I veered off at earlier.
My belly is rumbling as I make it back to Nanny's and I'm so happy when my feast – of Cullen Skink and a smoked salmon sandwich – arrives. I also indulge in a cappuccino and a scone…because of course I deserve it.
While Nanny's is definitely on my new list of go-to cafes in Wester Ross, there are loads to choose from, whether you're after fresh seafood, home bakes or just a really good cup of coffee.
As I'm staying in self-catering accommodation, I don't go wild on evening meals out, but there are plenty of places all competing for your attention in the area.
There are lovely walks in and around Lochcarron itself, and having to slot in dog walks first thing in the morning and last thing at night (as well as the big ones in-between), I often find myself strolling down to the uninhabited island of Slumbay. It takes around half an hour to walk round and you might even spot seals.
As always, I'm gutted to leave this glorious part of the world, but you can guarantee I will be back.
Info
Gayle stayed in pet-friendly Broom Cottage. It sleeps up to four guests in two bedrooms and is available for weekly and part-weekly self-catering holiday lets. A week's accommodation ranges from £350 to £575 depending on dates.
For more details, see broomcottagelochcarron.co.uk
For more information about what to see in Wester Ross, see visitwester-ross.com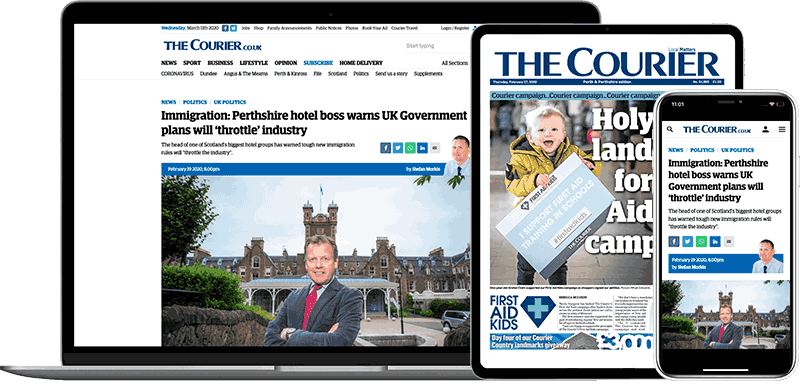 Help support quality local journalism … become a digital subscriber to The Courier
For as little as £5.99 a month you can access all of our content, including Premium articles.
Subscribe