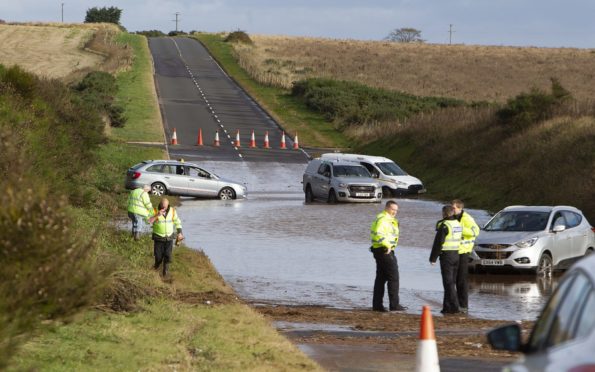 Tankers are being brought in to drain an Angus road submerged by flood water.
The A92 was closed between Montrose and Arbroath on Thursday morning following heavy overnight rain.
Photos of the area showed several cars submerged in the water, which had gathered in a dip in the road.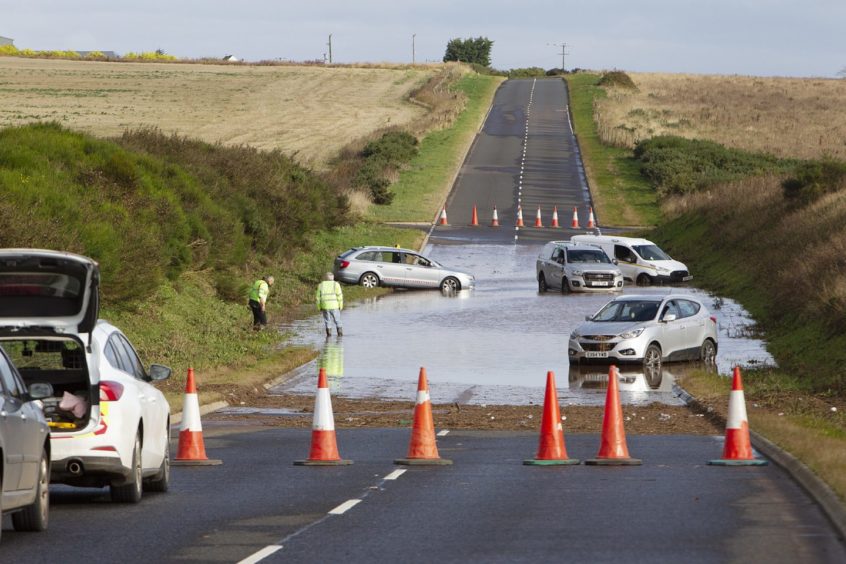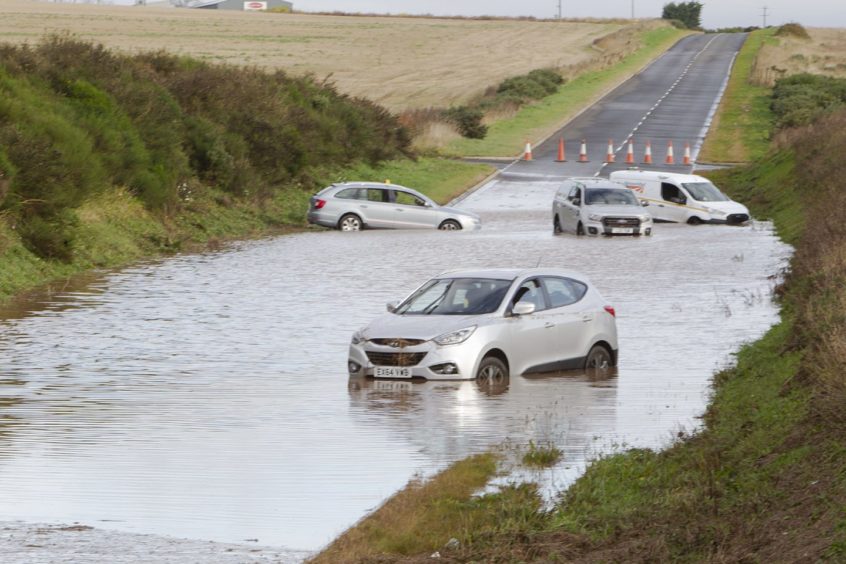 The affected stretches of the A92 are Ethiebeaton to Ardestie and Ardestie to Muirdrum, the Ardestie underpass  and Hawke Hill.
The A92 is one of several roads in the region affected by the rain, and a Met Office yellow weather warning was issued.
The affected stretch of road near Ethiebeaton was mostly cleared by early afternoon, but vehicles did have to pass with care late in the morning.
Traffic was being diverted between Arbroath and Montrose via Lunan. Many fields in the area have shown signs of flooding and rural roads also suffered excess water.
Roads were fully covered in water about wheel high in several spots on roads off the A92 between Arbroath and Montrose.
A spokesman for Angus Council said Colliston Station Road and Ravensby Road in Carnoustie are currently closed.
Sandbags have been issued to residents in Wellbank and Friockheim Main Street, while Hillside is affected by localised flooding from the fields.
Police Scotland said that in addition to the A92 they were dealing with flooding incidents on the B965 Inverkeilor to Friockheim road and the B9113 Forfar to Montrose road at Rescobie Loch, which are closed due to flooding.
In Perth and Kinross there is localised flooding around Burrelton, Guildtown and Meikleour.
A spokesman for BEAR Scotland confirmed there were flooding incidents on Thursday morning on the A92 Dundee to Arbroath Dual Carriageway at Ardestie Underpass as well as Upper Victoria to Muirdrum at Balmachie Eastbound where a large volume of water has been running down the local roads and out of the northern fields.
They said: "BEAR Scotland were informed of flooding at 6.20m at Balmachie and Ardestie. The Ardownie Eastbound section that has flooded in the past did not require to be closed. There were also reports of excessive flooding on the A92 between Arbroath and Montrose.
"Resources were put in place and a lane closure was set at Balmachie EB to allow traffic through slowly in Lane two until the flooding was dealt with. The Ardestie Underpass is still currently closed as they deal with the floodwater which has now almost cleared and the closure will remain on for a short time until out teams clear debris from the carriageway and footpath.
"BEAR Scotland are doing everything possible at this time to clear the flooding and will keep Angus Council advised on progress."
It is understood the closure between Montrose and Arbroath will remain in place until tomorrow, although the water level had reduced by 3pm on Thursday afternoon. It is understood that the flooding appears to be as a result of the heavy rainfall and wash-off from the surrounding fields.