VIDEO: Fife daredevil captures rarely-seen footage inside Arbroath Cliffs' labyrinth of hidden sea caves
By
Blair Dingwall
November 2 2019, 8.40am
Updated: November 2 2019, 10.19am
Sinister sounds, murky waters, meetings with sea creatures, ancient graffiti and unearthly cavern walls; the hidden world of the Angus coastline has become a fascination for one seaside explorer.
Cupar man Tom Ashton has been spending much of his spare time in 2019 scouring the length of the Arbroath Cliffs and its labyrinth of caves – and filming his extraordinary trips.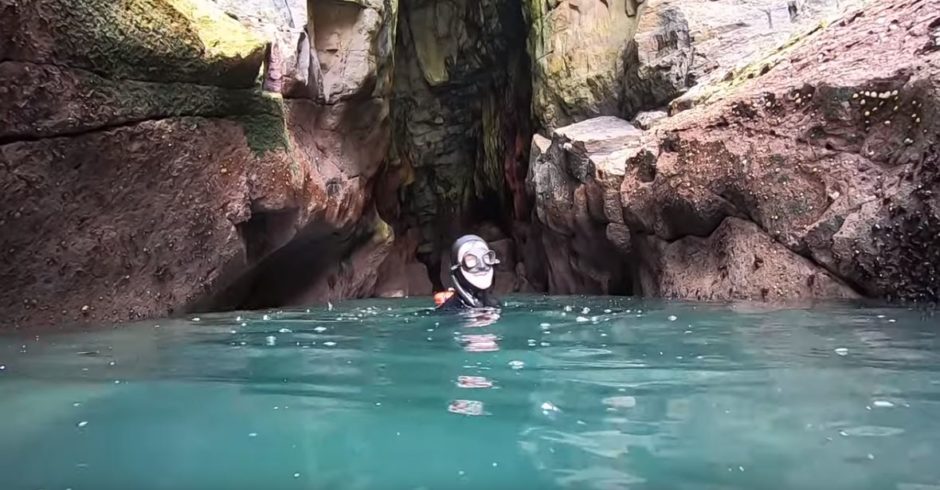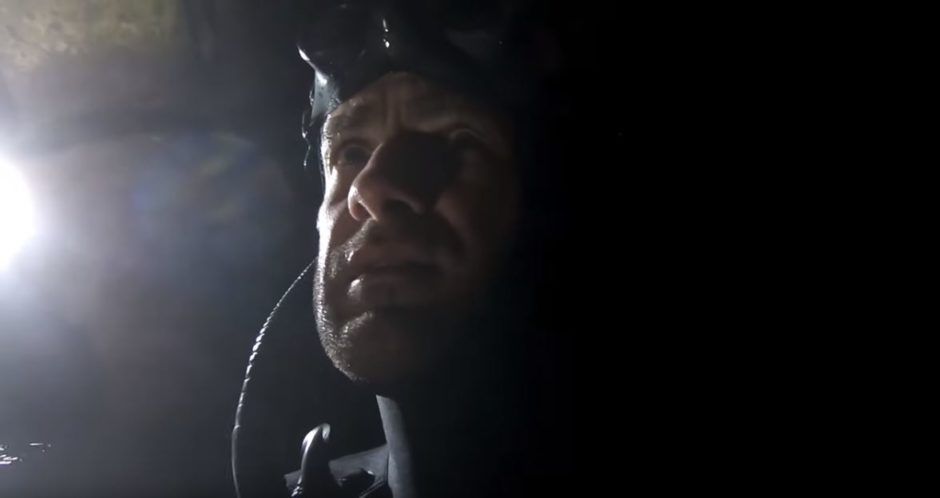 The 38-year-old works by day at St Andrews-based Xelect Ltd, a company he co-founded, but explores Scotland's coastline and seabeds as a hobby.
For the past year, Mr Ashton has been returning time and time again to the Arbroath Cliffs – an area of exploration he admits has become "an addiction".
The scenic Angus coastal spot stretches north from the town for several miles and is home to more than 60 sea caves, some of which served as hide-outs for smugglers in centuries gone by.
The coastline is also home to a range of oddities including fascinating natural formations such as the Deil's Heid and The Blowhole.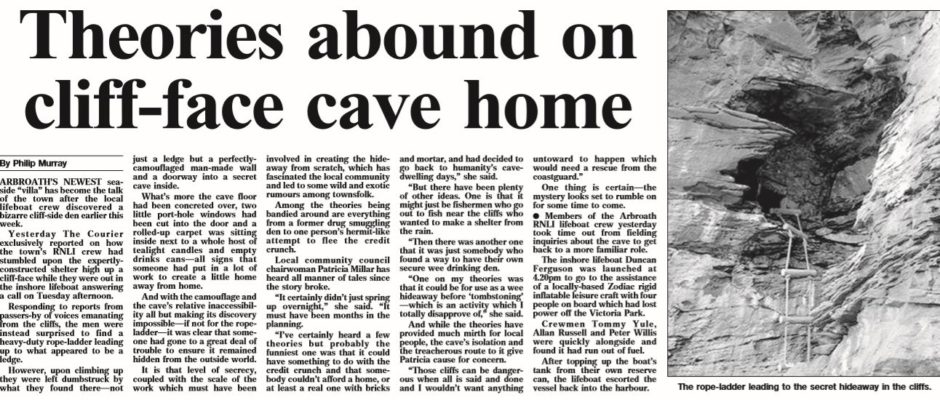 A mysterious house, once complete with seats, has also been built into one of the cliff-faces.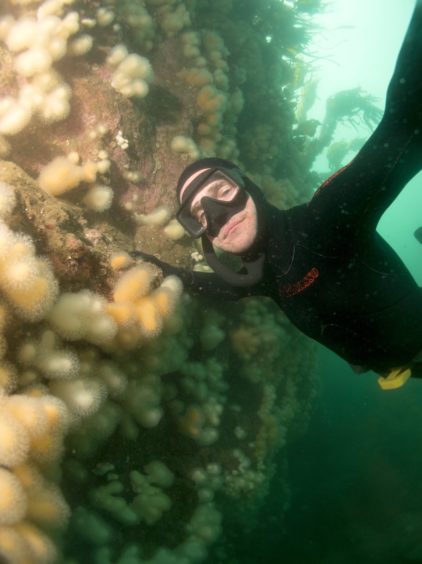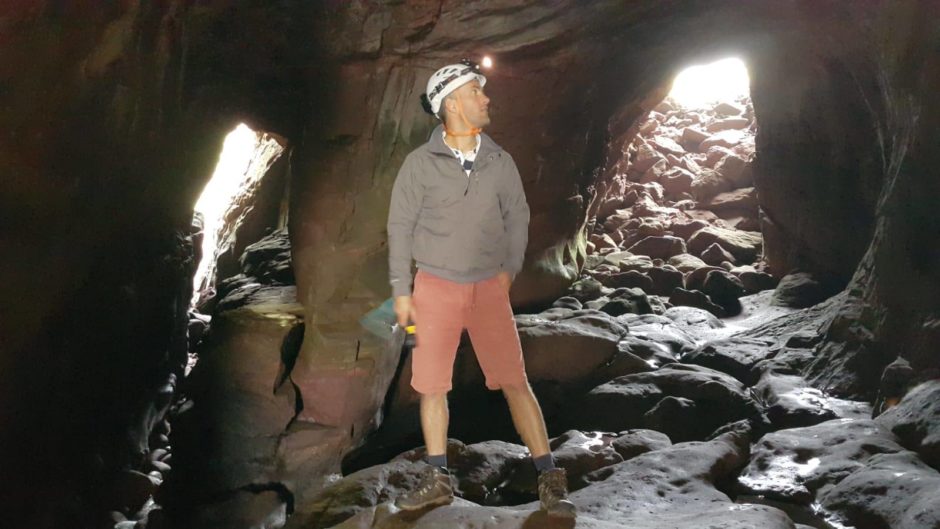 Many of the area's caverns can be accessed by experienced cave explorers via kayak or on foot, however some require diving equipment, and a whole lot of nerve, to find.
"It is an amazing spot," said Mr Ashton.
"I have been going there for about a year. I was blown away, and I travel the world all the time for work. It is incredible. And it is right there under everyone's noses.
"Most of them (the caves) are sea level but they go back about 60m. Some connect from A-B, you keep going and come out at another spot. Some you'll have to swim or crawl into."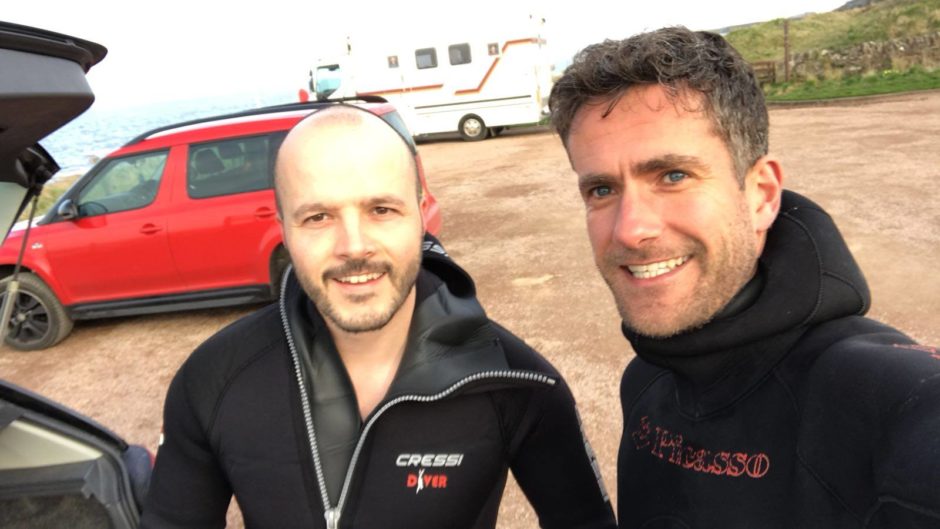 One of Mr Ashton's most recent trips to the cliffs was to the "Stalactite Cave", an area stretching back more than 500ft.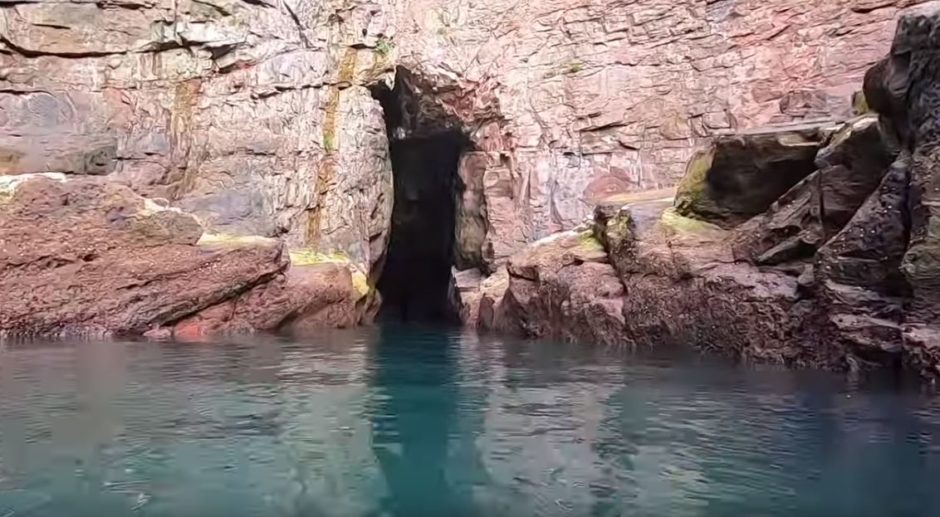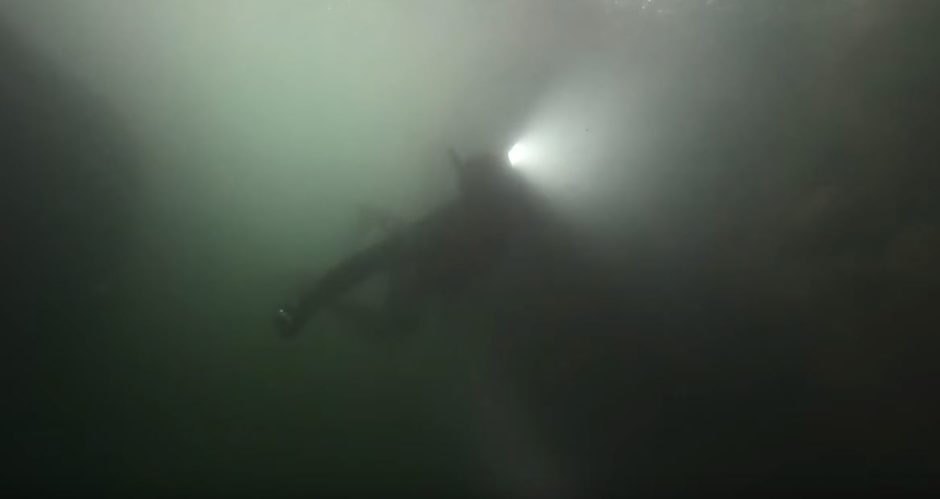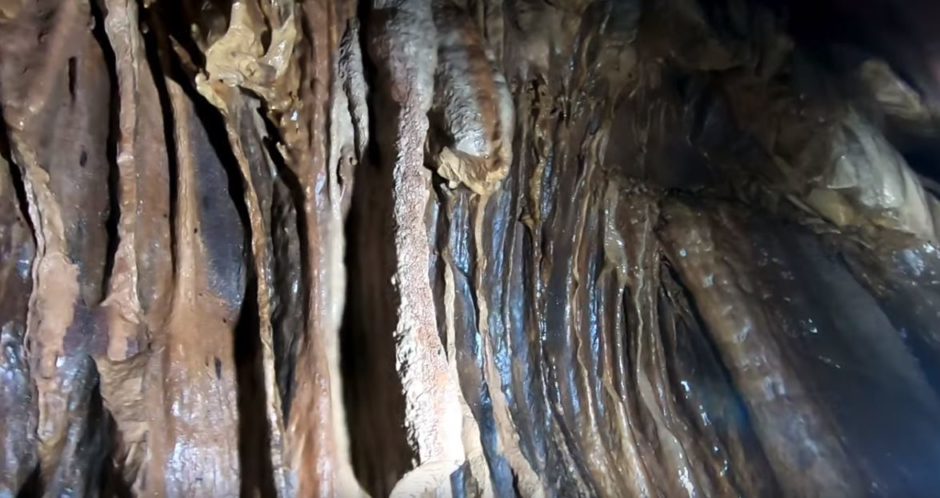 The area, which becomes fully flooded at medium-high tide, is home to chambers of stalactite and flowstone formations.
Mr Ashton said the caves of Arbroath are unique environments.
"Its air has its own sort of climate," he said.
"You keep thinking you can hear things and voices – it is just ripples of water but you start hearing these noises.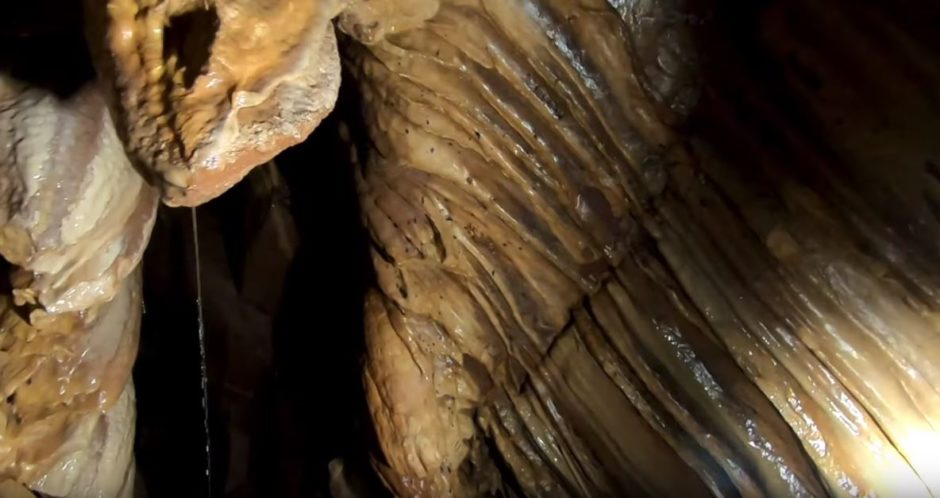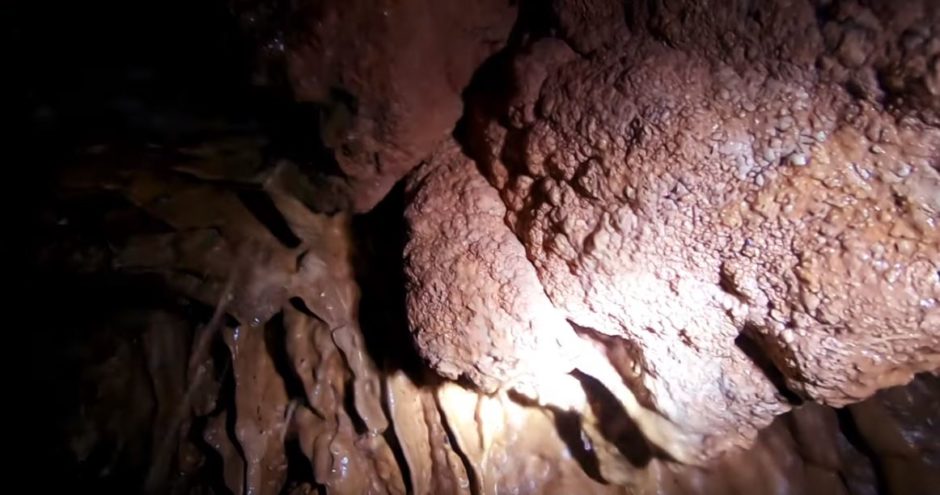 "It has got a real atmosphere to it. It is beautiful as well. It is a full, sensory experience.
"There's sometimes graffiti. You get quite a lot of that. Some of it goes way back to 1900.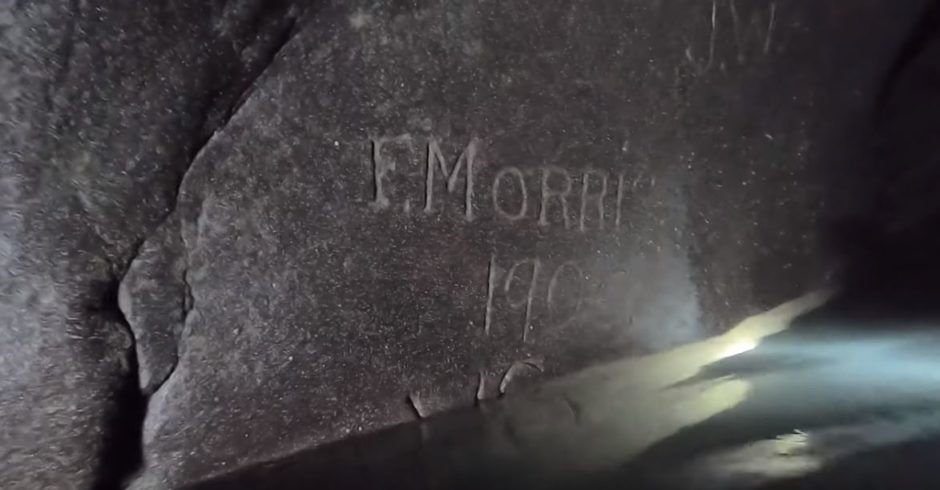 "I came face-to-face with a sea otter this year. In one of the caves it was just swimming out."
Mr Ashton began free-diving and scuba-diving aged 18, but his love of the sea has been with him since his childhood in Dover.
He added: "I like to go places that are difficult to get to. Obviously I want to go home at the end of the day, but to do this you need to be up for doing things that are a bit scary and increasing the fun factor a little bit.
"It is addictive."
However he warned people against exploring the Arbroath Cliffs without the right training and experience.
He added: "The Arbroath caves and cliffs are very dangerous, and people should really not go exploring there unless well prepared."
Caves shrouded in tales of smugglers and ghostly encounters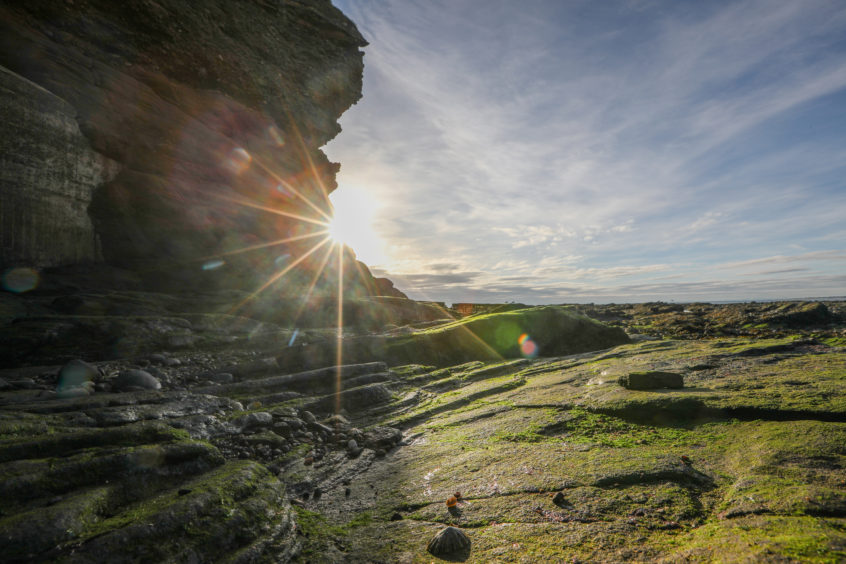 The caves from Arbroath north to Lunan Bay are shrouded in history.
In years gone by the Angus coast was a hotbed for criminals looking to store their illicit goods – which included gin, tobacco and bootleg whisky made in the local glens.
Located on the Seaton Cliffs Nature Trail at Carlingheugh Bay – or "The Flairs" – is Smugglers Cave, which was once infamous as a place to store contraband.
Nearby is The Forbidden Cave, where legend has it that piper Tam Tyrie, his wife and their dog all lost their lives.
Sheltering from a storm, Tam began playing a tune to drown out the sound of the wind and the sea.
They were never seen again, but rumour has it that the ghostly sounds of his pipes can still be heard coming from the cave.