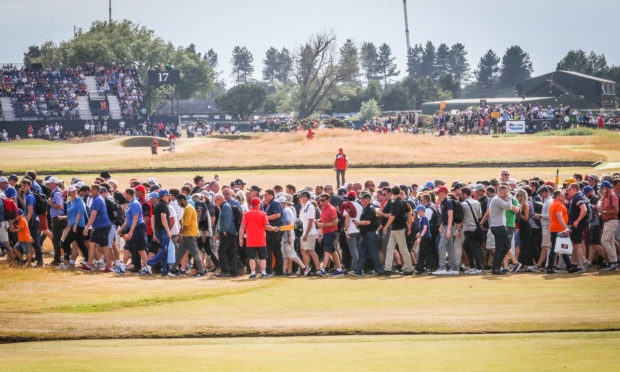 A forthcoming clamp down on holiday lets could "seriously inhibit" the hosting of major events such as golf's Open Championship, experts have warned.
The Scottish Government is expected to move to regulate short term, or holiday lets, after publishing a consultation showing "wide support" for such a move.
This type of letting – often linked with online portals such as Airbnb – has come under fire for fostering anti-social behaviour and contributing to housing shortages in tourism hot spots such as Edinburgh.
First Minister Nicola Sturgeon came under pressure from Scottish Green Party Lothian MSP Alison Johnstone on Thursday for not moving fast enough to tackle the problem.
However, experts in Angus, which hosted golf's Open Championship at Carnoustie in 2018, have urged caution.
Staff at Fife Council have also said there are "no reported issues directly" with anti-social behaviour in St Andrews, despite the importance of tourism to the North East Fife town's economy.
The consultation submission from Angus Council highlights the effect of any changes on the ability of the county to host major sporting tournaments.
The local authority's written response to the government states: "Further regulation could seriously inhibit the ability of Angus to host the Open Championship again in the future as there would not be sufficient bed spaces to accommodate the thousands of visitors.
"Short-term lets provide valuable accommodation options in Angus, both for the tourist economy and corporate hospitality.
"Angus has a relatively low wage economy and these short term lets are an opportunity for householders to supplement their household income on a temporary basis when opportunities arise, unlike in many of the larger cities where the tourist economy is stronger, long-term, and offers systematic financial advantage to hosts.
"They can be especially useful for large events such as the British Golf Open where large swathes of visitors would otherwise find it difficult to find accommodation in suitable locations due to the lack of hoteliers."
---

---
​
Fife Council's response also pointed out "short-term letting provides an opportunity for people required to work abroad for periods of time to cover housing costs."
The local authority said there were "no reported issues directly on short term lets in St Andrews" when asked on its views on tackling anti-social behaviour.
An Angus Council spokesman said: ""When policy and legislation are being framed, it is important to consider the impacts of regulation carefully so that there are no unintended consequences. Clearly, there must be a balance between reasonable standards and helping create the conditions for a vibrant economy."
The short term lets consultation received more than 1,000 responses and closed in July.
The First Minister suggested on Thursday any forthcoming regulation would be cognisant of local factors.
She said: "The fact of the matter is we do not see exactly the same pressures in all parts of the country.
"What it was better to do was let local authorities see if measures were appropriate in their area."