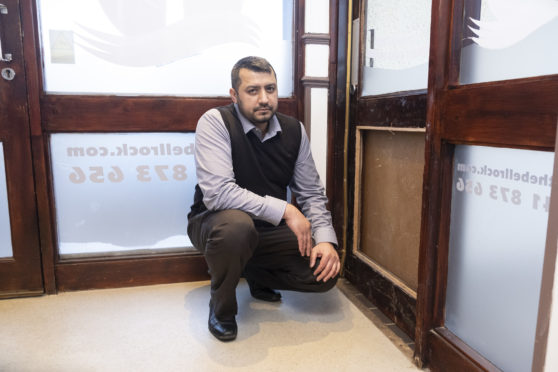 Staff at a popular Arbroath restaurant have been left shaken after a burglar carried out a lightning fast raid on their business.
The male thief was captured on CCTV at the Bellrock using a crowbar to force his way inside on Saturday night at around 11.30pm before robbing the cash register.
The business was voted best chip shop in Tayside in a recent poll.
The thief, who was wearing a hat, grabbed £150 from the till before fleeing into the night.
The empty till was later found by a passer-by on nearby Stoneycroft Lane.
Manager Muhammad Arshad said the entire break-in lasted less than one minute and was captured on CCTV that has now been handed over to the police.
He said: "He must have been a professional.
"Somebody broke the disabled access back panel. He came in and he had a big crow bar with him and he broke the second door.
"He went to the counter and opened the till and took about £150."
Mr Arshad said the thief then retraced his steps before making his escape.
"He went back the same way he came and he was seen running in the car park," he added.
Mr Arshad said he had taken over the business, opposite the Signal Tower Museum, three years ago and had not been prepared for the break in.
"Somebody broke the door before, but we thought it was only somebody losing their temper. We didn't think something like this could happen to us."
He said he had reported the incident to police, who had taken fingerprints and other samples.
"The police said they hope they will get him," he said.
"We are here to serve the community. We are here for people every day.
"But this person has decided to come in and break in to us. He didn't fear anything.
"It is such a shame and I don't have any more words," he added.
The restaurant opened for business on Sunday as usual.
One regular said: "What a shame. They work hard to give people the best place to go. I love it."
A Police Scotland spokesman said officers attended at 12.15am on Sunday morning following reports of a break in the Ladyloan area of Arbroath.
He said: "A quantity of money was stolen and enquiries are ongoing. Anybody who has any information should get in touch."