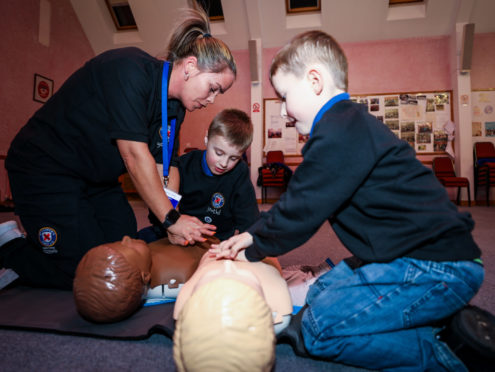 An Arbroath mother is giving back to the community by teaching youngsters lifesaving skills after a St Andrew's first-aider saved her son's life.
After the birth of her eldest son Ruariri more than twenty years ago, Kelly Walker, 40, and her family were enjoying a family day at the Dundee Flower Show.
But her world was turned upside down when Ruariri, now 20, suffered a seizure at the event and was left in a critical condition.
An on-duty first-aider from St Andrew's First Aid rushed to the family's aid and administered lifesaving treatment on the tot.
An Arbroath mother is giving back to the community by teaching youngsters lifesaving skills after a St Andrews First Aid volunteer saved her son's life.
The youngster was rushed to Ninewells Hospital in Dundee for further treatment as his condition deteriorated.
But Kelly said the quick response from the first aider ultimately saved her son's life.
The terrifying ordeal inspired Kelly to give something back to her community, where she now teaches young people first aid skills for St Andrew's First Aid.
She said: "I thought he was choking at first and it was actually a first aider on duty that ended up resuscitating him and he was taken to hospital.
"He pretty much saved my son's life.
"His condition got worse so I then went and done a paediatric and adult first aid course and then as the children got older, I had a bit of a gap and decided that I would give something back."
Kelly now teaches first aid to five to 10-year-old thistle members at Arbroath's West Kirk and assists with the teenage cadets.
Every child learns full CPR at the charity and classes are tailored to cater to each age group's ability.
She added: "My youngest son Fraser is in the cadets and he has been coming for around seven months now and I think it's important for him to learn.
"I used to be a childminder so you come across everything so it's important for children and adults to be able to do first aid and he was happy to come along and he likes me doing my duties.
"All kids should know how to use a defibrillator and basic first aid because you never actually know when you're going to come across it."
The brave first aider who stepped in to save Kelly's son's life has received praise for his outstanding service to St Andrew's First Aid.
Second story: Forfar volunteer stepped into save Ruariri's life.
George McLean MBE, from Forfar, has amassed 63 years of service for the charity.
The hero had been working at the flower show in Dundee when he witnessed the ordeal and quickly rushed to the family's aid.
Octogenarian George started his first aid career at the age of 17 working with British Railways in Montrose.
He enjoyed his time with the Montrose First Aid Company so much he kept up his training during his 33-year career in the police force, which involved 10 years in mountain rescue.
St Andrew's First Aid recognised George's outstanding achievement spanning six decades at a ceremony in Glasgow in December.
He was presented with a certificate from Princess Anne, the charity's patron.
Speaking at the time, he said: "First aid has been a passion of mine for almost all my life and if I can pass on that passion to others, I will be very happy.
"I have always enjoyed helping people and teaching them and hope that over the years, somewhere along the line, I might have given someone the skills to help save a person's life.
"I have lost count of the number of incidents I've attended where it was clear that people did not know how to respond in an emergency.
"In many cases you only need basic first aid in order to save a life."
George was also awarded the Voluntary Services Medal for his frontline work in 1989 and was awarded MBE for services to the community, including first aid, in 1992.