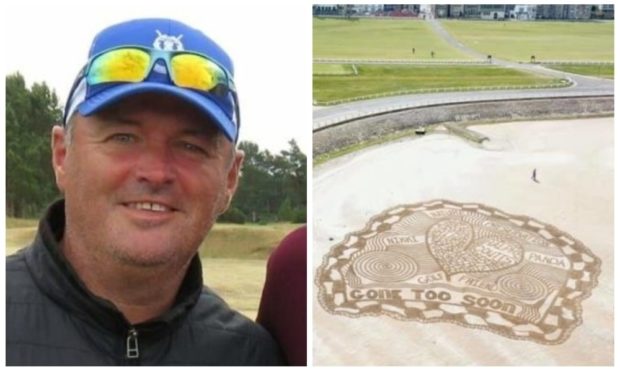 Tributes have poured in for community stalwart Ralph Coutts, who died suddenly late last week in Angus.
Ralph, who was well known across Tayside and Fife, was just 53-years old when he suddenly collapsed on the cycle path from Arbroath to East Haven.
The cause of death is not yet known. He was not suffering from any known illnesses leading to his passing.
The Arbroath man was well-known for his tireless environmental work and was involved in groups such as Angus Clean Environments and St Vigeans Conservation Network.
Friends and family described him as "one of a kind".
Ralph was a keen golfer. One of his friends at St Andrews Links, Rob Ogle, created a loving tribute at West Sands Beach, near the course.
The art said Ralph was "gone too soon".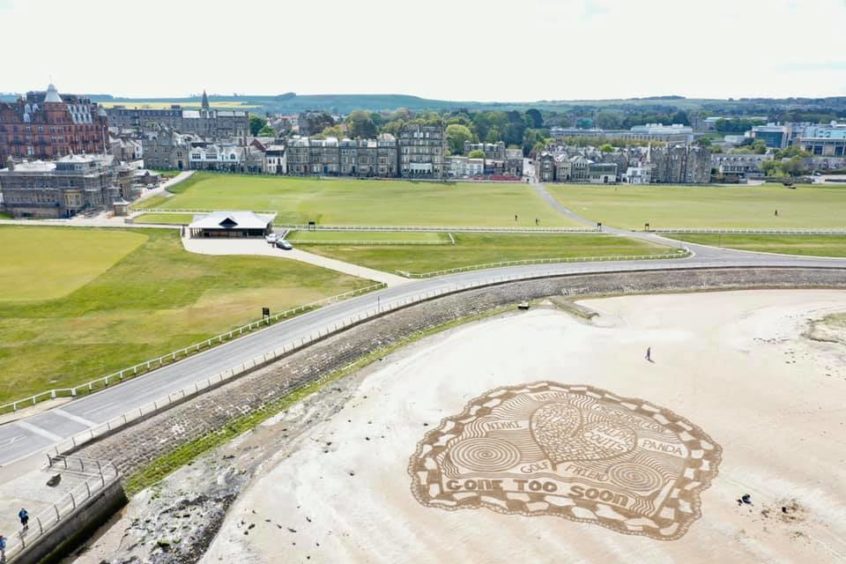 Nicky McLean is heartbroken after suddenly losing her partner of 14 years.
She said: "Ralph was a marvellous man with a kind heart.
"He was a formidable opponent of the world's injustices and an advocate for fairness and parity.
"Our worlds will be a far colder place without his warm wit, humour and sense of fun.
"He is irreplaceable and his loss is immeasurable and will be felt not only by me and his family but by the like minded people of the volunteering and golfing communities.
"The amount of flowers, kind thoughts and messages has been overwhelming and a great comfort to us all but it is also a measure of the man himself."
Niece Elaine Carlin said Ralph was "like a big brother" to her and that she is "absolutely heartbroken".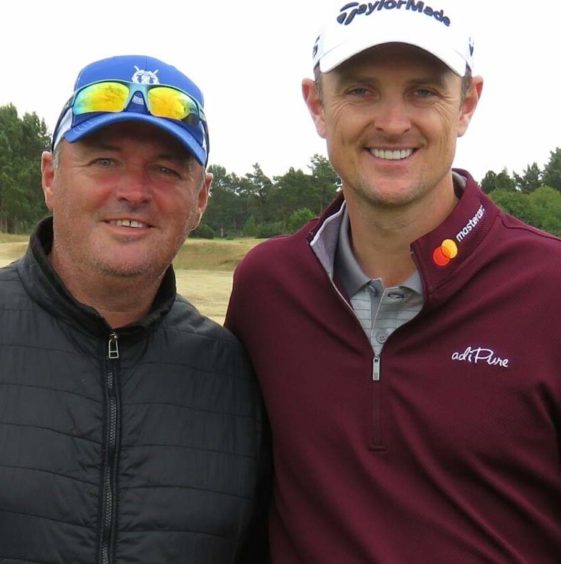 George Park, who had been friends with Ralph for about four years, said: "Nobody had been expecting it. He was one of a kind, a really special guy.
"The guy was a miracle worker.
"I met him after seeing a picture he posted on Facebook with all the litter he had picked up one day. He spread it out in his garden and posted it to show how bad the littering was.
"When I saw that I jumped on my motorbike and went to his house to introduce myself and we were friends ever since."
While funeral details are still being arranged, there will be a lot of people unable to attend because of current coronavirus-related restrictions.
Keptie Friends — whom Ralph worked with — are planning to pay their respects in a way that allows them to adhere to social distancing rules.
Members hope to line the streets, while standing two metres apart, wearing high-viz jackets and carrying litter pickers to honour Ralph's cleaning efforts as the hearse is driven through the streets.
Nicky was touched by the gesture.
She added: "We might not be able to give Ralph the send off we would want, but if people want to do that to pay their respects we would welcome it thoroughly.
"It shows that he meant a lot to so many people."
Arbroath Football Club also praised Ralph, saying he was well-known in the town.
A statement said: "Ralph was a champion in life and he was inspirational in what he did for his local community.
"A genuine good guy, he will be sadly missed by everyone at the club.
"Our heartfelt thoughts go out to his partner Nicky and all the family."
Earlier this year, Ralph raised £500 for the International Otter Survival Fund as part of his birthday. He asked friends to donate the conservation charity as a way of celebrating.