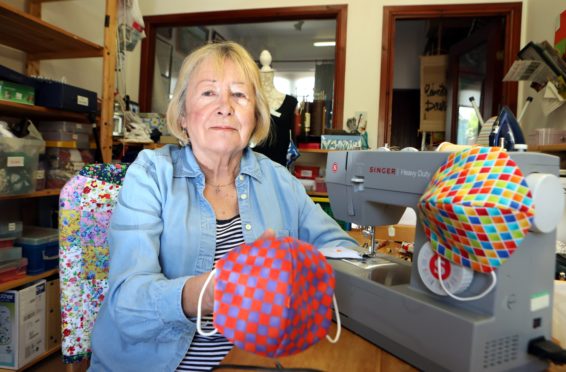 An Angus grandmother has raised more than £500 for a local foodbank after making her own face coverings for family and friends.
Linda Robertson, a retired nurse and health visitor, has been keeping the Letham community safe during lockdown with the homemade masks.
The kindhearted sewer started making the equipment for fun but has since created hundreds using her own equipment from the comfort of her own home.
She has asked local residents to make a donation to Angus Foodbank in exchange for a face covering, if they are able to.
"I have alays been a keen sewer and crafter and it's something that I really enjoy doing so I decided that it would be the best way to help the community," Linda said.
"I have now made hundreds of masks and just ask that people give a donation to the foodbank in exchange.
"People have been very generous with their donations but I also understand how difficult it is at the minute so if people are not able to donate them it's okay.
"The foodbank is such a worthwhile cause as I'm sure it will be used to help lots of people so I'm pleased that we have been able to raise over £500 for them."
Letham residents are able to look good as well as keep safe as the face coverings are made from colourful materials using four layers of cotton and soft round elastic.
Linda started making the face masks for friends and family in an effort to keep herself busy during the coronavirus.
She added: "I have my own materials and I don't think I'll ever run out so I'm happy to keep on making them.
"People have been very kind though as somebody donated some cotton which I use to line the face coverings.
"I started making them for friends and family and then other local people started asking me if I could make some for them too.
"I just enjoy sewing and it has kept me busy during the lockdown so it's nice to be able to help the community too."