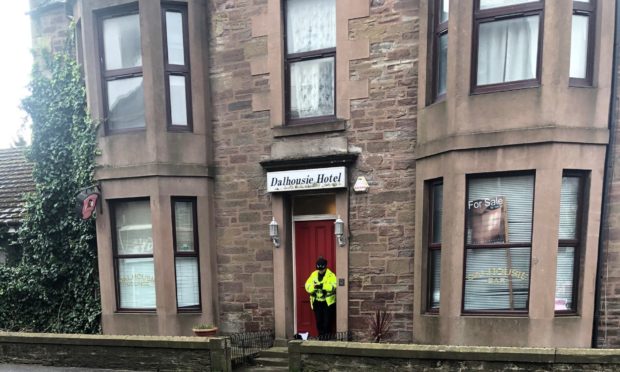 Owners of a Carnoustie hotel have surrendered their licences after a probe into drugs allegedly being found and used on the premises.
The Dalhousie Hotel in the town's High Street was raided by police in March and Angus Council had been asked to review both the premises licence and that of its operator, Douglas Piggot.
The council licensing board meeting on Thursday afternoon had been due to hear a police review request relating to drugs, cash and counterfeit clothing allegedly found at the property.
But both licences were surrendered ahead of the meeting. The property is currently up for sale.
Mr Piggot denied being aware of drugs being used on the premises when he was visited a council officer on July 3, according to a licensing report.
The report said: "He [Mr Piggot] stressed to me that he does not supply, own or store drugs.
"He said he knew that some of his customers consumed drugs but stated that at no point did he allow this to happen on the premises.
"Mr Piggot denied on a number of occasions that he is involved in the sale and supply of illicit drugs."
Police raided the Dalhousie on March 11 and arrested three people, two men aged 63 and 28, and a 26-year-old woman but were later released without charge.
The force said at the time the drugs search warrant was executed after an intelligence-led operation.
A Police Scotland spokesman said: "Police Scotland can confirm that two males aged 63 and 28 and a female aged 26, have been arrested  following the execution of a drug search warrant at a business premises on High Street Carnoustie on Wednesday, 11 March, 2020 and have been released pending further enquiries.
"Enquiries are ongoing. "
Mr Piggot did not respond to numerous requests for comment.