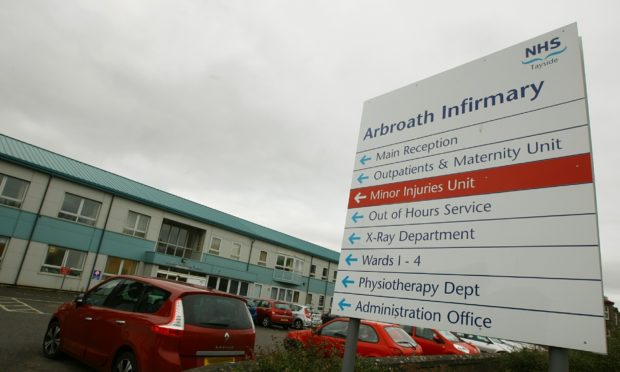 The first phase of building work to create new community palliative care and medicine for the elderly facilities at Arbroath Infirmary is underway.
A partnership between Macmillan Cancer Support and NHS Tayside will see substantial investment to help those living with cancer and other life-limiting illnesses as well as improving facilities on the wards.
It will include the creation of a Macmillan day care unit in the Infirmary's former Inchcape ward, a 15-bed dementia unit which was closed last year sparking local anger.
Cancer claims the life of over 1,200 people in Tayside each year and an expected increase in its prevalence in Scotland means even more people in the area are going to be affected by the disease.
NHS chairman Professor John Connell said the Arbroath project would create an "outstanding facility" for patients.
He visited the site along with senior Macmillan development officer Trisha Hatt to see progress in the early stages of work.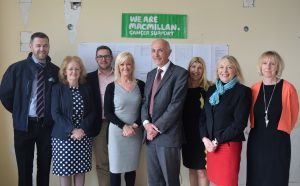 There are currently three Macmillan community nurse specialists who provide support at home and NHS Tayside is recruiting one additional specialist.
In addition, specialist palliative care services will continue to provide outpatient clinics and day care that support community-based palliative care in Angus.
Roxburghe House in Dundee will also continue to provide inpatient specialist palliative care for Angus patients.
NHS Tayside has said that to minimise disruption to patients, the building project is being carried out in two phases, with the first phase of improvement work starting in the medicine for the elderly wards where three side rooms with en suite facilities are being created.
Work to make the ward areas more dementia-friendly is also being carried out.
That will include the use of easy to read signage, chairs which stand out from the floor colour as well as coloured toilet door and nurse stations which aid older people with declining mental ability and memory and visual problems to remain orientated to their environment.
The first phase of the work is due to be completed in late summer.
The second phase will see the former Inchcape ward converted into the new Macmillan day care unit which will provide a day care assessment and treatment facility with two consultation and treatment rooms, a patient lounge, reception area and quiet room.
The second phase is planned to take approximately four months.
Professor Connell said, "This is a really important development for people living in Arbroath and the surrounding area.
"Being able to access services and support when living with cancer and other life-limiting illnesses near to home is essential and this development will provide an outstanding facility.
"NHS Tayside is delighted that it has been able to work with Macmillan to bring this to fruition."
Senior Macmillan development manager Trisha Hatt, said: "Macmillan wants to ensure everyone affected by cancer in Arbroath receives the best care and in the most supportive environment.
"The new and improved inpatient palliative care facilities will make an enormous difference to palliative care patients and their families.
"It's thanks to the hard work and dedication of our supporters in Angus who raise so much money for us that we are able to make such a significant contribution to this important project. We don't want anyone to face cancer alone, and the continued support of people in Angus will help us make sure nobody does."
The site visit also included Brian Ward, contracts manager from building contractor Hatrick Bruce; Alasdair Rankin from project architects Aitken Turnbull; Jean Sargeant, associate Macmillan development manager; Councillor Glennis Middleton, chair of the Integrated Joint Board for the Angus Health and Social Care Partnership; Gail Smith, head of community health and care services with Angus Health and Social Care Partnership and the partnership's adult services manager Liz Goss.