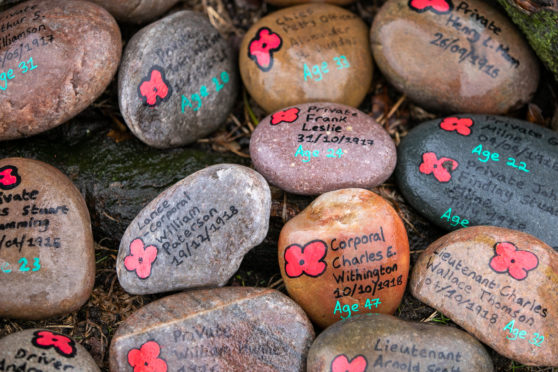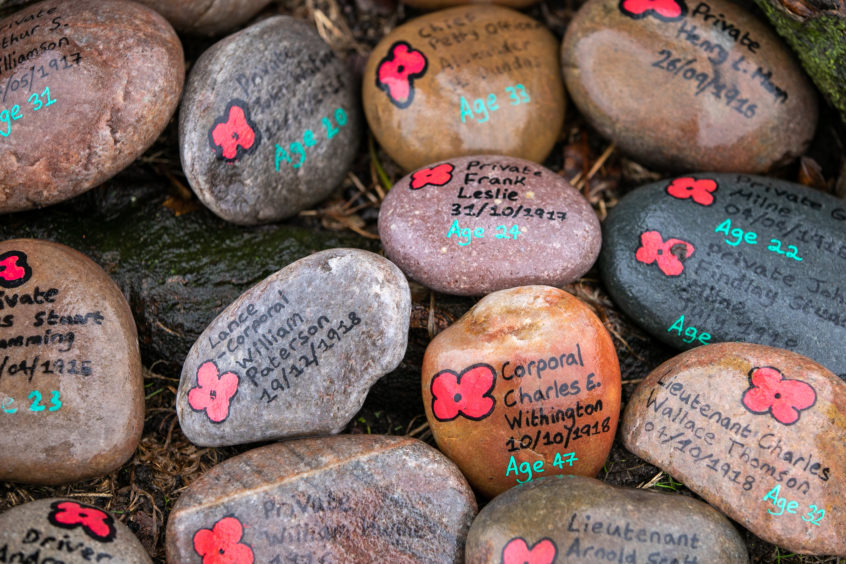 An Angus schoolgirl has been thanked for her work to commemorate every soldier from her home town who died in the First World War.
Lord Lieutenant Patricia Sawers said she was "incredibly touched" by Eilidh Bowen's project.
The Arbroath High School pupil went through every page of the roll of honour to get details of the heroes from the town and surrounding area.
She then hand painted a stone for each soldier, including their name and other details, and placed them near where they lived before leaving for the front line
Mrs Sawers, who is the Queen's representative in the county, has written to Eilidh to personally thank her for her efforts.
Arbroath teen completes project to honour local First World War heroes with commemorative stones
She said: "I was extremely moved when I heard about the project that she undertook.
"For a girl of that age to do all that work is really impressive.
"I am sure it will be hugely important for the families as well.
"For her to spend all that time researching and going through the rolls and then the time it must have taken to do all the stones individually is amazing.
"I understand that Eilidh wants to join the RAF so I would just like to wish her every success in that and for her final year at school."
Mrs Sawers took over the Angus lord lieutenant role from Georgiana Osborne in August last year,
With the first full year her tenure hindered by the global pandemic, she has not managed to meet as many people in the area as she would have liked.
She said: "Normally I would have gone out to speak to various people, such as the Carnoustie Air Cadets that Eilidh is a member of, but unfortunately that just wasn't possible this year.
"But I would really like to get out to meet more people as soon as possible."
Eilidh, who started the project earlier in the year when schools were closed because of coronavirus, said she was thrilled by the recognition.
"It feels pretty exciting and honourable to receive a letter by the lord lieutenant," she said.