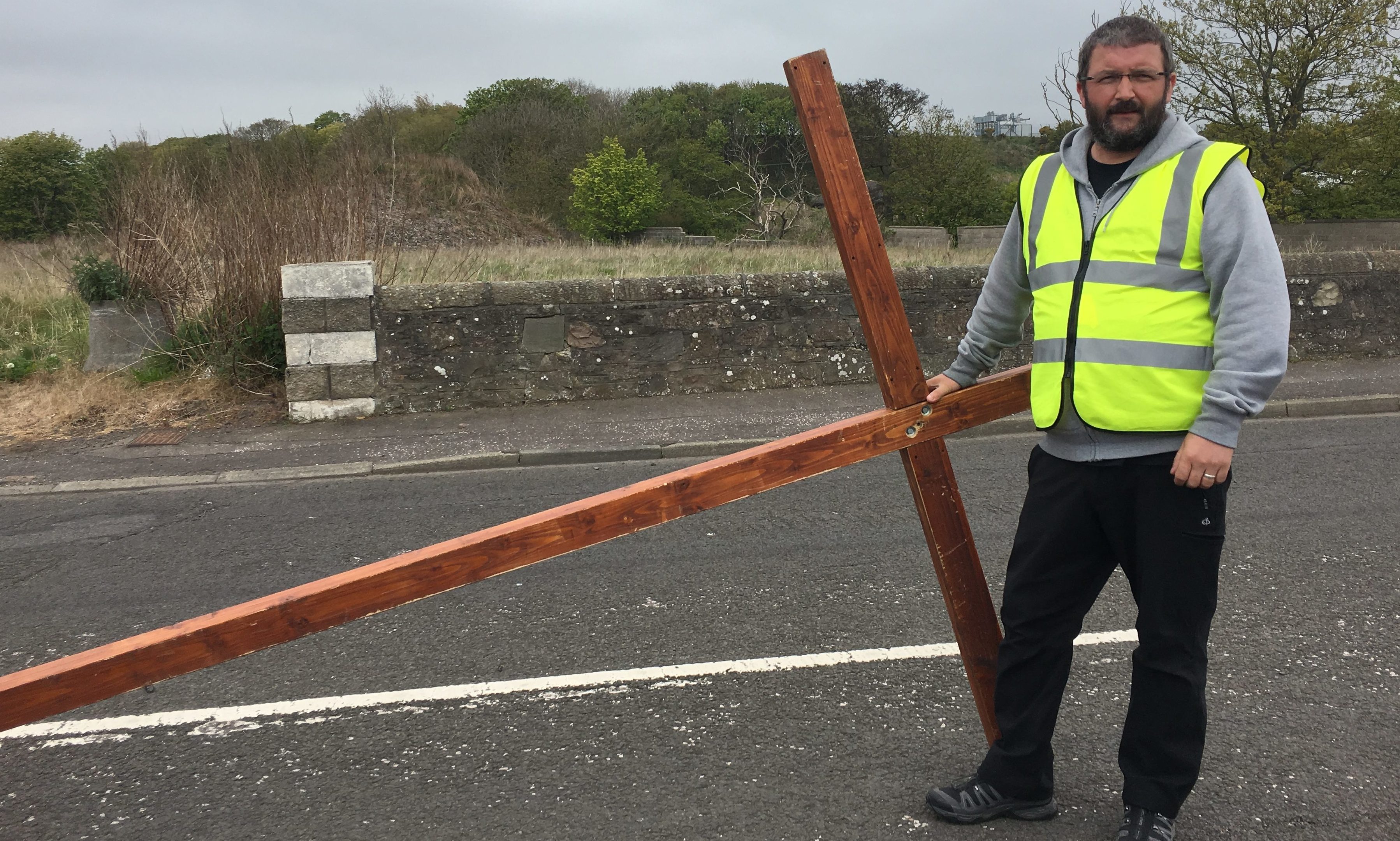 A challenge to carry a large wooden cross weighing three stones for 600 miles across Scotland is moving through Angus.
Gordon Cruden, 50, started the charity fundraiser on Easter Sunday from Peterhead to raise funds to buy a building to house an addiction centre in Aberdeenshire.
Gordon, a former alcoholic who has been in recovery for 30 years, works as a team manager for Teen Challenge North East Scotland which has centres in Peterhead and Fyvie.
He has been helped by around 100 people to carry the 12ft by 6ft cross as he travelled through Perth to the Central Belt, then through Fife and Dundee to the Angus coast.
Speaking in Arbroath on Friday, he said: "This is to raise money for a women and children's recovery home in Mintlaw.
"We are presently renting it but the lease runs out in a couple of years. We can either buy it or leave. We decided to buy it.
"This challenge is part of a five-year campaign to raise £535,000.
"We made the cross in our workshop from some redwood. It's joined together by a couple of bolts and has a wheel at the back otherwise it would lose a couple of inches a day from hitting the road.
"You just put the cross over your shoulder and pull it. It was tiring at first but it's got better as we've gone along.
"It's been fun meeting people though it's actually surprising the number of people who don't say a thing as you walk past.
"We're collecting money on the way and the challenge has raised a total of about £15,000 so far."
Gordon, a father of four from Oldmeldrum, has raised £420,000 towards buying the centre through three personal challenges in the past two years.
In 2015 he rode solo to 47 European capitals on a motorbike and later that year he spent 30 days "homeless" in London, Cardiff, Dublin, Belfast, Edinburgh and Aberdeen with no money or credit cards to raise awareness of the homelessness situation in the UK.
Last year went to the 50 US states on a motorbike in 30 days and he is planning another motorcycle challenge in Australia later this year.
"We have been covering about 20 miles a day," he said.
"We are going to finish in Montrose on Friday and then on Saturday will walk to Stonehaven. On Sunday we will travel from Stonehaven to Dyce and then finish at our men's centre in Fyvie on Monday," he said.
"We want to raise awareness that there is help for women that are struggling in addiction.
"Secondly, we want to raise money for Benaiah, the women's centre, and thirdly, it's for the challenge, to challenge ourselves.
"There is a religious element to Teen Challenge, which has centres all over the world.
"There's been surveys done and 50% of people that are in successful recovery credit that to some sort of spiritual enlightenment.
"For us at Team Challenge the spiritual enlightenment is God and the Bible, hence the cross."