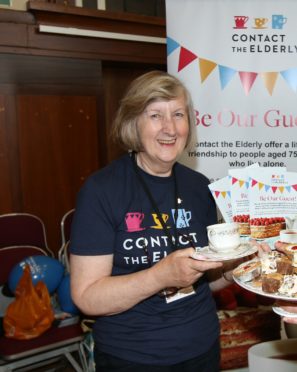 The work of more than 28,000 Angus volunteers and an experience "money can't buy" has been marked as part of a nationwide drive.
National Volunteers' Week launched this month,  to celebrate the work of organisations with awards ceremonies, tea parties and barbecues.
More than a dozen groups, including Care About Angus and Kirriemuir Connections, gathered at the Reid Hall in Forfar to inform the public about opportunities to join the sector in the county — which was worth £41 million in 2014.
Recruiters and promoters pled the case that this boost to communities saves many citizens from exclusion and poverty.
Barry Thomson of Voluntary Action Angus said: "The volunteering movement in Angus and indeed across the whole country generates genuine empowerment within our communities.
"More than 28,000 people in Angus already volunteer with over 900 registered voluntary organisations.
"Their contributions are an integral part of community life and service delivery.
"Without such high levels of volunteering communities would be more vulnerable to exclusion and poverty."
Irena Krasinska-Lobban of the Kirriemuir Regeneration Trust is one of a dedicated group of volunteers which brought the town's Camera Obscura back into public use in 2015.
"It's been hard work but also very rewarding, and there is always something you can do if you can spare a few hours a week," she said.
Members of the public found out about My Street Volunteering, which builds a "culture of care" through informal voluntary work in the neighbourhood.
Gary Malone, the chief executive officer of Voluntary Action Angus said: "Volunteering is about humanity, care and desire to help others as well as volunteers helping themselves.
"Many of the people who volunteer go on to take their rightful place as workers in the third sector and other organisations through the experience they gain.
"Volunteers are central to the work of countless charities and other organisations.
"They are a valuable presence in many communities, making a difference in places as diverse as sports clubs, libraries, schools and hospitals."
Visit www.volunteersweek.org to find out more about the national drive, or contact Mr Thomson by email at  barry@voluntaryactionangus.org.uk, or call 01241 875525 to find out about local opportunities.