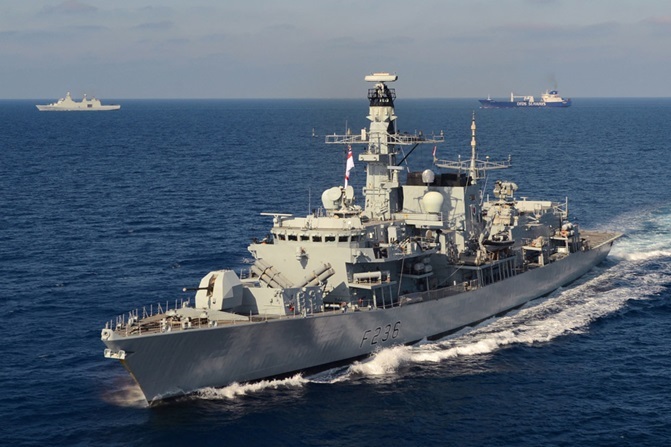 HMS Montrose is set to return to the Angus town it is named after early next year after undergoing a major refit.
The commanding officer and other senior staff of the Type 23 frigate met with Angus depute provost Colin Brown and council leader Bob Myles yesterday to discuss arrangements for the visit, which is likely to take place at the end of January.
The ship last visited Montrose in 2014 and this would be its fifth visit since it was launched in 1992.
It is also hoped that the ship will exercise its Freedom of Angus which will see its crew march through the streets of Montrose at some point during its week-long stay.
Commanding Officer Cdr Conor O'Neill said: "HMS Montrose has been in for a refit for a good two and a half years and during that period the focus has been on maintenance and renewing and upgrading systems. That has left not as much time as we'd like for our civic affiliations.
"Now that we are about to come out of upkeep we've got the flexibility and time to renew our links as we prepare to go back to sea.
"Hence we've travelled to Angus today to put names to the faces we've been writing to for the last year and get to know our affiliations that we are very proud of.
"The link to Montrose is painted on the side – it couldn't be more important."
Mr O'Neill said that a request would be made to exercise the Freedom of Angus during the visit.
Depute provost Colin Brown said discussions were already under way about a march taking place.
He said: "It's a huge asset and will be of great interest."
Mr Myles added: "We very much welcome HMS Montrose coming up regularly hence the reason they were given the Freedom of Angus in 2002. We are very keen to maintain these links."
In the visit the warship's senior crew also visited Dorward House, Rosemount Primary School and the Harbour Master at Montrose.
Referring to the practicalities of docking at Montrose, Mr O'Neill added: "The margins are not huge and it is a very expensive tax payer's resource so you wouldn't unduly risk it but it can be done if the conditions are right at high tide."
The ship has had a major upgrade of its weapons and radar system during the refit and is currently undergoing testing before being returned to service in October.
Montrose councillor Mark Salmond said: "I think it's tremendous that the ship takes the name of Montrose all over the world. I have no doubt that people ask what is Montrose and where is Montrose.
"It's promoting the town and the county of Angus and we're delighted that the ship will be returning to Angus in the new year."
HMS Montrose was launched in July 1992 and its first visit to Montrose took place in November 1999.
It returned in July 2002 when the ship was granted the Freedom of Angus by Provost Frances Duncan.
This was exercised in November 2008 when the crew took part in a Remembrance Service parade.
The ship returned to Montrose in July 2014 when they again marched through Montrose and conducted numerous engagements in the local area.
It has also made frequent visits to Dundee, including a wreath-laying ceremony commemorating the 200th anniversary of the death of Admiral Adam Duncan in October 2004.