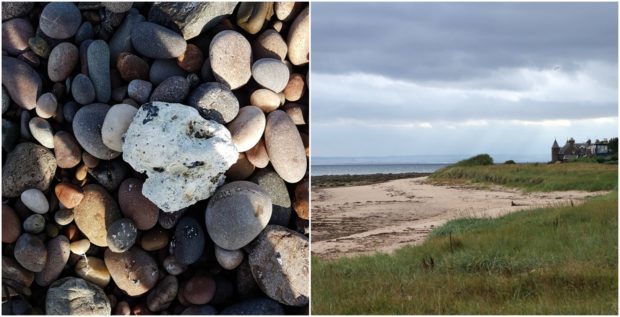 Dogs have been forced to have their stomachs emptied after eating a "rancid" substance which washed up on local beaches.
Robson Vets – which covers Angus and the Mearns from its bases in Laurencekirk, Inverbervie and Montrose – issued a warning after treating pooches who scoffed dangerous congealed fat sniffed out during coastal walks.
The practice said that it had been forced to pump the stomachs of two "patients" on Tuesday as it issued a warning aimed at "all dog owners" in the area, telling them to keep their pets under control.
Robson Vets said the substance smells "delicious" to dogs but will cause "significant sickness" and upset stomachs if consumed.
Potentially lethal palm oil lumps have been washing up on the sands around Arbroath and other locations across the UK.
Robson Vets also said that owners should wash the skin or feet of pets that come in to contact with the substance, which is said to be coming ashore in the wake of recent stormy weather.
The practice posted a photo of the substance which caused its patients to become ill to Facebook, adding: "Pictured below is a large lump of congealed and rancid fat found washed up on several of the local beaches.
"We have had two patients today who have needed to have their stomachs emptied to prevent the more significant sickness and upset stomachs that would follow.
"Please be aware that this substance is on our beaches at the moment and ensure your keep you dogs under control – it smells delicious to them! Not so much to us!
"If you have any worries or concerns that your pet may have eaten some, don't hesitate to call us on 01561 377 314 for advice.
"If they get it on their skin or feet, simply wash well with their usual shampoo to get rid of the residue. If you notice any irritation, then give us a call to get them checked out. Thanks."
Beach palm oil is a natural product used mainly in food processing and can legally be released into the sea by ships.
However it can be contaminated with fuel waste and other toxins and although it poses no danger to humans, can prove toxic to dogs.
The waxy lumps may also contain other harmful bacteria and pets which eat them can develop symptoms including sickness within a very short time.
In extreme cases, further potentially deadly complications might arise.v
Animal welfare charity PDSA said: "The rancid palm oil found on British beaches appears as white waxy lumps and some dogs will be tempted to eat it.
"So if your dog likes to scavenge when out walking it's best to keep them on a lead when they are on the beach for the time being.
"If a dog has eaten the bacteria-laden palm oil, the symptoms will develop within 15 minutes of eating it and sickness is the most common sign. If you suspect your dog has eaten contaminated palm oil, contact your vet immediately."