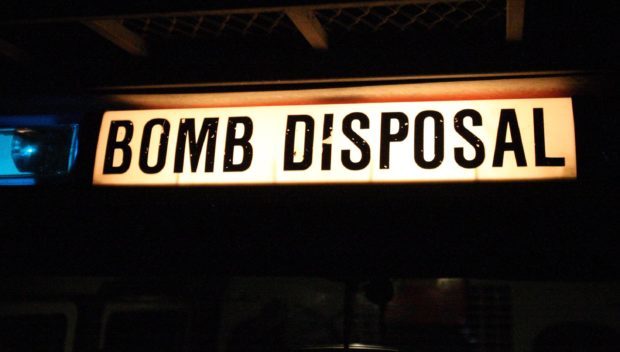 Bomb disposal officers were called to visit the site where a 45ft whale was found.
Members of the Explosive Ordnance Disposal (EOL) squad visited the beach near Barry Buddon around 10.30pm on Sunday following the discovery of a "round object.
A spokesperson for Police Scotland confirmed the EOL had "been and gone" and taken away an object after visiting the site where a sperm whale had been washed up on Wednesday.
"A round object of  possibly unexploded ordnance was found on the beach near to the location where a whale had been discovered and police officers were in attendance," he said.
"We contacted the EOL unit to investigate matters."
A local resident also claimed bits of the sperm whale had been left on the beach despite the massive whale being buried. However, the police spokesperson said they had no record of this.
A video claiming to show bits of the whale was posted on YouTube. The area of beach is located beside the Barry Buddon firing range, used by members of the Army.
The operation to carry out a post-mortem on the washed up whale on Friday was given the go-ahead after talks between Angus Council and the Scottish Environment Protection Agency (Sepa).
The beach at Barry Buddon is both a Site of Special Scientific Interest and and EU Special Area of Conservation.
The mammal had been washed up on the beach on Wednesday.