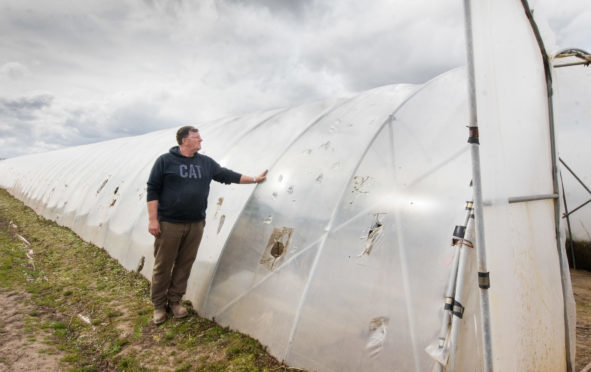 Vandals have caused hundreds of pounds worth of damage at an Angus farm.
The teenagers even took pictures of themselves while climbing up polytunnels at East Seaton Farm, Arbroath.
The main perpetrators have been tracked down following a social media appeal and their families have been spoken to.
The weekend damage was caused in the latest in a series of attacks at the family business and farm manager Allen Innes said it has to stop.
He said polytunnels have previously been ripped up by knives and set on fire and polytunnel door handles have been pulled out of the ground and used as weapons.
"We have trouble every year and it has got to stop," said Mr Innes.
"At the weekend there were seven people in the field and they even took selfies while climbing up the polytunnels.
"They were climbing up them and sliding down them and they've caused hundreds of pounds worth of damage.
"It's wanton vandalism and my fear is that it will only get worse when we get to the school holidays."
Mr Innes said patching up damage to the polytunnels breaks the seal of the heat so they must be replaced.
He said replacing one sheet of plastic can cost £500 to £600 and it is a three hour operation involving up to 15 people.
"It's a major concern to the business," he said.
"Replacing a sheet of plastic is very expensive and time-consuming. Margins are tight and we just can't afford to keep doing this.
"In the past vandals have set fire to the polytunnels and they have also been cut by knives.
"We also had to weld the door handles because they were being pulled out and used as ice picks."
Mr Innes said the area is secured by fencing and CCTV but that has not stopped youngsters from getting into the site.
East Seaton Farm is part of the grower group Angus Growers and is cooperating with Angus Soft Fruits, a company specialising in the production and sale of soft fruit.
The farm comprises 400 acres on which barley, potatoes, strawberries, raspberries, blackberries and blueberries are grown. East Seaton supplies the major supermarkets in UK with fruit and provides work and accommodation for over 400 workers during the season and 20 permanent staff.