Ahead of the Maggie's Penguin Parade officially opening to the public today, Gayle Ritchie took a mini tour and found out some of the inspirations behind the designs.
It's simply p-p-p perfect! From punky penguin to PJ the poetry penguin, there's a flamboyant five-foot avian attraction to appeal to everyone on the Maggie's Penguin Parade.
Our video above shows the complete troupe gathered outside the Maggie's Centre last week before the complicated task of delivering them to their summer roosts got under way.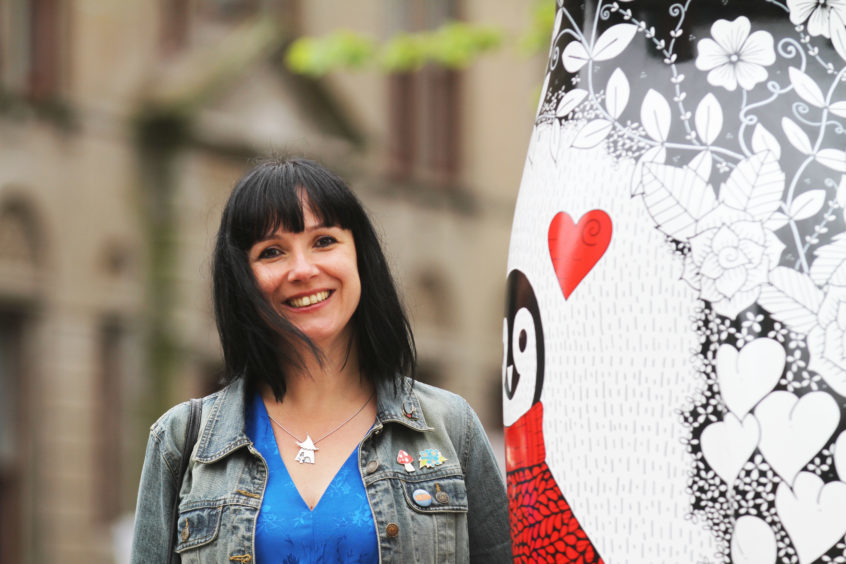 On Friday, The Courier was invited on a mini tour taking in five of the 80 sculptures and meeting some of the artists who designed them.
First up was Sticky Feet in Slessor Gardens, sponsored by Arbroath-based marmalade and jam producer Mackays.
---
The Courier will be carrying your photos of the penguin parade throughout the summer. Send your photos to online@thecourier.co.uk or share on our Facebook page
---
Sticky was named by a member of the public in a competition and was decorated in mosaics by artist Debbie Ryan.
The trail's artist coordinator Suzanne Scott explained the design was made using crushed maramalade jars, iridescent tiles, glitter and glass.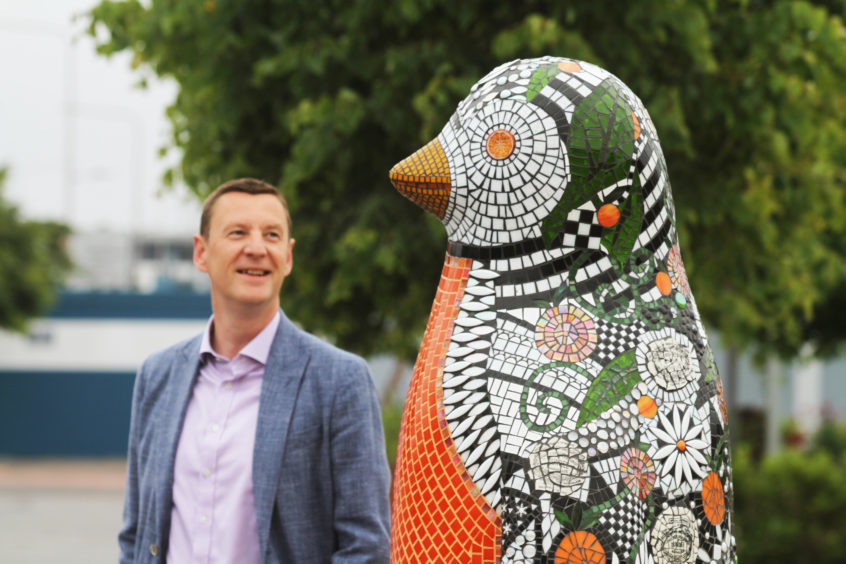 Next was the Emperor's Voyage of Discovery at Verdant Works. Designed by chainsaw-wielding Arbroath sculptor Tom Harris-Ward, this penguin is one of two on the trail that is not made of fibreglass.
While one in Broughty Ferry called Absent Waves is made out of wire, this bad boy is hand-carved out of wood!
Amazingly, the "heart" of the penguin contains a small part of RRS Discovery Ship.
"I started off with a big Douglas Fir tree, milled it into four pieces and then glue-laminated these together," said Tom.
"The Antactica-shaped inlay in the penguin's chest is a piece of teak, salvaged from RSS Discovery during restoration work."
This was part of the original ship and would have been in place during Captain Scott's voyage to Antarctica.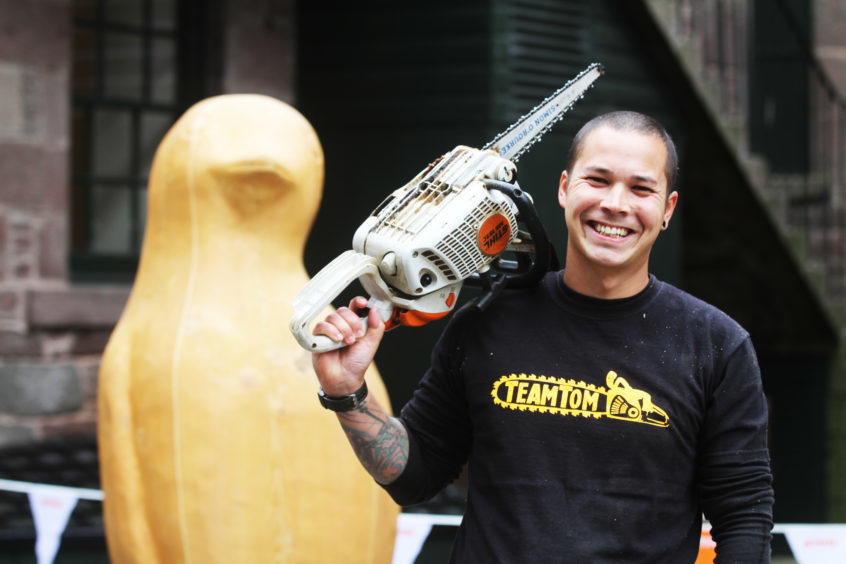 The highest penguins are perched on top of the Law and it's well worth the hike up to view them.
Sid the Penguin, designed by Douglas Roulston, is simply epic. On a sunny day, he blends seamlessly into the landscape, his feet painted as the Sidlaw Hills, his head and body the clouds and sky.
Douglas was inspired by his love of the outdoors and in fact carried his creation to the top of Balkello Hill to finish off some of the finer details.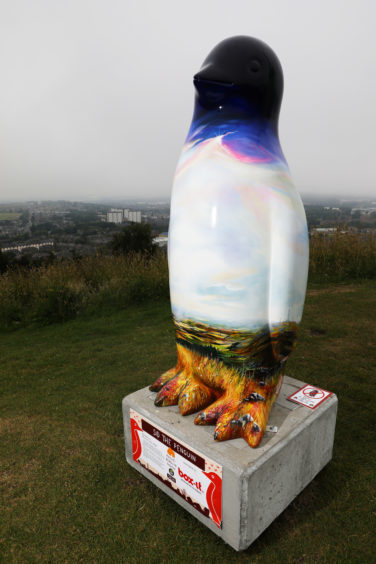 Keeping Sid company at the other side of the hill is The Voyage of the Discovery penguin by Alice Newman.
This fellow is covered in a Dundee cityscape and charts the progress, in amazing detail. of the journey taken by RSS Discovery. Even in the fog, the colours pop.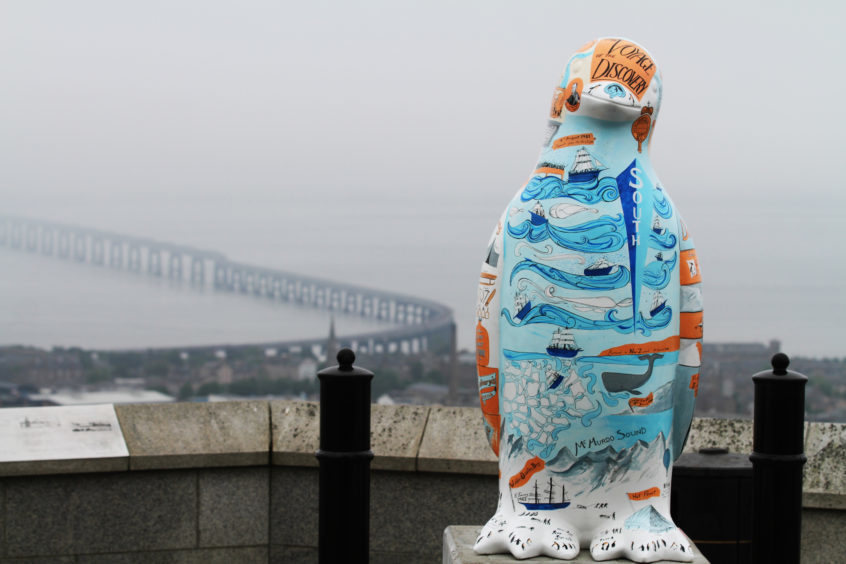 The final penguin on our mini tour, outside Abertay University, is arguably one of the most exciting.
Designed by Suzanne Scott and named Maggie and Fleur, the interactive penguin comes to life when viewed via an android app.
Students at Abertay designed the augmented reality app, allowing users to enjoy a trip into another world where hearts, flowers and strange shapes spring out.
Among the other unusual designs is Touchy Penguin, under the Tay Bridge, the vision of artist Chris McKay.
This penguin was painted with heat reactive paint and changes from black to pink when touched with a warm hand.
Penguin fans are being challenged to find all 80 penguins positioned in a host of different locations across Dundee city centre, Broughty Ferry, St Andrews, Newport on Tay, Perth, Kirriemuir and Brechin.
From golfers to comic book characters, pilots to footballers each penguin showcases a one-off design inspired by everything from the history of Dundee to climate change concerns.
Each of the beautiful birds has its own special story to tell as they combine to raise vital funds for Maggie's Dundee.
There's plenty of time to meet every member of the colony ahead of a grand farewell event in Slessor Gardens on September 22 and 23 before an auction on September 24.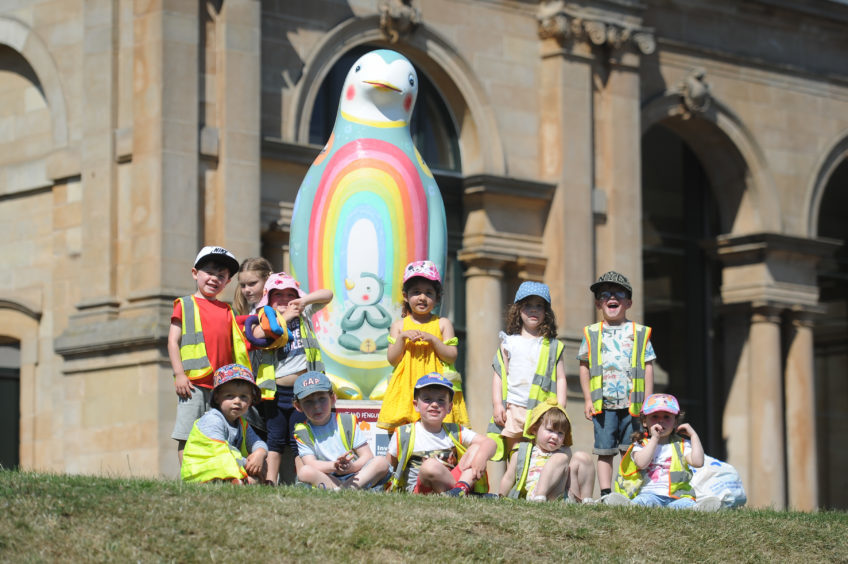 Suzanne said: "It's fantastic to see all the penguins in place and the trail is sure to be a lot of fun. But it's important not to forget there's a serious message behind this – that Maggie's relies almost entirely on voluntary donations to support people with cancer.
"Ultimately, we hope the trail and auction will raise at least half a million pounds for Maggie's Dundee.
"It costs £540,000 to run Maggie's for one year, so it would be good to raise at least that."
Famous faces including Judy Murray, Simple Minds and Lorraine Kelly have been involved in designing or sponsoring a penguin and illustrator Lindsey Gardiner was inspired to paint her penguin in a style inspired by her yoga instructor friend Fi Munro, from Perthshire, who is supported by Maggie's Dundee.
Could you be one of the first to tick off all 80 penguins? Get out there and start meeting the waddling wanderers!
Get sticking!
A sticker book and smartphone app have been created to help you to discover all 80 penguins, rewarding users with penguin facts and detailed information about each of the designs.
Sticker books are £2 and trail maps are free but people are asked to make a donation to Maggie's if possible.
Pick up your very own free penguin trail map and sticker book from Discovery Point, Maggie's Dundee, Westport Serviced Apartments, Visocchi's in Broughty Ferry and the Visit Scotland tourist office in City Square Dundee.
Trail organisers are also encouraging users to upload their own "posing with a penguin" pictures to social media and the app with the message, "the funnier the better".
For more information, see maggiespenguinparade.com