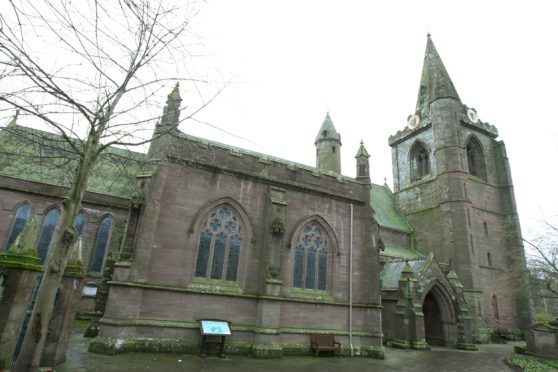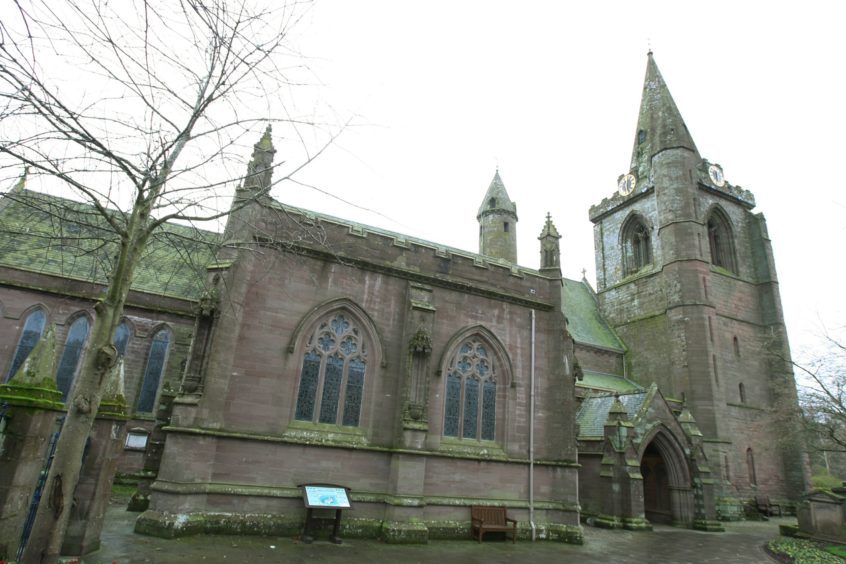 The future of the historic Brechin Cathedral has been plunged into doubt.
Brechin owes its origins to the medieval cathedral, which is the oldest building in the burgh, and the Celtic monastery which preceded it.
It has been a cathedral since it was founded by King David I in 1150 but "very productive" preliminary discussions have taken place to seek a union with Gardner Memorial Church in Brechin.
A continuing decline in attendance and financial support at Brechin Cathedral, along with the impending departure of the minister has prompted the review.
The dwindling congregation from Brechin Cathedral would move to the smaller Gardner Memorial under the proposal, with more formal talks to continue throughout the summer.
Norman Atkinson, a life member of the Friends of Brechin Cathedral and Round Tower, said it was "unthinkable that it would close".
Mr Atkinson said: "It's a beautiful building and it does have quite a lot of historic material inside it – the 9th century St Mary cross, the two Pictish stones, the 11th century Hogback and the massive 12th/13th century font, as well as the 11th century Round Tower, one of only two in Scotland
"It's unthinkable that it would close. It would be a tragedy – after all, at one time, it was the cathedral for Angus and the Mearns.
"It's been a cathedral since it was founded by King David I in 1150 but I'm well aware these are very different times and church attendances are in decline.
"The building itself is to celebrate its 800th anniversary in 2020.
"Nevertheless it is always a great shame when a parish church closes because they go back to the 12th and 13th century but often when there is a merger of churches it is the old parish church that goes.
"I can't think of a single cathedral church in Scotland that has been threatened with closure.
"The Friends have worked tirelessly for the cathedral over the years and this would be a great loss, not just to Brechin, but to Angus and beyond.
"It must rank as one of the most beautiful churches in Angus and attracts many visitors from all over the world."
The oldest part of the cathedral is the Pictish round tower which is about 1,000 years old.
Brechin Community Council chairperson Jill Scott said: "Churches all over the country are facing reduced numbers of clergy and falling numbers within congregations.
"It is very disappointing for us here in Brechin where our historic cathedral is a much-loved building and a very popular tourist attraction.
"These are difficult times and we have to trust that Angus Presbytery will make the right decision for both the cathedral and the city of Brechin."
Brechin Cathedral Kirk Session told its congregation in a letter that the review was down to a "continued decline in attendance and financial support" and stressed "the best way forward would be to seek a union with Gardner Memorial, to be based at Gardner Memorial" – describing informal discussions as "very productive".
A Church of Scotland spokesman said: "The minister at Brechin Cathedral will soon be moving to a different parish and its Kirk Session has begun some preliminary discussions to explore the congregation's future.
"It is far too soon to say what direction their discussions might take.
"What we can say is that in the near future Angus Presbytery will be reviewing its overall plan and considering how the Church of Scotland can best support ministry in an environment where we have a shortage of ministers and smaller congregations.
"However, there has been no decision taken to close any particular church at the present time."