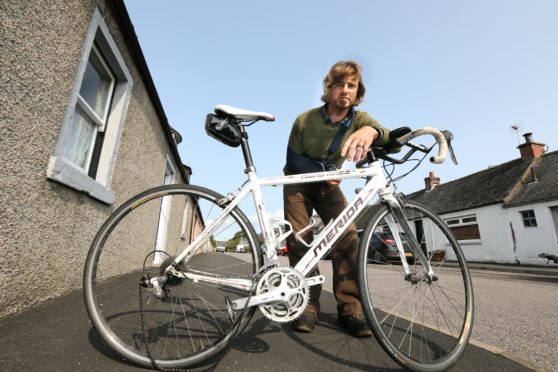 A Mearns triathlete's hopes of competing in a "bucket list" adventure have suffered a blow.
Patrick Duncan, 38, a landscape gardener from Luthermuir, broke his collarbone when in a collision with a car while out cycling.
Mr Duncan's bike was also damaged and he has been signed off work for up to two months following the accident, which happened on the B966 near the junction with the A90 near Trinity.
He claimed the motorist did not give him right of way at the roundabout and is now urging drivers to be more aware of cyclists.
"It happened so fast," he said.
"I tried to swerve but he caught my back wheel. I went down and broke my collar bone.
"I've broken my arm and leg previously but I'm still not fully over what happened.
"I think it's the shock that I am finding really difficult to come to terms with. The mental scars might take longer to heal than the physical ones."
The driver stopped and apologised following the collision.
He was given a conditional offer ticket and charged with careless driving.
Mr Duncan has been competing in triathlon events for six years.
He was 15 weeks into an 18 week training regime for the Ben Nevis Braveheart Triathlon when the accident happened.
The "bucket list" event, on September 15, is classed as one of the UK's toughest triathlons.
The challenge is a 1.2 mile sea loch swim, a 56 mile road cycle, and a 13 mile hill run to the summit of Ben Nevis and back.
Mr Duncan said he was disappointed he will no longer be able to take part in the event.
"I just want people to remember to look out for cyclists while driving," he said.
"This could have been much worse and I just want motorists to take extra care."
Mr Duncan said he is self-employed and being out of action means that his income has dried up.
He has been told to rest up and take it easy to make sure the injury properly heals.
The accident happened on Sunday August 19 at around 10am.
Police and an ambulance attended the scene following the collision.
A Police Scotland spokesman said: "Police Scotland attended a report of a road traffic collision on the B966 near the junction with the A90 about 10.45am on Sunday August 19.
"A car and a cycle were involved in the collision.
"The cyclist was taken to hospital with a suspected shoulder injury, and the driver of the car was given a conditional offer ticket and charged with careless driving."