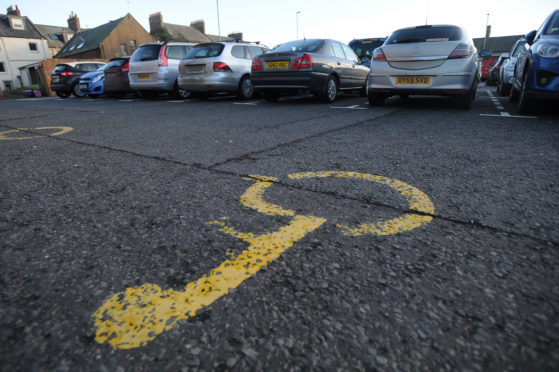 A case by case approach for the creation of designated blue badge parking spaces on Angus streets has been welcomed.
Road regulation changes have given more flexibility to local authorities over marking an on-street space for a blue badge holder if their individual situation necessitates it.
Although there are around 2,000 blue badge holders across Angus, council transport chiefs say they believe the volume of applications for designated individual spaces will remain low, but have highlighted them as a way of getting around neighbour dispute issues which can arise on streets where there are not enough disabled bays.
Council head of infrastructure Ian Cochrane said the rule changes had removed the need for both signage and road markings for disabled parking bays.
Angus officials believe the combination of markings and a sign is an effective tool in parking enforcement and intend to continue with those.
"When deciding whether or not to approve an application for a disabled persons' parking place the council should consider applications on merit, on a case by case basis, and take into account the individual circumstances of the applicant," added Mr Cochrane.
He said a Traffic Regulation Order can be made for exceptional cases in which the applicant may have a specific or severe need for access immediately outside, or very close to, their property.
"It is proposed that this power be used only where this becomes necessary to avoid neighbourly disputes or where the circumstances around the disability are so severe that occasional loss of parking would be significant," said Mr Cochrane.
Angus SNP group leader Lynne Devine said: "I welcome this. Applications for individual bays will come up and it is good to see there will be flexibility.
"There are a number of circumstances in which it is important that people who use that space have access to it at all times," she added.
Brechin and Edzell opposition colleague Kenny Braes added: "When we do something to improve the quality of life of individuals, we are also improving the quality of life of the whole community and this has to be welcomed."
Arbroath Independent councillor Lois Speed commented: "There will be complexities but it is important that people who have applied for a bay are granted a bay.
"There is still huge ignorance and a lack of understanding around disabilities.
"There is such a diversity, complexity and variety of disability, often unseen, and I am sure officers making these decisions will have full knowledge of that," she added.