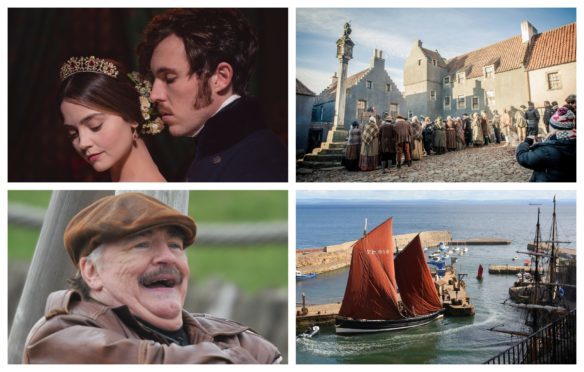 From cheeseburger tycoon Bob Servant to Queen Victoria, set-jetting fans are being encouraged to walk in the Courier Country footsteps of their TV heroes.
VisitScotland has produced a 36-page guide containing details of more than 60 TV programmes to mark the 130th anniversary of the birth of the John Logie Baird.
TV Set in Scotland features shows which have either been filmed north of the border or have Scottish links and is dedicated to the inventor and engineer who is regarded as the pioneer of television.
The guide delves into some of the animations, documentaries, dramas, sitcoms and soap operas which have been filmed in or inspired by Scotland over the past 80 years.
Highlights include Victoria, starring Jenna Coleman from Doctor Who, which focuses on the early years of the Queen's reign, when she visited Highland Perthshire on a number of occasions.
Filming took place at Blair Castle, with two of the estate's native Highland ponies used as Victoria and Prince Albert's mounts.
Also included in the guide is Broughty Ferry which was the setting of Bob Servant Independent featuring Dundee-born Hollywood actor Brian Cox in the title character role of the cheeseburger tycoon.
Other highlights include Doctor Finlay's Casebook which was filmed in Callander in Perthshire; Outlander which was shot at Dysart Harbour in Fife; and Jute City which was a three-part BBC series filmed in Dundee which came out in 1991.
Outlander has also been filmed at Falkland and in Culross in Fife, with the shooting of season four taking place in the Kingdom earlier this year.
TV Set in Scotland will be available free of charge in attractions and VisitScotland iCentres throughout the country and for download at visitscotland.com from Wednesday.
In keeping with the 'TV guide' format, it also has a selection of film highlights and special sections on Outlander, Doctor Who and famous Scottish small-screen characters, including Scrooge McDuck from DuckTales and Scotty from Star Trek.
In a specially written foreword, Peter May, author and co-creator of Gaelic soap opera Machair, says Scotland's "breath-taking scenery" makes it the "envy of the world".
Research shows that one in five visitors to Scotland have been inspired to visit the country after seeing locations on the big and small screen.
Fiona Hyslop, Cabinet Secretary for Culture, Tourism and External Affairs, said: "Scotland's scenery and built heritage, together with our diverse and rich culture have attracted countless filmmakers over the years.
"I welcome this new guide which maps out the locations of some of the great television shows that have been filmed in Scotland and will encourage TV fans of all ages to come and explore our fantastic on-screen locations in real life."
Jenni Steele, Film and Creative Industries Manager at VisitScotland, said: "The list of television shows and locations featured in TV Set in Scotland is not exhaustive, but this fun and informative guide, which contains firm fan favourites alongside little-known gems, serves as a starting point for visitors wishing to explore the many on-screen locations and nearby attractions."
The latest figures show that spending on film and TV in Scotland in 2017 reached £95 million – the highest level since records began – and a £26 million increase on the previous year. Over the past decade, spending has increased by more than 300%.
VisitScotland previously published, Set in Scotland: A Film Fan's Odyssey, which focused on some of tthe many films shot across the country.
For more on TV and film productions shot in Scotland and to download TV Set in Scotland go to: www.visitscotland.com/film