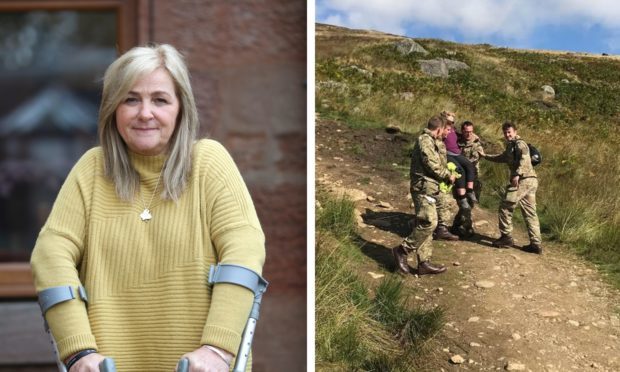 An Arbroath woman who fell and broke her ankle while hill walking, has thanked her Royal Marines rescuers.
Susan Whitton, 56, and husband Jimmy, had hired a log cabin at Glen Clova and were looking forward to doing a series of hill walks in the area.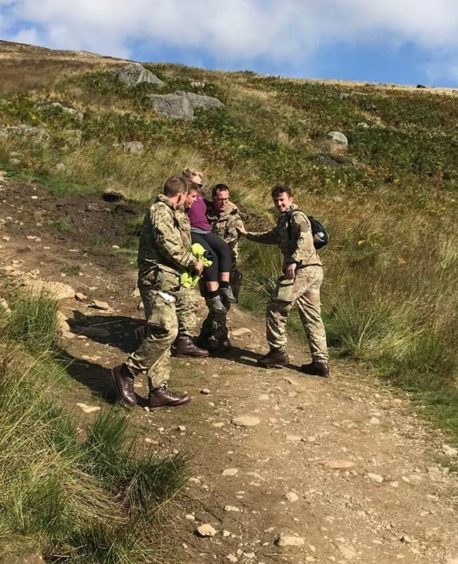 Disaster struck when the couple and their pet dog were walking at Loch Brandy and Susan fell: "We were actually on the easiest part of the walk when I fell and hurt my ankle.
"I actually thought I had just damaged the tendons, but I now know it was a clean break.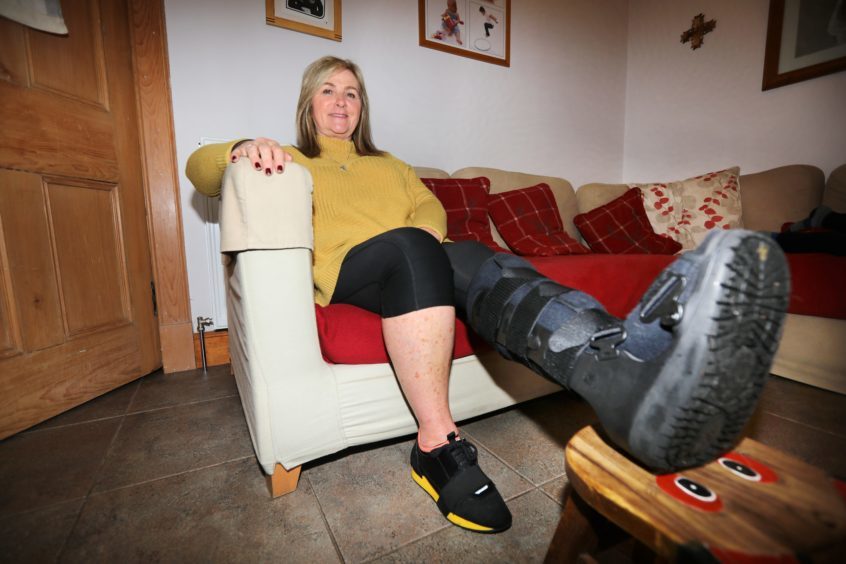 "I had managed to get a seat on a rock, when about twenty Royal Marines walked past, and Jimmy asked if any of them were medically trained.
"Although I was crying with the pain, I was wearing sunglasses and no-one would have known, and what made it worse, was the dog was barking at the marines – it was quite a scene.
"They had just gone past when my husband asked if any of them were medically trained, and they immediately turned round to assist.
"I don't know how far they carried me, but it was quite a distance, and the terrain was really quite bad in places, including marshy ground, and steep slopes.
"They were just brilliant, and they carried me down like the Queen of Sheba, but the dog was still barking and thought he was trying to protect me, so my husband had to carry the dog.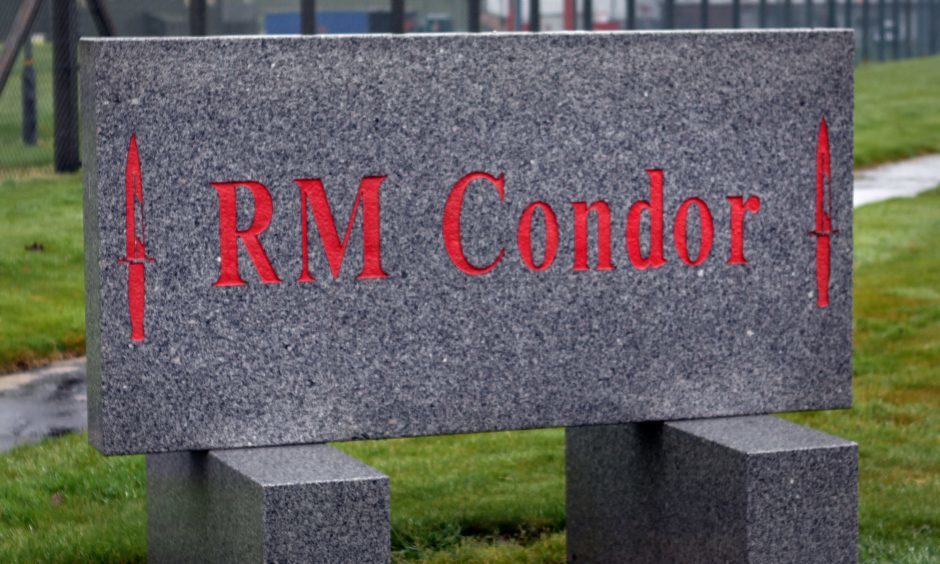 "Once we were back, they gave me advice about putting ice on my ankle and amazingly, after all that they just went back up the hill again.
"They were absolutely amazing, and I really can't thank them enough."
Sergeant Adam Barton, Yankee Company 45 Commando, was the Mountain Leader First Class leading a group of 25 Royal Marines from the Abroath-based unit who helped Susan.
He said: "There was a group of around 25 of us at Glen Clova taking part in a 'leg-stretch', some low-level navigational training ahead of a unit exercise taking place next week.
"We had just set out from the Clova Hotel and were around 20 minutes into our route when we met Susan and her husband on the track.
"They flagged us down and asked if any of us were medics.
"As Royal Marines we are all given medical training and I could see that her ankle wasn't looking great.
"I picked four of the Marines and together we made an improvised stretcher – carrying Susan back down the hill to her accommodation at the Clova Hotel.
"It proved to be some useful training for us as the Royal Marines are the United Kingdom Armed Forces' specialists in cold weather and mountain warfare. When they said they were from Arbroath we knew we had to help.
"We hope Susan's back on her feet soon."
Scottish Mountain Rescue, Vice Chairman Kev Mitchell said: "We're delighted to hear of a positive outcome to this incident.
"Not every person who is unlucky enough to be injured in the hills is then carried to safety by a passing group of marines.
"So, this is a timely reminder for people to be prepared for every eventuality.
"Days are getting shorter, temperatures are falling and people who go to the hills should be ready for anything."