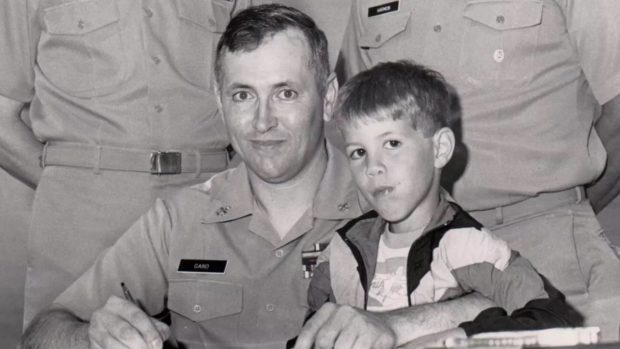 Arbroath's $17m NFL star Graham Gano has told how his father's time at RAF Edzell helped shape him as a man and set him on the road to fame and fortune.
His father Mark's posting to RAF Edzell as a US Navy master chief petty officer means Gano has Arbroath on his birth certificate from his arrival in the town on April 9 1987.
RAF Edzell was home to US intelligence officers throughout the Cold War, but the Americans moved out after the collapse of the Soviet Union.
"I definitely was proud of my father growing up and his military accomplishments," said Gano.
"We lived on a farm in Scotland.
"That was really neat being around the tractors and equipment and stuff. When he would come home, his uniform was always so put together.
"I learned a lot of discipline growing up – and hard work.
"As a kid I didn't always like that, but it helped me become the man I am today, and I try to instil some of that in my children."
Gano – the second highest-paid kicker in the NFL after signing a new four-year $17 million contract with Carolina Panthers in March – started playing soccer when the family were stationed in Germany.
"My dad was a big Cowboys fan," he said.
"He kind of wanted me to play football growing up, but I never wanted to play.
"I never had the desire; soccer was my sport. My dream was to play for a national team – the US or Scottish national team – but it ended up working out."
Gano first gave football a chance in ninth grade when a friend told him the team didn't have a kicker.
"I guess I did all right," Gano said.
The 31-year-old shared a cherished photograph taken during his father's time in the US Navy as he paid tribute to the sacrifices made by military personnel.
Gano said his experiences moving from town to town as a military child actually helped him in the early years of his NFL career when he moved from the Baltimore Ravens to the Washington Redskins, before landing with the Panthers in 2012.
Gano's father was a US Navy master chief petty officer, whose military career took the family from Angus to Germany, Canada and Florida.
He took up the sport in high school and went through Florida State University, playing as a kicker and a punter for the Florida State Seminoles.
His parents met in Scotland and his sister Elaine still lives here.