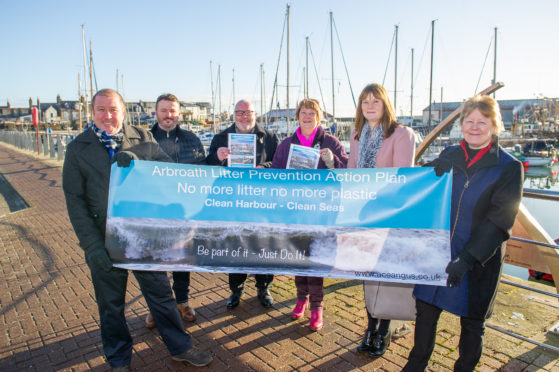 A new initiative to reduce litter at the harbour area and seafront at Arbroath has been launched by a local environmental group.
It is hoped that the initiative will improve the area, help protect marine life and pave the way for similar projects further afield.
The project was led by Angus Clean Environments (ACE), a network comprised of individuals, groups, businesses and organisations concerned about the landscape and environment of Angus.
The group has produced a comprehensive litter prevention action plan which it hopes will deliver substantial benefits to the area.
Responding to concerns posted on social media about the appearance of the harbour area and seafront, ACE members began litter picking operations in the area last summer.
However, it quickly became apparent that a more co-ordinated response would be required if the objectives of reducing and preventing litter from entering the sea at various points along the harbour front were to be achieved.
Angus South SNP MSP Graeme Dey MSP who attended the launch said: "This is a very welcome initiative from ACE, which fits perfectly with Scottish Government policy around littering and plastics getting into the marine environment.
"Just importantly, I'm sure it will find considerable support amongst the public for whom these are increasingly important issues.
"Arbroath harbour is one of the most scenic harbours on the east coast of Scotland, which plays an important role in tourism, fishing, local businesses and to the people of Arbroath and wider Angus.
"It is clear that a huge amount of effort has gone into producing what I am sure will be an extremely effective project that will deliver significant results."
The comprehensive plan will involve replacing lost bins, and enhancing remaining ones, and the group will also be working with local food outlets to promote the use of more sustainable packaging.
ACE will also be engaging directly with the public to encourage responsible litter disposal, as well as working with school pupils and artists.
Iain Gulland, Chief Executive, Zero Waste Scotland said: "Litter is a big problem across Scotland and one that is completely preventable.
"Every year, Scotland spends at least £46 million cleaning up after litterers.
"Rubbish that is dumped on land travels downstream where it poses a threat to marine life and spoils our beaches, parks and coastline.
"We all need to work together to stop litter polluting our environment in the first place, which is why I'm pleased to see the local community get behind a litter prevention action plan for Angus.
"I look forward to seeing the proactive action taken against litter following the launch of the project and encourage more community initiatives to help clean public spaces and seas for future generations to enjoy."