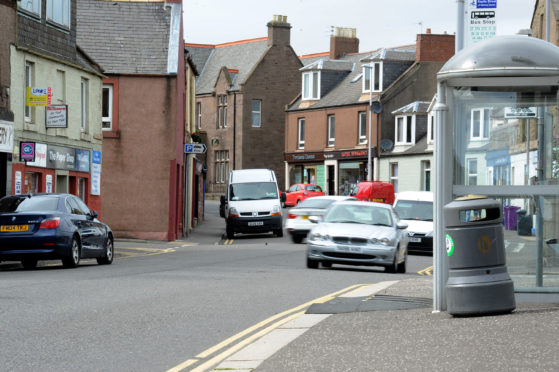 Angus Council has finally agreed on the location for a pedestrian crossing on a busy Arbroath street – 12 years after calls were made for safety improvements.
Years of wrangling, protests, a petition and a public consultation concluded this week when members of the local authority's communities committee agreed to have a crossing installed on Keptie Street, between Helen Street and Garden Street.
Locals have spent years campaigning for action on the stretch of road which was the scene of a fatal accident involving a pensioner in 2016.
Despite a last-ditch attempt to place the crossing between Garden Street and Lochlands Street in an effort to protect local businesses, members voted with independent Arbroath East and Lunan councillor Lois Speed for the chosen location.
The site was previously pinpointed in November 2017, however the project was halted as road engineering works were about to commence following protests from traders.
The council agreed to go back to the drawing board and consider other potential locations.
At Tuesday's meeting, members were given an update on a site visit on February 7, as well as responses to a public consultation, which showed the majority of people wanted the crossing between Helen Street and Garden Street.
A total of 395 completed responses were received. Of those, 64% agreed with that location compared to 25% for Garden Street and Lochlands Street.
Five parking spaces will be lost as a result of the move, compared to the 16 that would have had to be sacrificed if the other site had been selected.
Ms Speed said:  "I have listened to the views of many residents.
"The public have spoken, we cannot always meet everybody's wants, however the public have responded with where they believe the crossing is most needed."
She said she had also been in contact with the family of the OAP who died during the process, adding: "They have suffered unimaginable pain and grief and have had to endure not only the heartache of losing a loved one in such circumstances but have had to  re-live the terrible ordeal over and over again each time it has been reported.
"The family do not want this to drag on any longer and are desperate for  closure and a safe place to cross."
Arbroath West and Letham independent councillor David Fairweather said he sympathised with the family and was not against a crossing. However, he said the Keptie Bakery, which launched a petition against the Helen Street site, had warned it would have to close if the crossing was placed between Helen Street and Garden Street.
Ms Speed's recommendation was passed by nine votes to five. Members also agreed to the creation of loading bays on the north side of Keptie Street and on Helen Street.