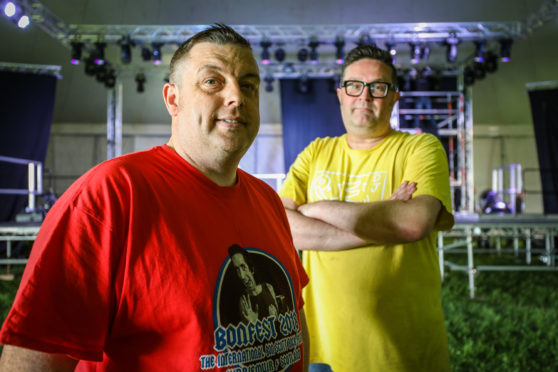 A cry of "let there be rock" will go up in Kirriemuir at the start of the three-day Bonfest music event which attracts thousands of AC/DC fans from around the world.
Local charity DD8 Music is hosting its annual rock festival in honour of local legend Bon Scott who grew up in Kirriemuir before going on to front the legendary band.
Some 50 bands are set to play over the weekend, with free gigs day and night in local venues and a ticketed main event each evening in a big top tent on the edge of the town.
Volunteers have been busy constructing the festival site at the Logie business park.
The campsite is full to capacity with 500 campers arriving for the weekend.
Hopes are high the main arena's music acts will perform to a 1,500, sell-out crowd, although tickets are still available for Saturday and Sunday evening's entertainment.
One of the highlights of the festival takes place on Saturday when the Swiss all female tribute band, Back:N:Black, recreate the famous "Long Way to the Top" video on the back of a vintage open top lorry through the streets of Kirriemuir.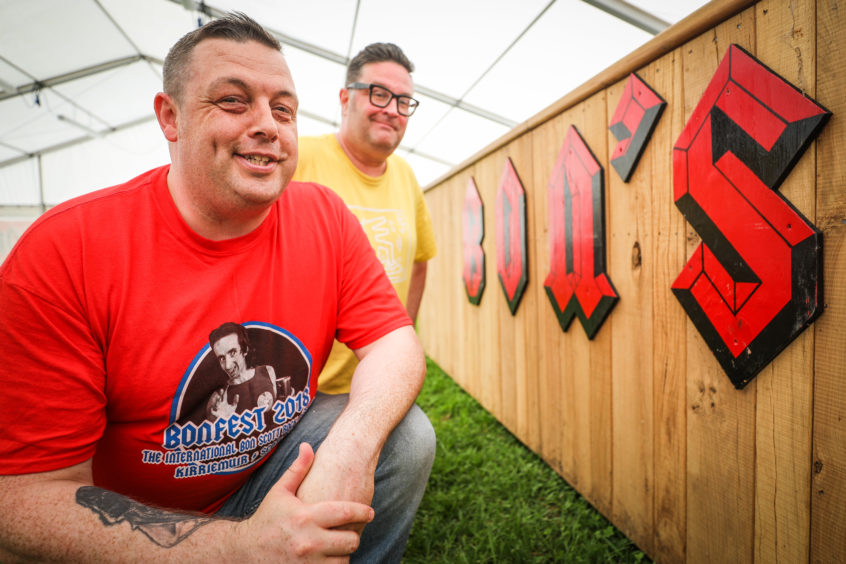 Starting at 1.15pm on School Wynd, the procession has become a festival tradition over the past few years.
There will be a temporary road closure in place for the parade and no entry to School Wynd or Reform Street between 1.15pm and 1.45pm.
Parking will also be restricted on these sites between 12 and 2pm.
Every year the organisers work had to make improvements, and this year is no exception.
They have received a last minute boost with a £7,000 grant from the European Leader fund.
It has been used to purchase contactless tills at the main arena and bars, and will go towards a rebranding of the festival and a new website.
DD8 Music chairman Graham Galloway said: "We are delighted we have received this support from Angus Leader.
"It was a grant from Leader nine years ago that allowed us to set up our recording studio in Kirriemuir, and we wouldn't be where we are today without their support.
"This new grant will enable us to revamp the festival going forward and offer the best experience to our loyal customers."
A spokesperson for Angus Leader said: "Angus Leader is pleased to support Bonfest, which has made a major contribution to the community in Kirriemuir."
For more information visit the Bonfest website www.bonfest.com or visit the festival office in Kirrie Connections in Bank Street.