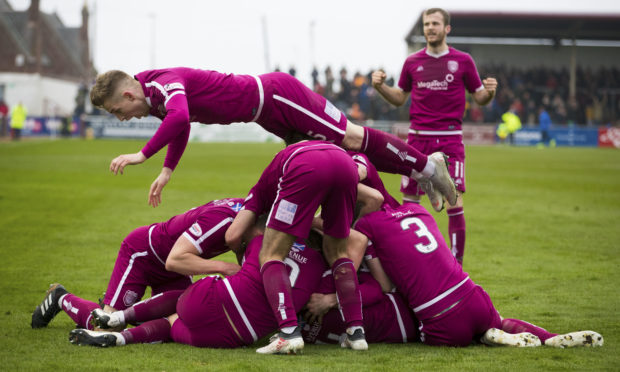 At times the football on display this season at Gayfield has been poetry in motion.
Now Arbroath Football Club's title winning heroes – once spoken about in the same bracket as the mighty Liverpool – have been immortalised in verse.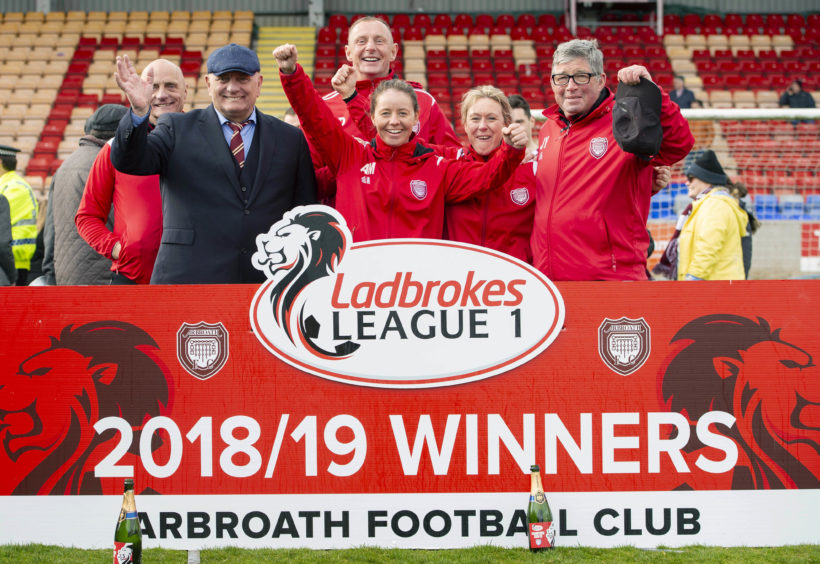 Red Lichtie Dave Ramsay put pen to paper to commemorate the League 1 triumph, which also marked the occasion of his 72nd birthday.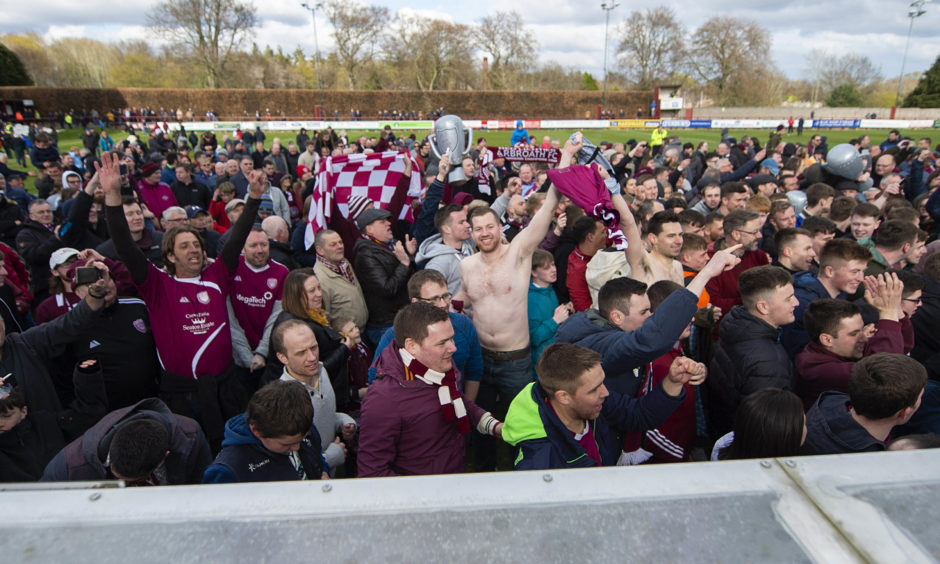 'The Campbells are comin' Hurrah, Hurrah' was presented to bunnet-wearing Arbroath gaffer Dick Campbell on Saturday and will now be framed and hung up at Gayfield.
As the founder of Mearns Heritage Services, Arbroath-born Mr Ramsay has been involved in a range of diverse projects and was awarded the BEM in 2018 for services to heritage.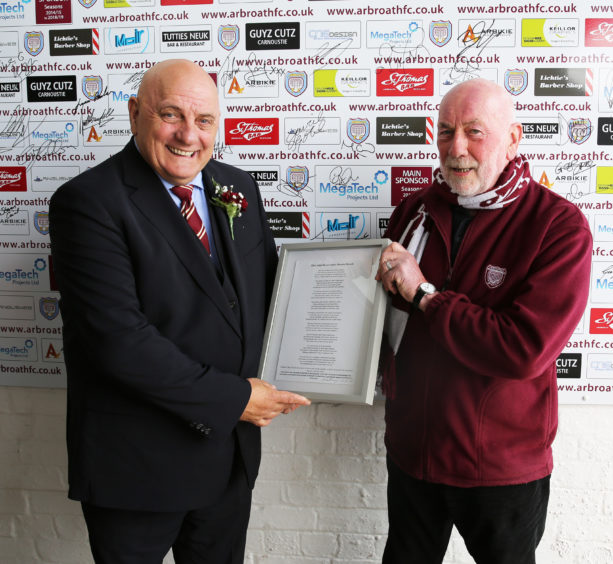 "On my 70th birthday in May 2017, I held my party in the hospitality suite at Gayfield, with friends and family," said Mr Ramsay.
"The league cup which gained us promotion then, was paraded through my party at Gayfield on the night, which was a wonderful birthday present.
"Fast forward to 2019, and on my 72nd birthday, this birthday was commemorated by the second league promotion of Arbroath Football Club.
"I just had to write something to mark this chapter in AFC history.
"Being a dedicated Lichtie of 67 years of support, I could not let this historic chapter of AFC go past, without some recognition of club, team, and community, all of the ingredients which makes AFC more than jist a fitba' team.
"From Mike Caird as chairman, Dick and Ian Campbell, as the drivers behind our success, what a story.
"What a record of achievement, to add to the other world record achievements of this wee club with a great big community heart.
"I'm proud to be a Lichtie, and proud to be able to contribute in a small way, to the history and heritage of the club.
"If anyone deserves a managerial accolade, it just has to be Dick Campbell.
"Where else in Scottish football, have you seen such a personalty achieve so much in three seasons?"
Mr Ramsay said the challenges of next season "will be great in a new division".
The Red Lichties were one of only two sides in the UK who were unbeaten in the league going into December  – the other was Jurgen Klopp's English giants Liverpool.
The unbeaten run eventually ended just before Christmas but Arbroath still romped to the League 1 title and won the league by seven points.
A spokesman for Arbroath FC said: "Arbroath Football Club have once again been treated by the talents of Dave Ramsay.
"Dave, who was awarded the BEM for his heritage and community work in December is a true Red Lichtie and his poem reflects the sentiments of this season.
"Dave is a true wordsmith and we plan on getting this poem framed and hung up in Gayfield."
The full poem:
The Campbells are comin' Hurrah, Hurrah
Well help ma boab, and crivvens almichty,
It fair mak's you proud, tae be a Red Lichtie,
Wi' the cup and the league, the battle's been won,
And we're sayin' cheerio, tae Scottish League One. 
Fit a season it's been, wi' fower Angus teams,
Twenty six years, since that wis last seen,
But o fit a joy, wi' a' yon derby games,
An away game wis only, jist a few miles fae hame.
Fit a start tae the season, the goals rattled in,
For fans and the players, ever goal brocht a grin,
The crowd they erupted, o man, fit a din,
When the ba' found the net, fae oor ain Bobby Linn.
Twa Darrens and Thomson, Little and O' Brien,
Strong at the back, the ba' forward flyin,'
And Hammy and Goldie, Whatley and Kader,
Gie'n half a chance they'd a' want their share.
And Wallace and Denholm, and Swankie and McCord,
A' took their chances, and each o' them scored,
Tae be undefeated, we were noo at the top,
Rubbing shoulders wi' Liverpool, and yon Jurgen Klopp!
Fit a buzz in the toon, as each game drew near,
The Lichties on fire, they'd found their top gear,
Wi' McKenna and Doris, and Donnelly and Spence,
We were strong in attack, and strong in defence. 
But ye hiv tae gie credit, whaur credit is due,
Tae Dick and Ian Campbell, John Young, Big Rab too,
The management team, they a' played a strong hand,
Even when Dick, wis sent  tae the Stand!!
Fit a track record, ye hiv tae concede,
Twa Lichties promotions, in three years achieved,
In the Stand, on the touchline, Dick's passion's quite clear,
Referees and linesmen, they a' tremble wi' fear!!
Noo next season's a challenge, o' that there's nae doot,
In the Boardroom and dressing room, new plans are afoot,
So to a' you managers, in yir Championship dug – oot,
The Campbells are comin,' so ye'd better look oot!!