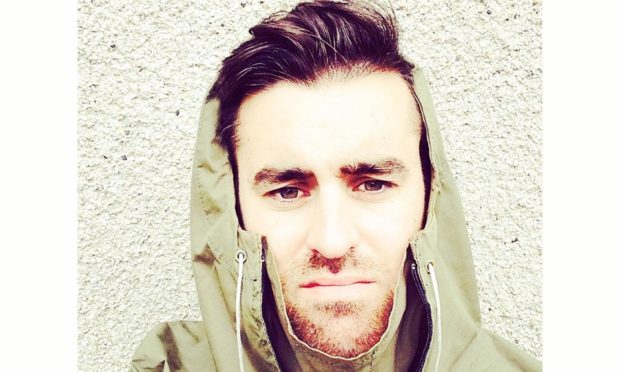 A songwriter plans to walk for 30 hours to his home town of Arbroath to raise money for a local mental health charity.
Lee House, 38, who lives with bipolar disorder, will walk more than 80 miles from his current home in Shotts, where he lives with his wife and four year-old daughter, to his meet his friends and family on September 13.
He will also raise money for My Hummingbird, a music for mental health project, which will see Lee publishing a book and songs on the topic.
Half of the money raised by the former Arbroath High School pupil will go to My Hummingbird, while the other half is donated to Angus group Reach Across, which was set up after the death of Arbroath man Ross Ramsay in 2013.
Lee said: "I'm bipolar [and] with it you get a lot of mania.
"I go from high mania where I am rushing about, mind racing, and making bad decisions in life, then I have a low period where it can confine you to what I call your safe place. I wasn't leaving my bed.
"The idea behind the project lies in this – if I had the right help when I was a teenager, rather than in my 30s, then I might not have suffered with the problems I have done.
"The project is a way of me coping, sharing and giving back for the help I have had."
He plans to walk with friend Lori Forbes, aiming to raise more than £2,000, with more than £500 already committed.
"It will create lots of challenges, people you'll meet along the way, stories you'll hear. It's great and I'm really excited to do it," he said.
"My mum is from the east end of Glasgow but still lives in Arbroath. I go back regularly and I love it.
"All my friends are there but it was work that took me away. I'm home every month, I love Arbroath and I miss it at times.
"I lived in Dundee for 10 years too so the community around that area is special to me.
"Walking from my new home to my old home. That's the idea. It's simple, but hopefully works well."
Sandra Ramsay, Reach Across founder, said: "Everyone at Reach Across is so very grateful that Lee has chosen to undertake this fundraising and awareness raising trip.  Lee knew Ross and when I hear this it makes me happy that Ross is still remembered.
"I am so proud that Lee is overcoming his own issues in relation to bipolar disorder and choosing a charity close to his heart to raise funds for.
"I am delighted that Lee contacted me and wish him well with his walk."
Donations can be made at Lee's Go Fund Me page www.gofundme.com/walking-home-for-mental-health