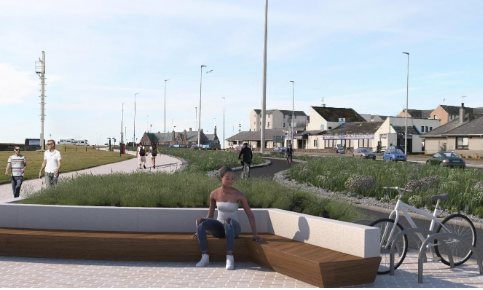 Like finding a fiver in the back pocket of the breeks you haven't had on for a while, an unexpected windfall always brightens the day.
Red Lichties enjoyed that warm, fuzzy feeling last week when the rather more sizeable sum of nearly £7 million landed in their lap.
The town was one of five communities nationwide to be picked for prominence in a Places for Everyone initiative.
Courier country fared grand, thank you very much, when Perth was also promised £6m-plus for a radical redesign of the famous Dunkeld Road 'Motor Mile' to make it more cycle and pedestrian friendly.
The Arbroath slice of the Scottish Government pie will be used to try and pull together the two halves of the town split by the A92 which has run through its midst for more than 20 years.
New crossings, walking and cycling pathways and a greater emphasis on public accessibility are the ambition in a bid to put more connection between the high street, harbour and West Port, which has become its own little outpost beyond Burnside Drive.
The reaction to the windfall, however, seems to suggest the physical feature of a dual carriageway isn't the only thing dividing the good people of the biggest town in Angus.
Naysayers living in the narrow world of their own keyboard wrongly suggested the scheme had been dreamt up without anyone being asked, when the seeds of the idea were actually sown through the charrette programme of three years ago, followed up by another consultation last year.
Locals are to be offered a further chance to have their say before any building work begins and it's important they take up that opportunity, as much as anything to test the promise that ideas will be welcomed and listened to.
There have already been observations about the timing of the scheme – it's hoped work will start next year as the town celebrates the 700th anniversary of the Declaration of Arbroath, so careful consideration might have to be given to the timing of when the community's major artery will be operated on.
Lessons will hopefully have also been learned from traffic troubles created by the, in comparison, tiny tinkering to a town mini-roundabout on the same road last year.
For now, however, it would be ideal to see the community put their heads together to make the best of a seven million pound avenue to a better Arbroath.