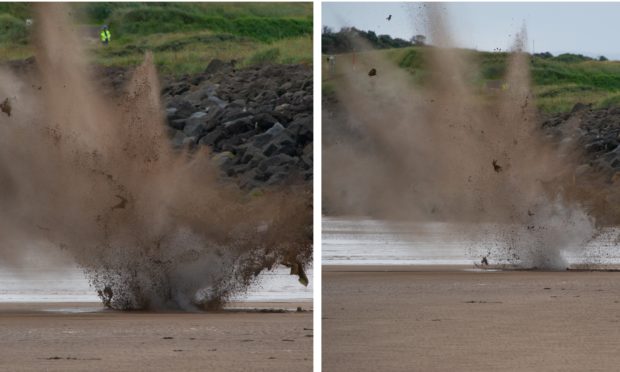 An Angus beauty spot was sealed off yesterday as bomb squad experts dealt with a washed-up explosive.
Crowds gathered near Carnoustie beach to watch as the device was detonated.
An area of the beach near Barry Burn was cordoned off by the Coastguard in the morning as they waited for the Royal Navy Bomb Disposal team to arrive from Faslane.
It's understood the object was found by a metal detector enthusiast the previous afternoon.
By the time the discovery was reported it had already become submerged by the incoming tide, at which point the Coastguard stepped in.
A decision was made to make the area safe so the disposal could be dealt with on Wednesday.
Golfers were moved away from the area yesterday, as the initial cordon was extended to about 500 metres.
The bomb disposal experts arrived at about 1.30pm and worked quickly to assess the item.
The bomb was in such poor condition the team could not determine how old it was.
However, they were able to conclude that it had a high explosive content so it was decided they would detonate it on site rather than attempt to move it.
The squad moved the device towards the tide and filled sandbags to pile on top before blowing it up in a controlled blast.
Parts of the nearby golf course were closed off and people inside the Carnoustie Golf Hotel and the course's restaurant and shop were moved away for their safety.
During the build-up to the explosion, a pair of dog walkers ignored warnings and walked towards the beach. They were seen arguing with Coastguard volunteers when they were told to leave.
Another onlooker climbed down stairs to get a better look — despite being warned not to.
More than 30 people gathered at the edge of the cordoned area to watch the explosion.
A Royal Navy spokeswoman said: "We can confirm that Royal Navy bomb disposal experts from HM Naval Base Clyde's Northern Diving Group were called to Carnoustie Golf Course by Police Scotland after an item of suspected ordnance was discovered.
"The team examined the item at the scene and found it to be a historic projectile.
"Royal Navy bomb disposal experts moved the item to a safe location where they carried out a controlled explosion."