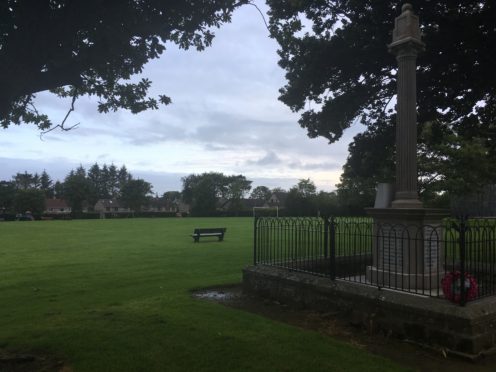 A Tayside community "has been denied the opportunity" to properly commemorate those who died in World War One, a charity leader has said.
Colin Rennie, Scotland Manager at parks and green spaces charity Fields in Trust, has hit out at Angus councillors who voted to stop Dempster Park in Letham from joining a UK-wide scheme to commemorate the First World War.
The charity, working with Poppyscotland and Legion Scotland, had requested the council sign over rights to the park and its war memorial as part of its Centenary Parks scheme to protect it "for people to enjoy in perpetuity".
But councillors voted against the proposal after being warned they would need the charity's permission to develop the land or put it forward for a community buy out.
Montrose councillor Bill Duff, SNP, had warned the restrictions would "blight" the council's ownership of the asset.
But Mr Rennie said he believed there had been a misunderstanding in how the charity managed parks in its care.
He said: "Considerable work on behalf of the charity has been put into the project over five years to support Angus Council to participate in a UK-wide programme to honour the sacrifice made by people of Angus in World War One.
"Throughout the process, we have been clear about what legal protection means. A minute of agreement between the council and Fields in Trust ensures the site will always remain available for play, sport and recreation as a living legacy."
He said the charity currently protects 2,809 parks or green spaces across the UK, of which 273 were in Scotland and 10 in Angus.
He said they frequently dealt with applications for a community transfer in 10 working days, "provided the community organisation protects the site in partnership with Fields in Trust."
Council officials had recommended the park be designated a Centenary Field after an initial presentation made as far back as 2014, he added.
"Far from a 'blight', participation in the programme would have permanently protected a vital local asset, marked with a commemorative plaque which could have become a source of local pride," he said.
"Extensive time and commitment have been invested into the charity's work with Angus Council – yet at the end of the process the people of Angus have been denied the opportunity to participate in a UK-wide commemoration of World War One.
"They also do not have the security of knowing Dempster Park will be available for future generations for play, sport and the enjoyment of nature."