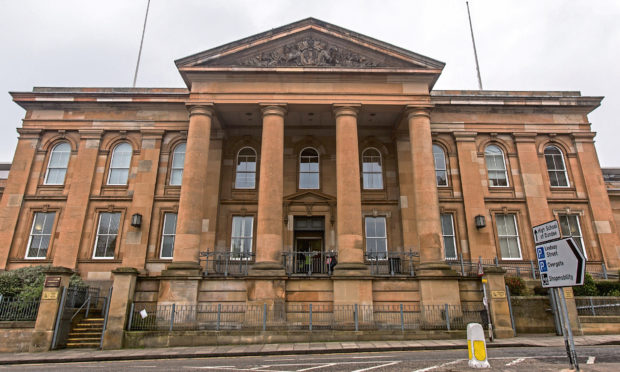 An Angus college lecturer allegedly sent naked photos and videos of himself to two of his teenage students, a trial has heard.
Lewis Bryan is charged with coercing the two boys, aged 17 and 18, to look at sexual images on the social messaging app Snapchat between 2017 and 2018.
The images were said to have included photographs of himself naked in bed with another male and explicit videos showing him carrying out a sex act.
The 28-year-old, of Beechwood Road, Arbroath, also allegedly sent a message to one of the boys while he was teaching a class, asking him to "send nudes".
On another occasion he was said to have threatened the same student that he would not send his assignment for marking unless the boy sent a nude photo of himself.
Another teenager had a sexual video sent to him after he opened up to the lecturer about his mental health problems, the court heard.
Giving evidence at Dundee Sheriff Court, one of the alleged victims, now aged 20, told the court how Bryan added students on social media, where he went by the username 'Lewb'.
"He was quite eccentric", the witness said.
"He told us it (college) was different from school, that a lecturer could go out with a student.
"He would share things about his life, along the lines of 'got really drunk and ended up hooking up in a hotel room.
"The night before an exam I asked if there was anything we should be studying in particular.
"He said if I wanted to know what was in the exam I would have to send him pictures in my boxers or without boxers."
The alleged victim said Bryan sent him more than 10 explicit photos and videos over the academic year, but he kept quiet about it because of worries about his grades.
The 20-year-old added: "He said he would not forward our assignments for marking if I don't send photos.
"We would have failed".
Another former college student said he felt "sick and disgusted" after Bryan sent him a sexual video of himself on Snapchat, adding: "I trusted him.
"I would talk about mental health stuff."
The boy later confided in a teacher at his former school, telling her he had lost his job because of panic attacks following the alleged inappropriate messaging.
Bryan denies the allegations and his solicitor, Paul Parker-Smith, put it to both males that they were making up the accusations, to which they both replied "No, you're wrong".
The trial will continue on Monday.