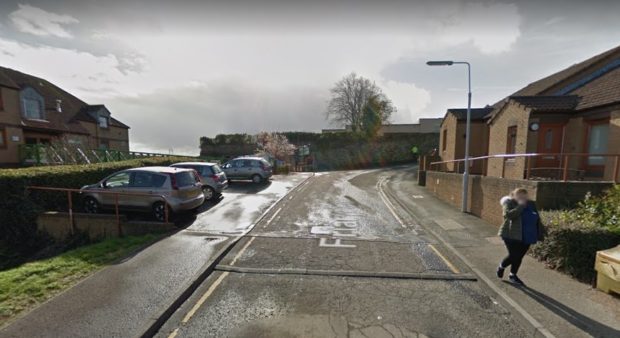 A man who tried to kill his pensioner stepfather at his Fife home has been told he will be jailed.
David Nicholson admitted attempted murder repeatedly punching and kicking Thomas Melling, throttling him and hitting him with a microwave.
Mr Melling, 72, spent 30 days in critical care after the attack.
The High Court in Edinburgh heard he had earlier turned up at Mr Melling's bungalow under the influence of alcohol and asked for money.
Nicholson, 31, of Beauly Court, Falkirk, got some cash but returned an hour later to launch a ferocious attack on the pensioner at Friary Court, Inverkeithing.
Advocate depute Eric Robertson said Nicholson drove up at speed and began banging on the door of Mr Melling's home.
The prosecutor said: "Thomas Melling opened his door and saw the accused there.
"The accused immediately punched him on the face and grabbed him by the throat.
"After this Mr Melling has little recollection of events as he was in and out of consciousness.
"He does recall the accused striking him so that he fell, then dragging him towards the living area and repeatedly kicking him on the body."
Mr Robertson added: "Mr Melling's next memory is of being in hospital in Edinburgh."
Nicholson was seen climbing out of a window at Mr Melling's home and a warden went to check on him and found him lying on the floor bleeding heavily from his face.
Mr Robertson said: "A chair had been knocked over and there was a microwave lying next to Mr Melling's right hip.
"The glass door of the microwave was smashed. There was glass all over his chest and right arm and over the floor."
Blood splatter from the victim was on a wall. An ambulance was summoned.
Nicholson was heard shouting: "He deserves it. I will be back and try again. I want him dead."
Paramedics considered the serious injuries to Mr Melling were life-threatening and consistent with repeated kicking.
As the victim was taken to an ambulance Nicholson shouted: "You got what you deserved."
Mr Robertson said: "The accused also applauded and was told off for doing so a paramedic."
The victim was found to have sustained six fractured ribs and bleeding to the brain among a catalogue of injuries and spent 30 days in critical care.
Nicholson was arrested by police in Inverkeithing with blood on his hands and face.
Mr Robertson told the court that Mr Melling had a relationship with Nicholson's mother for about 18 years but it ended in 2011.
Unemployed Nicholson previously worked as a welder and had recently been diagnosed with type 1 diabetes.
Prior to the attack on Mr Melling he had stayed at a friend's home and on the day of the murder bid was drinking Buckfast tonic wine.
He left the flat and appeared angry.
Nicholson admitted attempting to murder Mr Melling in the July 31 attack.
Defence solicitor advocate Gordon Martin told the court: "He had lost his job, been diagnosed with diabetes and was drinking excessively."
The judge, Lord Burns, told Nicholson: "Having regard to the seriousness of this offence custody is inevitable."
He deferred sentence on Nicholson for the preparation of a background report and remanded him in custody.