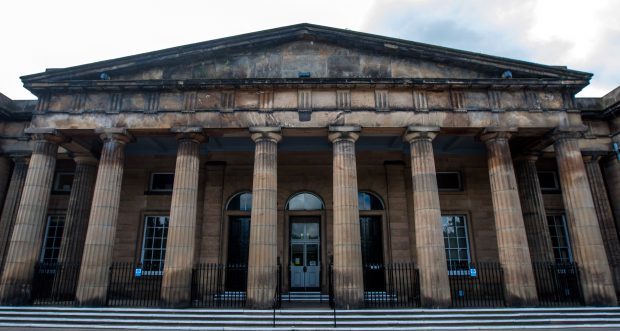 A doting dad has told a court of his heartbreak after a £48,000 family fund was stolen from his home in Angus.
The money had been stored in a locked safe from which Derek Reid dished out cash to an extended family in scenes he compared to the 80s television show Bread.
It is alleged to have been taken during a break-in while he took his first holiday in many years, on the Isle of Wight.
His daughter Lisa Reid, 25, and her partner Mark Green, 35, are standing trial at Perth Sheriff Court accused of stealing the money on September 10 2016.
Each denies the charge.
The first day of the trial heard accusations that Ms Reid lured one of her sisters to Dundee for a shopping trip while Green broke in.
The court heard the money was spent on cosmetic surgery, a laptop computer, a trip to Belgium, foreign currency and home furnishings.
Mr Reid told jurors the money had been amassed as he held savings for his daughters and son and squirrelled away money from pensions, benefits, carers' allowance and from the selling of garden furniture and ornaments – including a telephone box.
He told the court family members came to him when they were in need.
"The money was all in £20 notes, contained within 48 numbered envelopes," he said.
"If you needed something you got it. That's how we worked. We were like the family on Bread."
Mr Reid said he'd received a call to inform him of the robbery while he was on holiday and he had been in no doubt that his daughter and her partner were responsible.
The trial also heard evidence from another of daughter, Kelly Reid, 22, who had been left in charge of the family home.
She said her sister had invited her on a shopping trip to Dundee, but had seemed distracted throughout.
"She told me Mark was working until 8pm that night," the witness said.
"She was checking her phone every five minutes and I thought something was going on. She wasn't herself. Usually we would have been having a laugh.
"Lisa got a text from Mark at 3pm, saying he was home – even though he was supposed to have been working for hours."
Ms Reid said her sister had cut the shopping trip short after just two hours and returned to Fife.
When she arrived back at her father's home in Angus, she said she discovered a rear door wide open, the door-frame broken and the safe and contents missing.
Reid and Green, of Croftangry Road in Kelty, deny a charge alleging that on September 10, 2016, at an address in Angus, they stole a safe, forced it open and stole £48,700 in cash.
The trial continues today.