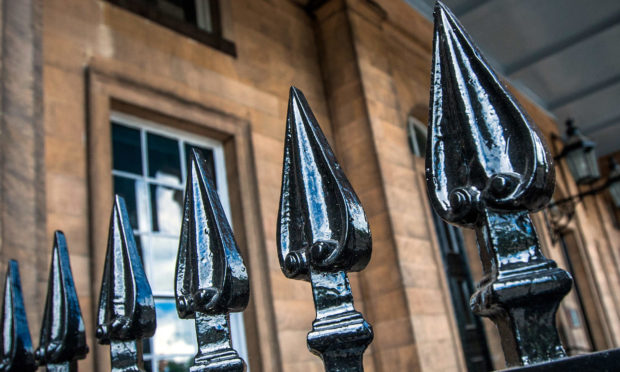 A Perth restaurateur and his wife were both found guilty after trial of screaming abuse at a young woman in a simmering dispute over a Thai meal.
Pete Chan, 46, who runs the popular China China takeaway in the city's Craigie area, had told Perth Sheriff Court the complainer, Nutcharee Bunchareon, was stalking them. His account was rejected by the sheriff as "not short of perjury".
Chan, known locally as 'Batchan' due his charity endeavours while wearing a Batman costume, told the court Miss Bunchareon had a grudge against him and his wife after they made a complaint about a chicken dish in her family restaurant and left without paying the bill.
He and his wife, Kirsteen, 46, had both claimed Miss Bunchareon had followed their car after morning school runs for months, following an incident at a Thai restaurant owned by the complainer's parents, in 2016.
Mrs Chan also claimed Miss Bunchareon had walked "very close" beside her as both parents picked up their respective children at a Perth primary school.
On June 14, tempers boiled over as, according to Chan, Miss Bunchareon had been so close to their BMW X5 as they travelled on Newhouse Road it set off rear car sensors.
Mrs Chan said she asked her husband to stop their car as she felt "enough was enough" and wanted to speak to Miss Bunchareon about the incidents.
At a previous hearing, Miss Bunchareon gave her account of events, in which she told the court: "I could see Mr and Mrs Chan's white BMW in front of me, then they stopped their car all of a sudden.
"I had to brake immediately. Mrs Chan jumped out of the car and stormed towards me, shouting abuse at me – she called me a freak."
Miss Bunchareon said Mrs Chan was joined by her husband and the pair launched into a 10 minute expletive-laden tirade before driving off.
Sheriff James MacDonald found both accused guilty of shouting, swearing and acting aggressively towards Miss Bunchareon on June 14 last year. Both had denied the offence.
Sentencing the Chans, he told Mr Chan he found his account "utterly indefensible" and "not short of perjury."
"It is very easy to tell a twisted version of events in a self-serving manner," he told them.
"I reject both accused's evidence and don't understand why they didn't contact police about the alleged incidents of stalking until the day of this incident.
"However, I find the evidence of the complainer very credible and also believe the evidence of two independent witnesses who saw this incident."
Chan shot to fame in Perth through videos posted online of bringing leftover food from his takeaway to Perth fire station and Perth Royal Infirmary, while dressed as Batman.
Sentence was deferred on the couple until June 21 for them to be of good behaviour.